Hey there! Some links on this page are affiliate links which means that, if you choose to make a purchase, I may earn a small commission at no extra cost to you. I greatly appreciate your support!
Introduction:
Table of Contents
Trekkers, rock climbers, and rappellers may enjoy the nearby woodlands and hills while hiking, mountain climbing, and diving.
Camping amid the lush forest and hills allows you to enjoy hiking, rock climbing, and rappelling.
Camping in Bangalore lets you enjoy nature with family and friends.
Must read: Camping In Hyderabad
When is the ideal time for camping in Bangalore?
Ideal camping in Bangalore takes place from October to February when the excellent weather and minimal possibility of rain provide a pleasant temperature for outdoor activities and make for a pleasurable camping trip.
What kinds of camping are there in Bangalore?
Bangalore Camping offers various options, including canvas, luxurious, natural, and thrill camping. These choices cater to multiple interests and provide unique experiences.
Individuals who enjoy roughing it can opt for traditional tented camping, while those seeking comfort can choose luxury camping with amenities like electricity and private bathrooms.
Nature camping prioritizes being close to nature, and adventure camping offers exciting activities such as rock climbing and ziplining.
Best Bangalore camping sites:
Make your camping trip a memorable one by organizing ahead of time. Bangalore has numerous magnificent camping spots that will help you comprehend why residents are so protective of the environment. You can discover the best camping spots near Bangalore with this excellent list.
1. Nandi Hills:
Experience the beauty of Nandi Hills, just 60 km from Bangalore, by camping on its hilltop. This famous hill station, with its lush green hills, cool breeze, and breathtaking views, is a must-visit for nature and adventure enthusiasts.
Take an adventurous camping trip in the foothills of Nandi Hills. Beautiful hills and lush trees surround this campground, providing a tranquil atmosphere. Set up your camp and sleep underneath the stars.
Go on an exciting trek or sit around the bonfire with your near and dear ones. Enjoy delicious breakfast, dinner, and BBQ while admiring the stunning scenery.
Nandi Hills is also known for its historical significance, with ancient temples and forts that glimpse the region's rich cultural heritage. Enjoy the spectacular sunset and dawn views.
Make memories with your family by camping on the hilltop of Nandi Hills. Its pristine natural beauty, adventure opportunities, and historical sites make it the perfect escape from the city's chaos.
Book your trip for an unforgettable hilltop Bangalore camping experience in Nandi Hills!
2. Ramanagara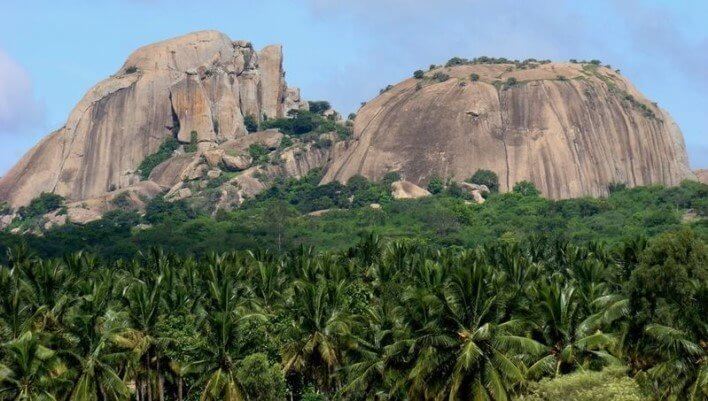 Embark on a trek through the varying elevations of Ramanagara, famously known as the filming site for the Bollywood hit movie Sholay, and have a thrilling camping adventure overnight.
Both leisure and business tourists alike love this popular camping in Bangalore. Experience the thrill of ziplining, mountaineering, pedal boating, kayaking, jumaring, and shooting while camping in Ramanagara.
This is ideal for environment lovers and adventure seekers since hills and valleys accompany it as beautiful woods. Spend the night beneath the stars after setting your tent between the beautiful foliage.
Explore Ramadevara Betta, a hilltop that offers breathtaking panoramic countryside views, when visiting Ramanagara.
This famous trekking and rock scrambling destination provides ample opportunities for campers to capture stunning images and document their adventures.
Make sure to visit Janapada Loka, an exhibition showcasing rural India's traditional martial arts, crafts, and rituals.
3. Anthargange
Explore the breathtaking beauty of Anthargange in Karnataka's Kolar district, and immerse yourself in nature's serenity.
A night trek is a fantastic way to discover the wonders of this nature lover's paradise—Trek through the thick forests and rugged landscape, admiring the stunning views of the surrounding hills.
When you reach the summit, you will encounter the ancient Anthargange caves, said to be almost 2,000 years old. These caves attract adventurous souls eager to explore the unknown and experience the thrill of caving.
For those seeking peace and tranquillity, the calm surroundings of Anthargange Hill offer plenty of opportunities to relax and unwind. check out the camping package offered by thrillophilia
Take a leisurely hike to the top and enjoy the breathtaking views of the surrounding landscape, soak in the peaceful atmosphere, and soak in the beauty of nature.
Nature lovers can also go bird watching, marvel at the different species of plants and flowers, and enjoy the fresh air. With its unspoiled beauty, Anthargange is the perfect destination for a weekend getaway or a nature retreat.
Whether seeking adventure or reconnecting with nature, Anthargange has something for everyone.
4. Manchinbele
Explore the tranquil environs of Manchinbele (one of the best camping spots in Bangalore) and get away from daily life. This delightful place in Bangalore, India, is well-known among adventure lovers and environment enthusiasts who come to participate in thrilling activities such as trekking, camping, climbing, kayaking, and catching fish.
Indulge oneself in Manchinbele's tranquillity and relish in its various delights. During the winter, migratory birds flock to the reservoir, attracting bird enthusiasts from across the country to observe these feathered friends.
Aside from its natural beauty, Manchinbele also holds cultural significance. Devotees travel far and wide to visit the nearby Manchinbele Mahadeshwara Temple dedicated to Lord Shiva, believed to have been developed during the Chola dynasty and is the holiest place in the region.
5. Savandurga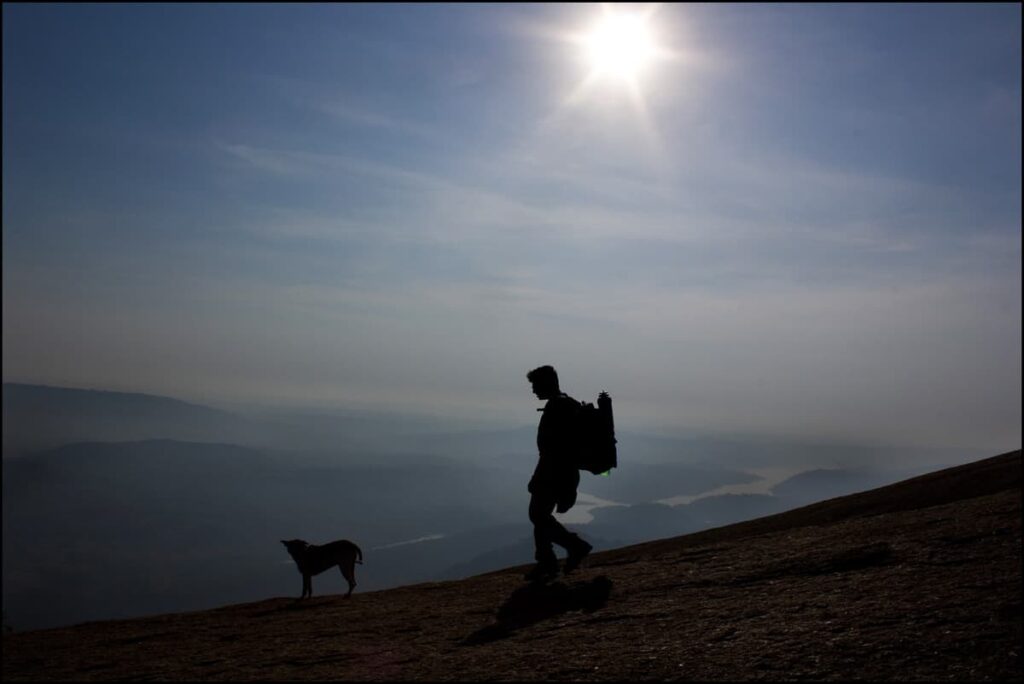 Campers can enjoy the breathtaking views of hills and forests at Savandurga, a scenic hill near Magadi in Karnataka. Its tranquil ambience and diverse scenery make it a top spot for camping and trekking.
The hill boasts Asia's largest monolith, making it a unique and awe-inspiring destination. There are plenty of camping areas with stunning views for campers to choose from at Savandurga.
Backpackers may relax in its beautiful woodlands and undulating hills. Experience the area's natural splendor via hiking, mountain climbing, and bird viewing.
Climbing to the top of Savandurga offers breathtaking views of the surrounding countryside. The monolithic hill, a favourite among trekkers, provides a challenging journey and is an excellent place to watch the sunrise or sunset.
Experienced hikers will find Savandurga an ideal destination, but it's not suitable for the faint of heart. The trip offers a peaceful escape from city life, and avid campers and trekkers must add it to their must-visit list as a campsite.
6. Kanva Lake
The peaceful and beautiful surroundings of Kanva, near Magadi in Karnataka, make it a top choice for camping and trekking. The Kanva Lake is a highlight, offering sailing, fishing, and bird-watching activities.
Campers can choose from several camping sites with views of the lake, forests, and hills. The tranquil environment of the Kanva Reservoir and surrounding woods allow visitors to indulge themselves in nature fully. check out Lakeside Camping in Kanva package offered by thrillophilia
Besides backpacking, explorers may go hiking, fishing, or bird viewing. The lake is a haven for various bird species, making it a must-visit destination for bird lovers and nature enthusiasts.
At Kanva, campers can warm themselves by the fire while enjoying conversations with friends and family. They can also experience exciting water activities such as diving, swimming, and rain dancing, as well as thrilling experiences like zip lining, multi-rope, swinging bridge, and ladder climbing.
7. Bheemeshwari
The shores of the Cauvery River in Karnataka host Bheemeshwari, a haven for wildlife enthusiasts. Popular activities include camping, bird watching, and adventure sports such as rafting, kayaking, fishing, and trekking. Campers enjoy tranquil surroundings in the spacious campgrounds.
Fishing enthusiasts flock to Bheemeshwari to try their luck at catching mahseer fish, a sought-after sport fish found in the Cauvery River.
The lush green forests also invite nature enthusiasts for treks and animal sightings, including the rare Sloth Bear. here is your curated camping package by thrillophilia
Thrill-seekers thrill at the excitement of ziplining and rappelling offered by Bheemeshwari as they experience a rush of adrenaline while admiring the breathtaking views of the river and forests.
Roads conveniently connect Bheemeshwari, which lies only a short distance from Bangalore, making it the perfect weekend retreat.
If you aim to relax, discover nature, or challenge yourself with new adventure sports, Bheemeshwari offers the ideal location for an enjoyable vacation spot for camping in Bangalore.
8. Bannerghatta
Tourists flock to Bannerghatta National Park for its famous camping and outdoor activities. The park spans over 104 square kilometres and boasts a diverse range of forests and animals, including tigers, leopards, elephants, and bird species.
By camping at Bannerghatta, tourists can immerse themselves in the breathtaking beauty of nature and take advantage of the park's dedicated camping areas, complete with basic amenities such as toilets and water. They can also hike the park's trails, go on wildlife safaris, and engage in other activities.
Bannerghatta is rich in cultural heritage, with many ancient monuments and temples located within and around the park.
Campers can also visit nearby tribal villages to understand the local people's traditional ways of life and customs.
Conclusion:
If you enjoy adventure, animals, and stunning vistas, make the most of the opportunity to go camping in Bangalore.
The town is surrounded by magnificent green hills, offering some fabulous Bangalore camping locations. Its rich cultural legacy, pleasant weather, and stunning vistas make it a perfect destination for travelers of all skill levels.
Camping in Bangalore allows you to bond with nature while spending time with those you cherish. Whether planning a weekend escape or a more extended trip, you will create memories to last a lifetime.
With numerous camping spots, you will find the ideal location for your camping adventure. So, you're seeking an exciting approach to spending time in Bangalore camping.
In that case, a campsite is a way to go and embark on a memorable camping adventure in the beautiful city of Bangalore! got any questions, comment down.
FAQs:
May I camp in the forests around Bangalore?
Yes, you may camp in the forests surrounding Bangalore, but you must first require permission from the ministry of environment and forests and abide by the guidelines and rules of the campground.
What should I pack for camping in Bangalore?
A canvas, sleeping bag, mattress pad, lamp, first aid kit, bug sprays, and food and drinking water supplies are all essentials for Bangalore camping.
Is camping safe in Bangalore?
Camping in Bangalore is safe if you obey the rules and restrictions of the campsite site and adhere to basic preventive measures like bringing a first aid kit and alerting someone else about your camping intentions
How much does camping in Bangalore cost?
The budget for camping in Bangalore ranges according to the camping spot and services chosen. On average, a weekend trip in Bangalore might cost between 1000 and 5000 rs per individual.