Hey there! Some links on this page are affiliate links which means that, if you choose to make a purchase, I may earn a small commission at no extra cost to you. I greatly appreciate your support!
Introduction:
Visit the breathtaking Agra tourist destinations and historical attractions, as well as other breathtakingly beautiful views.
There is a sense of history and romance in the air wherever you go in this city. From the world-famous Taj Mahal to the bustling market, Agra will steal your heart.
Visitors from everywhere travel to Agra because of its abundance of historic and cultural landmarks. we have already covered Cheap destinations from Delhi checkout and add more places to your bucket list.
Table of Contents
Agra travel places reflect the city's history and architectural grandeur, making it a popular tourist destination for visitors worldwide.
Best Agra Travel Places:
1. Taj Mahal – Agra's Crown Jewel
No Agra travel guide is complete without mentioning the Taj Mahal. Taj Mahal was built by the Shah Jahan (Mughal Emperor) in honor of his late wife Mumtaz Mahal is an immortal symbol of endless love.
Built totally of white marble and sculpted with complex designs and filled with valuable stones the monument is now one of the most recognized structures in the world.
Taj Mahal as a UNESCO World Heritage monument now attracts millions of tourists every year. Agra travel is complete only with experiencing the beauty of the Taj Mahal.
2. Agra Fort – A Grand Fortress
Do not miss the Agra Fort, another important Agra travel places. The Reign of sultan Akbar rebuilt this massive fortification in the 1600s, and functioned as the Mughal monarchs' principal palace until the late 1700s.
Inside its fortifications are various castles, mosques, and parks made of red sandstone.
Although Agra is a one-day journey from Delhi, the Taj Mahal needs more attention. A quick trip would overlook the intricacies of its numerous colors as the sun changes from morning to dusk.
City's other awesome locations including Fatehpur Sikri may easily keep visitors busy for a while, making it an important stop for anyone interested in learning more about India's heritage of culture.
3. Fatehpur Sikri – A Ghost Town
Fatehpur Sikri is another Agra travel places that is worth exploring. It was developed by Akbar in the late-16th century and continued to serve as his palace for a brief time.
The city was abandoned after only 15 years due to a water shortage.It is now a deserted ghost town with spectacular architecture that combines Indian, Persian, and Islamic influences.
The city has been declared a UNESCO World Heritage Site because to its efforts to care for its antique structures.
4. Mehtab Bagh – A Serene Garden
The Mehtab Bagh is another Agra travel places that is worth visiting.Taj Mahal may be seen across the Yamuna River from this garden complex.
You can avoid the bustle and noise of the city and enjoy a quiet picnic or relaxing walk in the grounds. Travelers can take a boat ride on the river for a different perspective of the Taj Mahal.
5. Agra Bazaar – A Shopper's Paradise
No Agra travel guide would be complete without mentioning the bustling Agra bazaar. This market is a hub of activity and a shopper's paradise, with various souvenirs, handicrafts, and local delicacies.
Visitors can find everything from traditional Agra carpets and leather goods to the famous local delicacy, petha, a sweet made from white pumpkin.
Agra Bazaar is a must-visit destination for anyone interested in taking home a piece of Agra.
6. Mankameshwar Mandir: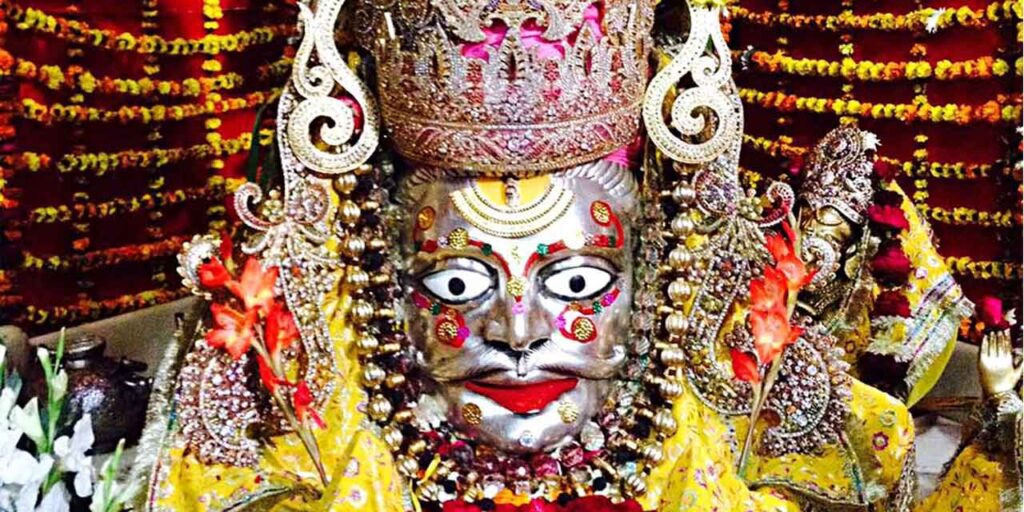 One of the oldest and most revered temples in Agra is the Shiva-devoted Mankameshwar Temple. Its beautiful marble work and ornate embellishments are reminiscent of both old Hindu and Mughal traditions.
A stunning statue of a meditating Lord Shiva and several other deities may be seen within the temple.
Many religious and cultural activities including the world-famous Maha Shivratri festival conducted at the Mankameshwar Temple, attracting visitors from all across India.
Located so close to Agra's two most famous landmarks the Agra Fort and Taj Mahal is a must-stop for every tourist.
Travelers interested in experiencing a rich culture and seeing the stunning Taj Mahal should definitely make Agra their next stop.
Best Time To Visit Agra
The best months to visit Agra are November and February. The average temperature in the city around this time is a pleasant 8'C, making it a great time to go sightseeing. thrillophilia has awesome deals on Agra vacation packages that you should try.
There are many exciting cultural events and celebrations taking on all throughout Agra at the moment. Visitors may immerse themselves in the city's historic heritage and cultural customs this way.
Your visit to Agra will surely be memorable with the proper preparation and timing. So prepare to be enchanted by Agra and its magnificent marvels.
How to travel to Agra:
Agra, one of India's most famous tourist sites, is easily accessible by various forms of transportation. Travelling to Agra is a simple process whether you go by plane, train, or car, and you can opt for the Agra travel guide for easy and convenient options.
Air travel to Agra is the quickest and most convenient option. The Kheria Airport, located about 7 kilometres from the city center, serves Agra.
However, you may fly to Delhi's Indira Gandhi International Airport, approximately 230 kilometers from Agra, and then take a cab or train to get there.
Traveling by train is also convenient as Agra is well-connected to other major Indian cities with multiple railway stations and a budget-friendly option for most of us. Agra Cantonment is the primary rail station, offering regular services to and from major Indian cities.
You can also opt for a luxurious train journey on the Palace on Wheels or the Maharajas Express to reach Agra in style.
Finally, several highways connect Agra to other important cities if you travel by road. You can reach Agra by taking a cab or bus from places like Delhi, Jaipur, or Lucknow.
Where to dine in Agra:
Agra offers a range of options for food lovers, as the city is famous for its rich culinary heritage. From street food to fine dining, many restaurants in Agra cater to different tastes and budgets.
One of the most well-known dining establishments in Agra is Dasaprakash restaurant, renowned for its delicious South Indian cuisine.
Other popular restaurants in Agra travel guide include Pinch of Spice and Shankara Vegis, which offer a blend of Indian and international cuisine.
If you enjoy street food, head to the bustling Sadar Bazaar area, which serves a variety of local snacks like chaat, samosas, and kachoris.
Agra is hugely famous for its petha, a sweet dish made from pumpkin found in many sweet shops around the city.
Agra accommodation options:
Agra offers a range of lodging choices to accommodate various budgets and preferences. Luxury five-star hotels, heritage buildings, boutique hotels, and budget-friendly guesthouses and hostels make it an ideal option for all visitors.
Some of Agra's most prominent and luxurious hotels are located near the Taj Mahal, providing breathtaking views of the monument. Sadar Bazaar, Fatehabad Road, and Yamuna Kinara Road are popular areas to stay in Agra.
Additionally, various budget-friendly guesthouses and hostels are available across the city, providing backpackers and budget travelers with a comfortable and economical stay.
Regardless of where you stay in Agra, you will have convenient access to the city's well-known attractions, making it an excellent choice for those exploring Agra's travel places.
Essential tips to consider while visiting Agra travel places:
Remember a few crucial things to make the most of your trip to Agra and its stunning tourism destinations. Here are some essential tips to consider:
Get your tickets in advance to avoid long queues and ensure entrance to popular attractions like the Taj Mahal and Agra Fort.
To escape the excessive heat and humidity, visit during the milder months of October to March.
Bring comfortable attire and shoes, particularly if you plan to explore the attractions on foot.
Show respect for the local culture and customs when visiting religious sites like the Jama Mosque and the Akbar Mausoleum.
Keeping these tips in mind, you can have a genuinely wonderful experience visiting Agra and its breathtaking tourist destinations.
Consider seeking a local Agra travel guide to enrich your travel experience and better understand each tourist destination's culture and significance.
Conclusion:
Agra is a beautiful city that has captivated people from all corners of the world owing to its unique richness and rich history.
It is famous for its beautiful landmarks, notably the Taj Mahal, considered one of the world's seven natural wonders.
The magnificent palaces, mighty forts, and beautiful monuments of Agra attest to the majesty of Architectural style and creativity.
The city's diverse culture, busy bazaars, and delectable food contribute to its allure.
A complete Agra travel guide is advised for an enriching time in Agra. Tourists must see the notable Agra travel places, including the Agra Fort, Itimad-ud-Mausoleum, Daulah's, and the Mehtab Bagh gardens.
FAQs:
How much time is required to see the Taj Mahal?
t takes around 2-3 hours to visit the Taj Mahal and its magnificent gardens thoroughly. But, depending on the crowds and the weather, the timing may vary
Will it be safe to explore the tourist attractions in Agra at night?
It is not advised to visit Agra travel places at night since they are poorly illuminated and can be unsafe. On the other hand, the sound and light display at Agra Fort is a popular nocturnal pastime that is both safe and interesting
What is the best suitable way to go around Agra's tourist attractions?
Hiring a local guide or transportation service is the best way to navigate Agra travel places. Buses and trains are choices for public transit, although they may be congested and time-consuming
Which one is some must-try Agra delicious food?
Mughlai food is popular in Agra, and some must-try local dishes are Petha, Bedai, Kachori, and Mughlai Biryani. Agra's street food culture is worth investigating, but only from reliable sellers, check out the Agra travel guide for reference