Hey there! Some links on this page are affiliate links which means that, if you choose to make a purchase, I may earn a small commission at no extra cost to you. I greatly appreciate your support!
Introduction:
Are you seeking affordable cheap destinations from Delhi? The repetitious routine stresses us out frequently! There is no definitive therapy like travel to restore your tired mind and physique.
Just use the weekend if you can not take a lengthy vacation. Resolve to explore and take in India's tiny towns' stunning scenery as you begin the new year.
When seeking excellent weekend trips from Delhi, there are several options. There are plenty of places to explore close to Delhi, whether you're looking for adventurous activities, a summertime getaway to the hills, a night of safaris and hiking, or perhaps a cultural context.
Table of Contents
What is great about such locations is that each accommodates various journeys, whether for lone travelers, couples, families, or groups of friends. The north Indian region has excellent road connectivity, which provides a bonus of a lovely rural atmosphere.
Best and cheap destinations from Delhi:
Can't take Delhi's heat much anymore? Locations near the capital provide some relief with their relaxing atmosphere and calm beauty.
These vacations are suitable for quick summer breaks and won't break the bank either. So gather your belongings and flee to the north to avoid the oppressive heat.
Check out this list of vacation trips from Delhi for your upcoming trip. These locations are fantastic travel options that are very affordable.
1. Agra:
Agra is among India's most popular tourist sites, which everyone can enjoy without spending much money, and it is a cheap destination from Delhi to explore.
The Agra Fort and Fatehpur Sikri are other attractions that shouldn't be missed. December through February are the finest months to explore the city because the dust has settled and the weather is cool.
we have already covered a detailed guide for Agra travel places go through this specially curated guide and get insights into frictionless traveling to Agra.
Tourists worldwide flock to Agra, the Taj Town of the Taj. Who wouldn't wish to see the Taj Mahal, which is one of the seven wonders of the universe and the actual embodiment of love?
2. Rishikesh
Rishikesh receives a wide range of visitors, and adventure is a big attraction. Several activities are available here, like camping, rafting, and sky diving, making this one of the most incredible cheap destinations from Delhi.
It is also a spiritual city where the holy Ganga flows and the chime of temple rings sanctify the air. Rishikesh is recognized as the "Yoga Capital of the World" with its adventurous activities, historic temples, well-liked cafes, and famous cafes.
It is one of the sacred destinations for Hindus, and is a tourist centre, and the entrance to the Himalayan Mountains. Here is your "Rishikesh travel guide" Check out the spiritual side of India.
3. Jibhi, Tirthan Valley
Jibhi sometimes referred to as a captivating "hamlet," is nestled in the Tirthan Hill country of Himachal between a beautiful green lush and a range of colourful mountain peaks.
This place is worth visiting due to its thick pine trees, mindblowing freshwater lakes, and spotless temples. After seeing this location, you will want to stay as you will be enchanted.
An added advantage is that it gives you the impression that you dwell in the Victorian Era, cozy homes where you may relax.
So stay and enjoy nature with a cup of tea and listen to the pleasant chirpings of the birdies. The ultimate Jibhi travel guide is waiting for you, check it out now.
4. Shimla
Shimla, the headquarters of Himachal Pradesh and known as the "Queen of Hills," is renowned for its new stunning features and British elegance.
It is still one of the top and cheap destinations from Delhi and one of the most well-liked tourist destinations in Himachal, where it snows in the winter. Shimla offers it all: forests, stores, temples, and a built-up suburb!
Shimla is frequently covered, as the surrounding towns of Chail, known for its enormous mansion and the most prominent cricket pitch in the world, and Kufri, a mountain village virtually constantly covered with ice.
Visitors also visit the famous Jakhu Mandir and explore several lookout locations en route to Shimla.
5. Vrindavan
The ancient city of Vrindavan is unquestionably worth visiting if you are religious or searching for a fantastic photo opportunity.
But, do not limit yourself to the popular perception; Vrindavan is much more than simply a place to visit a few temples; it is rich in history and provides an exciting place to people-watch.
Vrindavan is an exciting spot to observe. Since it is intended for monks, hotels cost just INR 600 per night if you want to spend the night, check out Makemytrip.
The most well-known temples in Vrindavan are the Banke Bihari Mandir and the ISKCON Mandir, two Lord Krishna and Radha temples dispersed around the city.
Nidhivan is recognized to be one of Vrindavan's most fascinating locations. The remarkable thing is that despite the terrain being completely dry and the trees having hollow wood, they continue to have a lot of green foliage all year.
6. Jim Corbett National Park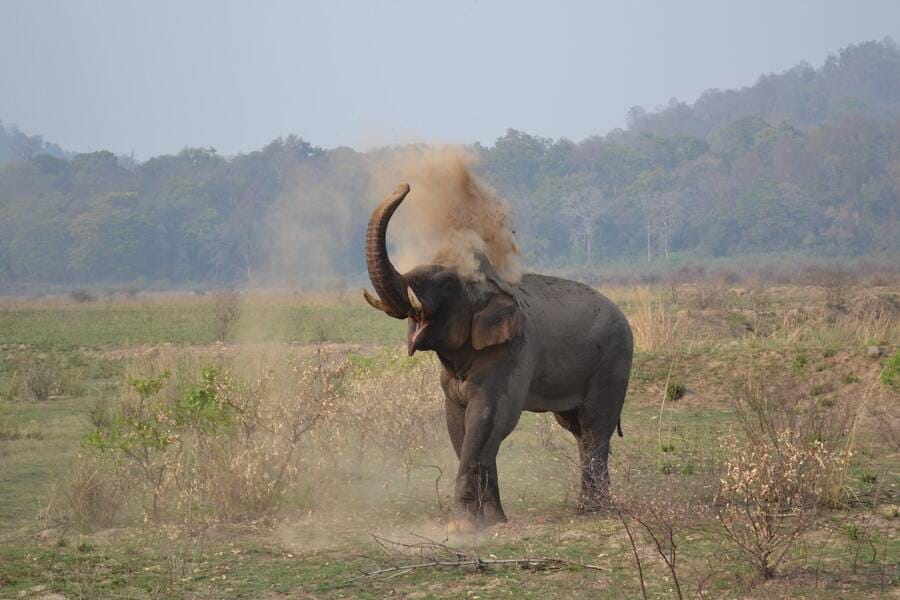 Jim Corbett National Park, one of India's natural forests, is a great and one of the cheap destinations from Delhi for those who enjoy the outdoors.
More than 580 bird species and 50 mammalian species can be seen when visiting Jim Corbett.
The main attraction of Corbett National Park is Dhikala, a forestry lodge famed for its breathtaking setting and abundant wildlife situated on the edge of Patil Dun Meadow.
Project Tiger was first introduced in 1973 at Corbett Wildlife Sanctuary, a smaller section of the Corbett Tiger Reserve.
7. Spiti Valley
Spiti Valley welcomes you with a lengthy stretch of windy roads and hills that provide breathtaking views of the freezing deserts and snow-capped highlands.
Being one of the most excellent regions in the nation, Spiti Valley in Himachal Pradesh, which the Himalayas surrounds, is situated at an elevation of 12,500 meters above sea level and receives only about 250 days of sunlight annually.
The Spiti Valley is renowned for its significant cultural legacy and stunning natural surroundings. One of Spiti's most notable sights is Tabo Monastery.
Spiti's monasteries are famous for their magnificent murals, historic temples, and numerous stupas.
8. Dehradun
The lovely town of Dehradun is situated in a valley. The magnificence of this city is found in its sloping lanes with trees on either side.
The beautiful year-round weather makes it a fantastic escape location from Delhi. It is a popular choice for weekend trips and a cheap destination from Delhi, around 300 kilometres.
Dehradun is a place for leisure and business, combining a world-class landscape and modern facilities.
The atmosphere is so upbeat that you can't help but put all your bad feelings on hold to relish the weather, the coffee, and your cheerful views about yourself and others.
9. Amritsar​
To Sikhs, Amritsar is considered one of the holiest places to visit. The Golden City is where the Golden Temple is located. As long as one steps into the temple's proximity, one can experience its relaxing energies.
The Wagah boundary, Jallianwalla Bagh, & Rambagh Bagh in Amritsar are just a few popular and cheap destinations from Delhi that can be reached via Amritsar.
Mesmerizing Amritsar is a town known for its rich history, culture, and mouthwatering regional food. It is the main centre of the Sikh people, and many pilgrims visit this place, so it pulls visitors from all around the world is not surprising.
10. Kanatal
Kanatal is an undiscovered sanctuary where pleasure and heaven collide. It is a tiny town situated amid Uttarakhand's picturesque mountains.
Kanatal, one of Uttarakhand's hidden secrets and located at an altitude of 2590 meters, is less well-known than any of its nearby cities, like Mussoorie and Rishikesh.
In a sentence, visiting Kanatal is like visiting Paradise on Earth, where you'll revitalize your soul and discover a new version of yourself.
It's an unusual tourist spot that offers a few adventures, scenic valleys, calm highlands, and everything with a slight note of twist and excitement away from the urban commotion. Kanatal is waiting for you if you're seeking a relaxing getaway.
At Kanatal, visitors can count on snowfall in the winter months of January and February. Heavy rain feeds the region's lush vegetation throughout the monsoon months, rendering it a must-visit location.
Conclusion:
No one can contest the advantages of travelling to these cheap destinations from Delhi since there are so many alluring places to see and thrilling experiences.
Delhi is close to many intriguing getaways that give visitors a quick glimpse of beautiful landscapes. This place has everything from romantic, family-friendly, and entertainment retail and dining locations to social gathering places.
Also, You must check out [ The Most Popular places to celebrate valentine's day 2023 ]
FAQs:
1. Which day trips offer the best and cheap destinations from Delhi weekend trips?
There seem to be Delhi's top one-day outdoor adventures:
Agra
Kuchesar
Sariska Wildlife Sanctuary
Neemrana
Damdama Lake
Wild Dhauj Camp
2. Which nearby location from Delhi is the coldest?
Shimla, Mussoorie, McLeodganj, Himachal, Kantal, Nainital, Auli, Dalhousie, Chopta, Kufri, Jalori Peak, Narkanda, Khajjiar, and several other sites are destinations to explore near Delhi for winter.
3. Which lake is nearby Delhi?
Not so much the lake in Nainital, but the Naini Lake is considered one of the top places to unwind close to the city.
This lake is a stunning natural refuge from the chaos of the city, and it is situated in northern Delhi.
4. What makes Delhi a popular travel destination?
Delhi, which has a long history, represents a fast-modernizing country with an ancient culture and offers plenty of cheap destinations to explore.
Its lengthy history may be seen in the numerous meticulously maintained structures, historic forts, and graves that bear witness to the location of countless strong kingdoms in the past.