Hey there! Some links on this page are affiliate links which means that, if you choose to make a purchase, I may earn a small commission at no extra cost to you. I greatly appreciate your support!
Introduction:
Another jewel of the Himalayas, the New Brahmatal trek that has yet to be fully discovered by trekkers globally, is devoted to Lord Brahma. It has awesome mountain views that surrounded by snow. The ancient oak and rhododendron forest, accessible from the road, stretches back centuries.
Table of Contents
Walking across the meadows near Brahamatal Ridge will allow you to see several Roopkund Trek attractions. It would melt your heart to look out at the distant Garhwal Mountains on such a beautiful day.
The Brahmatal journey continues to draw visitors from all walks of life due to its tall snow-capped hills overlooking verdant meadows, crystal-clear mountain lakes, stunning streams and rivers, and green trees and woods.
Is the Brahmatal hike challenging?
The New Brahmatal Trek is simple, but because of the heavy snowfall that keeps us down on the mountain during the wintertime, it turns into a challenging trek. First-timers will discover that braving the cold is a tolerable experience because the declines in December and January are typically between -10 and -12 degrees Celsius.
The ideal month to hike the new Brahmatal trek is?
The most suitable times to visit Brahmatal are during the winter months or spring season. December, January, and February are usually clear and offer some of the best landscape views. The snowing this season has also contributed to the main attraction.
Highlights Of Brahmatal Trek:
The brahmatal trek is an easy trek, to begin with, and is the top winter hike for beginners.
In the Himalayas, the new Brahmatal Trek is considered one of the perfect winter hikes. Mid-December until mid-March, it is covered in snow. Witnessing the breathtaking scenery and snow-covered peaks surrounding you will bring new life to a complete stop.
In this treking way you will also find out great views across Skeleton Lake and Roopkund from top Brahmatal Peak.
By visiting the Brahmatal Lake in the tiny village of Lohajung, somebody can discover more about the history of Lord Brahma and his meditation.
You'll be transported to a fairyland by sight from the summit.
The appealing snow-covered alpine peaks will banish your life troubles. Mount Trishul and Mount Nanda Ghunti are well visible from this walk.
Short Itinerary:
First, travel to Dehradun, the capital of Uttarakhand, to get to the Brahmatal starting location. Roadways, railroads, and aeroplanes all link to Dehradun. In this trek you will also see the views across Skeleton Lake and Roopkund from top Brahmatal Peak.
Dehradun has big railway station that join other major cities including Delhi, Mumbai, Chennai, Bangalore, Kolkata and many other.
Luxury train lines like Shatabdi, Rajdhani, and Duronto are available throughout most cities, which makes the trip more accessible and more comfortable.
Additionally excellent is the air connectivity. Daily flights are available from the majority of Indian cities. We need to go 300 kilometres by car between Dehradun to Lohajung.
The journey lasts approximately 11 hours and travels via the lovely cities of Devprayag, Trikot, Rudraprayag, and Srinagar. The walk from Lohajung via Bekaltal will after that, take 4-5 hours.
Once more, one must walk for 4-5 hours to reach Brahmatal, complete the last climb to Brahma Tal Mountain, and return to Brahma Tal Camp the next day, which will take 5–6 hours.
Lastly, return to Lohajung/Wan after the final descent, which should take 6 to 7 hours.
Destinations to See While on the New Brahmatal Trek :
1. Lohaganj Town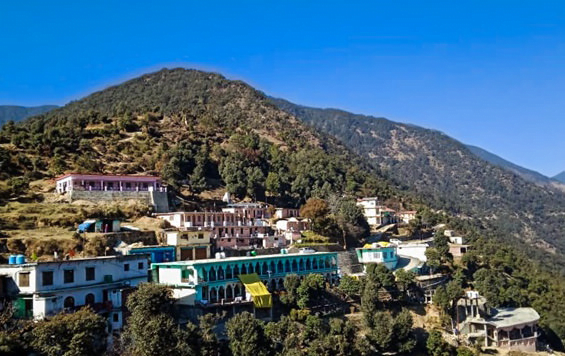 You can explore this tranquil hamlet in the Chamoli area of the Garhwal Himalayas as the adventure departs from Lohajung.
The location serves as the starting point for various captivating treks, such as the new Brahmatal Trek, Bedni Bugyal Trek, and Roopkund Trek.
The vast grasslands surrounding this town are ideal for camping.
2. Bekaltal
Bekaltal, a relatively high lake that runs through Mundoli and Ratgaon, is located about 8 kilometres from Lohajung. The lake is seven kilometres from Brahmatal and connects to broad meadows with enchanting panoramas of the Himalayan ranges.
The lake is covered in a thick coating of snow in the wintertime, and the area is still snowy in January and February.
3. Brahmatal:
As per religious traditions, Brahma travelled to Brahmatal to commit self-mortification. Brahmatal is very special location in Hindu mythology. The tranquil lake freezes over in the wintertime and is one of the uncommon Himalayan hikes accessible all year.
Instructions:
The following are crucial suggestions that must be complied with when organizing your excursion:
At least one month before the walk, start preparing your body.
Keep enough cash on hand because there are no ATMs along the trekking path, not even at base camp.
Plan your trip with seasoned companions, and reserve the expedition in advance.
Avoid scheduling the Brahmatal walk during the rains because the terrain is usually slick.
After Lohajung, there will be no cell phone networks available. Here we can just say that notify your family or friends about the adventure.
Things required for the trek:
50–60 litre backpack with cosy straps and a rain protector
Hiking pole
Forehead torch
Bottle of water, hydration pack, and thermos
Dried fruits and energy bars
First-aid kit
Hand sanitizers and cleaning agents
Garbage bags
Conclusion:
The new Brahmatal trek is an easy winter trip that has everything you might expect in a winter hiking location and enjoy with friends and family. The Brahmatal hike is getting more famous because of to its awesome views.
Lord Brahma, according to mythologies pondered in Brahmatal, an isolated lake in the center of mountain. The ice blue lake and the vast snow-covered mountains that climb above it make a wonderful memory.
All these demonstrate that no comparable trek would ever equal the serenity and ambience of the Brahmatal hike.
It is not surprising that this hike is everybody's favourite because of its straightforward, secure, moderate path and breathtaking views.
FAQs:
1. Which time period these area covered in snow? Can we still visit during snowing?
Yes, it is possible to accomplish this on snow. Since the trail is covered in snow throughout the winter, it is a little more challenging.
2. What about the weather here?
The daily temperature ranges from 3 to 10 degrees Celsius. The nights are freezing, with lows of -5 degree celsius. The seasons of July and August are when rain is likely to fall because of the region's constant cloud cover.
3. Is it secure for beginners?
This is a high-altitude trek and due to its medium to moderate difficulty, this trip requires essential cardiorespiratory health, physical conditioning, and stamina. There is no requirement for a prior hiking experience, so newcomers are always appreciated.
4. Which type of shoes shall I use?
The entire area will be coated with snow throughout the winter. Therefore, it is crucial to have a weatherproof high-ankle hiking shoe. The use of regular shoes is not recommended for the new Brahmatal trek.