Hey there! Some links on this page are affiliate links which means that, if you choose to make a purchase, I may earn a small commission at no extra cost to you. I greatly appreciate your support!
Introduction
Triund trek One of the shortest and easiest Himalayan hikes offers a breathtaking landscape and a beautiful view of the snow-capped Dhauladhar hills and Kangra valley.
It would be simple to finish this two-day trek so over the weekend. The tranquillity and splendour of the Himalayas are ours to savour during the Triund trip.
Table of Contents
Although the walk is short, the occasionally steep terrain will give you a sense of adventure. The sights of the entire Dhauladhar mountains and the vast, lush green pastures draw numerous hikers looking for a modest weekend trek.
A documented track marks the start of the 18-kilometre hike, which is located in Dharamkot. It is advised that you employ a consultant or travel company if this is your first experience trekking because the routes travel through rhododendron and deodar forests, which, despite being beautiful, can be a little perplexing.
We have already covered many astonishing treks one of them is Dayara Bugyal Trek check it out.
Your schedule is plays a very important role here actually, the hike can take up to six hours. If you want to trekking in hills area then you will find out the plane area sometimes where you can set up camp and acclimatize.
From Triund Hill's summit, one can observe the stunning Dhauladhar range dominating the region.
Go in January if you desire to see snowfall, (but at that time there is heavy snowfall, it's advisable not to visit in January-February) and from March to May, for the most breathtaking and unobstructed views of the vast forests and mountainous regions.
It takes 30 minutes to reaching from Dharamsala.
Here are several reasons to prepare for the Triund Trek.
Triund is proud of its vibrant and unique Tibetan culture which includes magnificent monasteries with lovely cloisters, Buddha images, wheels, and supplication flags.
You will enjoy some of the awesome view of the snow covered mountains, clean or partial cloudy sky and greenly jungle area as you make your way to Triund.
One of the most awesome thing about this walk is seeing all the heavenly formed that light up the night sky. Notably, the Triund walk has a difficult 1,100-meter elevation.
It is short and surprising trek. Triund may be reached in just under 3 hours from Galu Temple. The hike is hassle-free because the rising journey starts at the last 2 km from Snowline Café.
check out thrillophilia as they offer the best and most versatile plans, let them handle all the hectics and surrender your soul to the incredible scenery and make unforgettable memories
Duration Of Triund Trek
Approximately 7 km from Dharamkot, the Triund Trek route takes 3 to 6 hours to reach the camping area. First-time hikers may need about 6 hours, including breaks for resting and savouring the soul-stirring view of nature.
However, if you begin the walk from Mcleodganj, it can take 8 hours to complete. Triund Trek is one of the highest elevation hikes, rising to a height of 9350 feet, and provides the most beautiful weekend entryway into nature for those looking to enter a state of natural trance.
It is simple to finish the walk in a single day without rushing. The trek can start whenever you like in the morning. However, the ideal time to begin hiking is right before 10:00 am.
If you'd like, you can even pitch a tent at the trekking location and spend the night gazing up at the starry or moonlit sky.
Doing so may preserve precisely how magnificent views appear throughout the day.
Time to visit Triund trek
March through June is the ideal season to visit Triund if you decide when to go. It is the most suitable season to journey here because of the moderate temperatures, the views are coming into focus, and the entire area is sprinkled with various colours.
In other seasons, notably from December to February, it is recommended to avoid it because of the severe snowfall that might close up portions of the trail.
Additionally, the cold gets so bad sometimes that it could seriously harm your wellness. Uncomfortable circumstances may arise throughout the trip because the path may become slick in some places or because rain may unexpectedly fall.
Avoiding is advised, mainly if this is your first time. If you are a pluviophile, you are fortunate to see the scene at its most saturated.
Triund Trek Difficulty
Triund Trek veterans frequently respond that anybody can venture there because it is simple and reasonable. Consequently, even a novice can quickly discover this route.
While the first few miles are short, the final kilometer may require some effort to accommodate the 22 turns. It's all worth it because of the awesome view especially as the sun sets.
You can photograph the spectacular scenery of the sun being engulfed by a sea of clouds, maintaining its seductive shine in the sky for a considerable time.
While walking through the well-paved path past the lovely oak and rhododendron forests, you will happily savor the sights and sounds.
Your voyage will be enjoyable thanks to the humming of various animals and birds, which will let you neglect the fast pace of the city. You'll come to understand that there isn't any haste.
More Places Near Triund Trek:
1. Dhauladhar range
The journey is close to the Dhauladhar range. There are awesome views from the mountains and the amazing environment will capture your soul.
From that now, you can see Rifle Horn, Arthur's Seat and Moon peak.
2. Pine forests
Triund Trek contains a small amount of forest trekking, but this area offers the most picturesque trails, all lined with enormous coniferous and pine trees. In these forests you will also able to find many oak and rhododendrons trees.
3. Sunset view
Trekkers can enjoy a spectacular evening at the Triund walk, where the golden sunlight gracefully reflects so over mountain ranges in the pristine Kangra Valley.
4. Dharamshala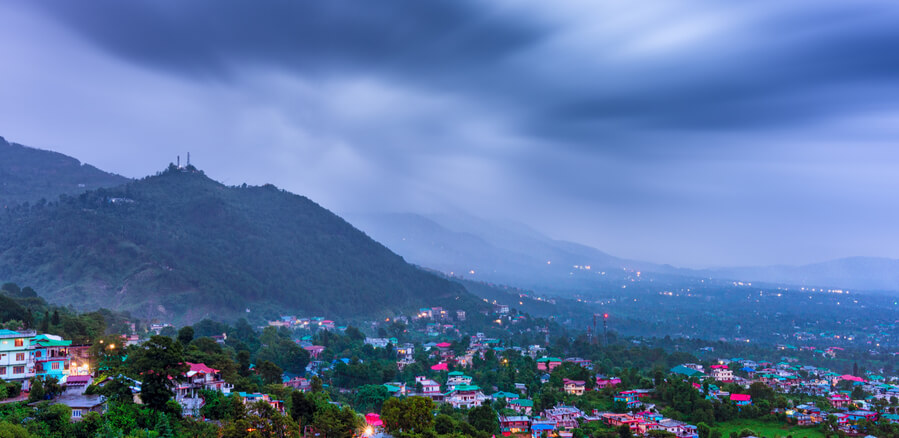 Thousands of tourists travel to Dharamshala each year to just enjoy the awesome views of its mountain ranges and valleys.
The Dalai Lama's temple, Buddhist temples, tea plantations, and the renowned Himachal Pradesh Cricket Association Stadium in Dharamshala draw tourists from around the world.
check out the full guide blog by club Mahindra and get all the insights before visiting Dharamshala.
5. Bhagsu Nag Temple and Waterfall
Lord Shiva is reported to have conquered the 5100-year-old Bhagsu Nag Temple. Tourists are given a sense of peace and calm at this spot.
You will love the peaceful place from your heart. Additionally, a stunning waterfall close to the Bhagsu Nag Temple offers visitors tranquillity.
6. Naddi View Point
Another natural beauty that draws tourists and trekkers is the Naddi View Point. Here you will also find out the perfect view of sunset.
Authentic regional specialities are also offered at this restaurant and are too excellent to pass up.
7. Bir Billing
Bir Billing is a beautiful village in Joginder Nagar of Himachal Pradesh State. It is well known for its Tibetan refugee settlements, Buddhist temples and specially for paragliding, hiking, camping, and mountain biking.
8. Palampur
The Kangra Valley in Himachal Pradesh is home to the charming hill town of Palampur. Palampur offers picturesque landscapes, from glistening waterfalls to fragrant tea plantations.
FAQS:
Is the Triund Trek difficult?
Easy to moderate grade. Triund Trek is renowned for its hilly, well-defined, sloping trails through picturesque oak and rhododendron-lined woodlands.
How long does the Triund trek take to complete?
Even though many people can accomplish the Triund trip in under two hours, it will at most take four hours. Even for a novice hiker, the path itself is not too taxing
Can I spend the night in Triund?
You will also need overnight lodging because nighttime camping is prohibited on the Triund summit. Nearby the Gallu Devi shrine, there are a few that are comfy
Conclusion:
You can't miss it with a word-drawn map of the trip. You must remember the Triund trek because of its height of over 9,000 feet, breathtaking beauty, rapids and waterfalls, vistas of lakes and glaciers, and other features.
What exactly do you stand to lose? Start packing in preparation for your trip to the Triund with friends, family, or coworkers!
That's it, glad you are here end of the blog, comment if you have any queries or suggestions, and also check out more blogs on trekking, have a good adventure life🤗 .