Hey there! Some links on this page are affiliate links which means that, if you choose to make a purchase, I may earn a small commission at no extra cost to you. I greatly appreciate your support!
Introduction
What is Shillong best known for?
Shillong is the capital of Meghalaya and is one of the most pure, clean, and scenic hill stations in India.
It is located in the northeast part of the country, Shillong includes a mesmerizing combination of waterfalls and forests known as Scotland of the East.
Shillong takes pride in its ancient culture.
If you want to start your exploration of North Eastern cities then Shillong is the best place to begin your adventure. It offers you a blend of natural beauty, cultural indulgence, and tribal touches to your trip. From hikes to golf courses, Shillong has much to offer.
Table of Contents
Top 6 Places to visit in Shillong :
1) Shillong Peak
With an elevation of 1,965 meters above sea level, Shillong Peak is the highest point in the city. It provides stunning views of the valleys and hills in the surrounding area. The view is breathtaking and the vibe is satisfying. It's the best places to visit in Shillong and a great place to begin your Shillong adventure.
2) Umiam Lake: Serenity by the Water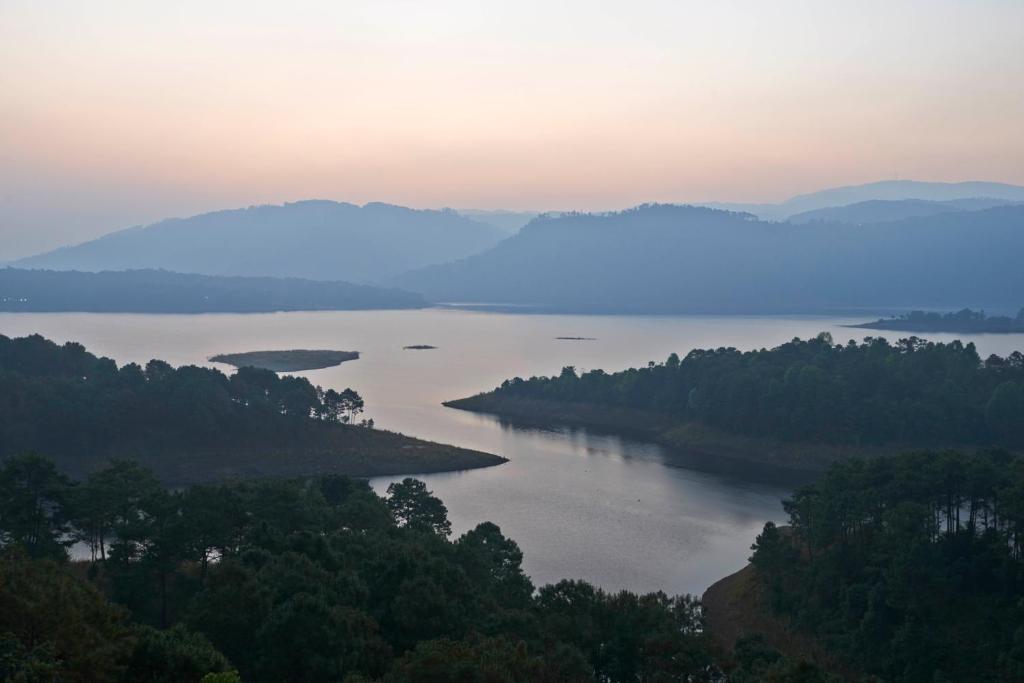 Umiam Lake is another spot that you should not miss. Umiam Lake includes an artificial reservoir renowned for its crystal-clear waters surrounded by lush greenery known as Barapani.
It is a great spot for a peaceful boat ride and a picnic, just a short drive from the city. For lake lovers, Umiam is in the best places to visit in Shillong.
3) Elephant Falls: Nature's Cascading Wonder
If you are looking for a magnificent waterfall then Elephant Falls is a multi-tiered waterfall. It is known to be the pride of Shillong's natural beauty. For nature enthusiasts, Elephant Falls is a must-see attraction. Resembling an elephant hence its name, Elephant Falls is the must place to visit in Shillong.
4) Don Bosco Centre for Indigenous Cultures: Dive into Diversity
For a deep fall into the rich cultural heritage of the Northeast, visit the Don Bosco Centre. It's a museum that showcases the diverse traditions, artifacts, and history of the indigenous communities of the region.
History Geeks who look for pieces of legacy in the places they visit this is in the best places to visit in Shillong.
5) Mawphlang Sacred Forest: Mystical Tranquillity.
Mawphlang Sacred Forest is a UNESCO World Heritage site that reflects respect for nature. It is a place of clean peace and provides an insight into Khasi beliefs. Thats why its in best places to visit in Shillong.
6) Shillong Golf Course: Tee Off in Paradise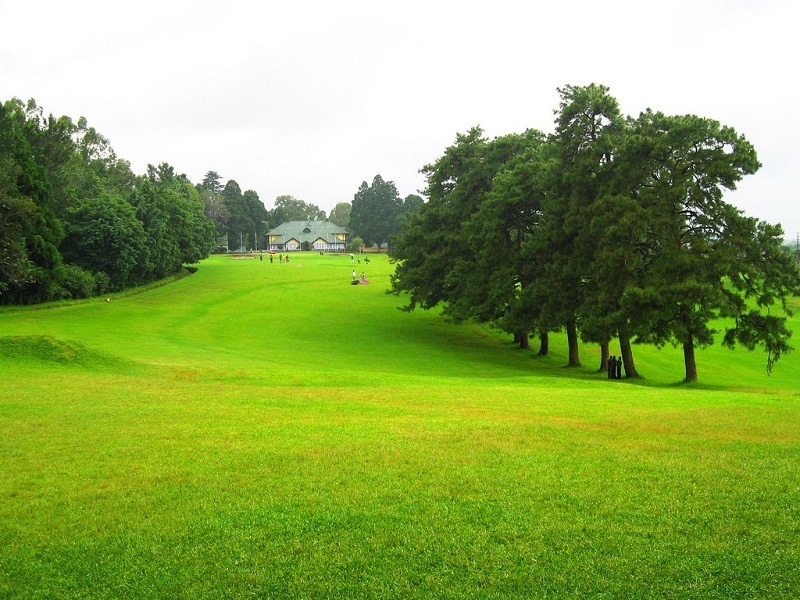 If you are a golf lover, it is the best place to play a round at the Shillong Golf Course and enjoy golf in a unique place. It is one of the oldest and best for those who are golf enthusiasts. and the most scenic golf courses in India.
Which month is best for Shillong?
The best time to visit Shillong is between September and May. The weather this month remains pleasant. It does occasionally rain, but it is relatively less than in the monsoon seasons, i.e. between June and August.
Day Trips Recommendations
Among the finest road networks across India, the roads of Meghalaya were formed for road trips. Covering the expanse and connecting you to the less explored parts of the state, here are the places you can take a day trip to when in Shillong.
1. Jowai
Jowai is 2 hours from the Shillong city center, Jowai is famed for a large number of attractions giving insight into the local history and culture. While visiting, check out along, Myntdu River, Syntu Ksiar, and the Kiang Nong Bah Memorial. Apart from these if you are looking for spectacular landscapes then the Tyrshi Falls, Thadlaskein Lake, and at a small distance Nartiang Monoliths and the Krang Shuri waterfalls are definitely the places to visit in Shillong.
2. Mawphanlur
Just a 2-hour drive from Shillong, Mawphanlur is known for its vast greenery and picturesque scenery. High-altitude grassy meadows and numerous lakes call this place home.
Hike to the Mawthadraishan Peak to relish the greenery and the inner nature lover. You will witness the landscape that will leave you astounded.
3. Mawsynram
It is roughly a 2.5 hr drive from Shillong, Mawsynram houses a score of must-visit natural treasures, including the world's longest sandstone cave, Krem Puri Caves and the picturesque Umkhakoi Lake, with some riveting rock formations on its shoreline.
4. Mawlyngbna
Less than 40 40-minute drive from Mawsynram, Mawlyngbna offers its visitors a glimpse into Meghalaya's idyllic countryside lifestyle and local culture. Additionally, this charming village houses a diverse topography comprising lush peaks, natural springs, and numerous bursts of waterfalls.
5. Eri Silk Village
Umden, in the Ri-Bhoi district of Meghalaya, was called the first Eri Silk Village of Northeast India. "Eri," the word stands for peace. Here you will witness a form of non-violent production of Silk.
Visitors can tour the village and observe the silk production process, buy silk-based goods, sample local cuisine, and explore nearby sights like the blessed groves.
Things to do in Shillong
From adventure activities to sports, sightseeing excursions to cafe crawls, the multifaceted experiences of Shillong should leave your schedule packed with fun and a large quantity of adventure. Here are some fun activities that you must try while exploring Shillong:
1) Golfing and more at Golf Links– 
Golf enthusiasts, there is good news, if you want to go golfing here in a picturesque landscape then here is an 18-hole golf course. This Golf link is open to all.
It is also ideal for leisurely strolls while taking in the endless view of mountains, tall pine forests, clear skies, fluffy clouds, and seemingly endless fields. And the best part is it's within walking distance from our Zostel Shillong. It is the best places to visit in Shillong for Golf enthusiasts.
2) Go on the David Scott Trail hike or the Bamboo hike– 
The David Scott Trail is a 16 km hike. It starts in Mawphlang and can be easily covered in 4-5 hours. A river crossing, an arched bridge, and heart-stirring panoramas can all be found on the walk. It is the hiker's favorite place to visit in Shillong.
Meanwhile, the Bamboo Trail hike, also called Mawryngkhang hike, starts in Wankhen, a 1.5 hr drive from Shillong city center. Walking across bamboo bridges and ladders the entire way makes for an exciting stroll that is not for the faint of heart. The 7 km-long walk can be completed in 3-5 hours.
Best Restaurants in Shillong
Shillong houses an ever-expanding range of tangy and delectable foody delights, supported by its dynamic cafe scene. Additionally, a trip to Shillong is incomplete without sampling its local cuisine. To help you along the way, here are some recommendations:
1) Lamee Restaurant– 
Greeting its customers with neat and classic interior decor, Lamee Restaurant specializes in a range of Chinese and North Indian dishes. Visitors should definitely try the momos.
The price for two is 600 INR
Timings: 11 am – 10 pm
2) Trattoria– 
This busy and humbly decorated eating joint serves a delectable range of local Khasi flavors. Among the must-try delicacies include Jadoh, Tungrymbai, Doh neigong, Doh Long, and lunch platters.
Price for two: 600-900 INR
Timings:1 pm – 8 pm
3) City Hut Dhaba- 
Furnished with beautiful pleasing decor right from the entryways, this popular eatery is famed for its wide range of North Indian, Chinese, and barbeque delicacies. Tourists and locals alike flock to this restaurant.
The price for two is 600 INR
Timings: 11 am – 9:30 pm
4) Bamboo Hut Restaurant- 
The Bamboo Hut Restaurant is a minimalist restaurant that is located next to the Police Bazar. The foods it serves are primarily from China, North India, and South India.
Price for two: 500 INR
Timings: 11 am – 9 pm
5) Qzine Restaurant-
Qzine exudes a pleasant ambiance along with neat and classic decor. The restaurant specializes in popular North and South Indian delicacies, along with Asian fare.
The price for two is 400 INR
Timings: 10:30 am – 9:30 pm
6) Dylan's Café
With the interiors and background soundtrack theme circling the legendary musician Bob Dylan, Dylan's Cafe is an eclectic eating joint known to serve a range of breakfast, snacks, and coffee selections.
Price for two: 500 INR
Timings: 10:30 am – 11 pm.
Conclusion
Shillong truly stands out as one of the best places to visit in Shillong, which offers a perfect blend of natural beauty, cultural richness, and a unique charm that leaves a lasting memory and impression on all who travel to this enchanting hill station. 
With its lush landscapes, serene lakes, and vibrant local culture.
Shillong promises an unforgettable journey for every traveler seeking a remarkable experience in the heart of the Northeast. Whether you're an adventure seeker, a nature lover, or a culture enthusiast, Shillong has something special to offer, making it an excellent destination for your next getaway.
Highlighted line is: With an elevation of 1,965 meters above sea level, Shillong Peak is the highest point in the city. It provides stunning views of the valleys and hills in the surrounding area.
Note: Even after rephrasing it is still getting highlighted. It is human-written.
Also see – Triund Trek- The Ultimate Breathtaking Guide 2023