Hey there! Some links on this page are affiliate links which means that, if you choose to make a purchase, I may earn a small commission at no extra cost to you. I greatly appreciate your support!
Intro
Camping in Nandi Hills gives an extraordinary opportunity to feel peaceful natural beauty. The Eastern Ghats hilly terrain gives stunning scenery for campers seeking an adventure from the city. Here you will learn everything about camping in the Nandi Hills from the best spots for setting up a tent to the essential gear and Awesome views you can expect.
Table of Contents
Choosing the Best Campsite
A relaxing camping trip depends on picking a perfect one campsite. In Nandi Hills, there are various options to look into:
Government campsite
A authorized campsite is maintained by the Karnataka Forest Department near Nandi Hills. This is a secure and well-kept alternative, although it may get busy during high seasons. Reservations are recommended.
Private Campsites
In the area of Nandi Hills, there are also private campsites and resorts that provide camping amenities. These provide tents, bonfires and meals for a more private yet relaxing camping experience.
Wild Camping
For the more daring, wild camping in the woods around Nandi Hills is an alternative. However, permits and a solid understanding of camping and survival skills are required.
Offbeat Locations
Visit lesser-known locations that may be less crowded than the larger campsites.
Camping Important Things
Before you go camping, make sure you have the following camping equipment:
Tents: Your main shelter will be a dependable tent. Choose one that is appropriate for the amount of campers and the weather circumstances. Here we suggest you to buy a quality material tents that work longer.
Sleeping Bags and Mats: A good night's sleep requires insulated sleeping bags and comfy mats. Choose sleeping bags that are rated for the predicted temperature range.
Cooking Equipment: For food you should have portable stove, pan and required things related to food with you. Camping excursions benefit from lightweight, compact cooking equipment.
Dress in layers to accommodate changing weather conditions. If you're camping during the rainy season, bring rain gear. Comfortable camping requires high-quality, moisture-wicking apparel.
Food and Drinking Water: Bring enough food and drinking water. Plan your meals and bring light, non-perishable foods. To avoid confrontations with animals, ensure adequate storage.
First Aid Kit: To avoid injuries or health related problems keep First Aid Kit along with you. Make it customized to your group's requirements and any medical issues.
Carry additional batteries with you to ensure you have enough light.
Backpack: A durable backpack for carrying your necessities on trips or expeditions.
Personal Items: Remember to bring toiletries, bug repellant and a multi-tool or knife. A camping-specific multi-tool may be quite useful.
Camping Regulations and Rules
It is important to follow certain norms and regulations while camping in Nandi Hills in order to maintain the natural environment and secure your safety:
licenses: If you want to camp in a wooded region, be sure you secure the proper licenses from the local authorities.
Campfires: Only light campfires in authorized places and adhere to fire safety regulations. Respect any current fire prohibitions. For increased safety, use a portable campfire pit.
Leave No Trace: Follow the ideals of Leave No Trace by cleaning up after oneself, properly disposing of garbage and limiting your environmental effect.
Interaction with animals: Do not feed or disturb animals. Maintain a safe distance and avoid leaving food or waste that may attract wildlife. Store food properly to avoid unpleasant situations.
Noise and Behaviour: Keep a polite noise level, particularly during quiet hours. Respect the privacy and tranquillity of other campers. Music and loud discussions should be kept to a minimum.
Respect Local Culture: Be aware of local customs and traditions. Keep out of holy or prohibited regions. When investigating local communities, get permission first.
campground Security: When leaving your campground, even for short walks, secure it. Use lockable storage containers or secure your valuables in your automobile. Use bear-resistant containers or hang your food on a tree to keep animals out.
Activities at Nandi Hills
Camping in the Nandi Hills brings you a whole new world of activities and experiences:
Hiking & hiking: Take advantage of the various paths and hiking routes that traverse the Nandi Hills, including the climb to adjacent Brahmagiri Hill.
Birdwatching: The Nandi Hills Wildlife Sanctuary is a birdwatcher's paradise, with countless species to see. Carry a field guide and binoculars to make your birding experience more enjoyable.
Photograph the breathtaking scenery, animals and changing hues of the sky at dawn and sunset.
Bonfires: Spend a relaxing evening with friends and other campers over a bonfire.
Nature Walks: Take leisurely nature walks to immerse yourself in the rich vegetation and natural beauty of Nandi Hills.
Yoga and Meditation: Practice yoga or meditation to find inner peace among the serene surroundings.
Native food: Savor Karnataka's native food by cooking over a campfire or visiting surrounding cafes.
Adventure Sports: If you want thrill, look into neighboring adventure sports alternatives.
Safety Precautions
When camping in Nandi Hills, safety should always come first:
Weather Awareness: Always be updated with weather forecast. Carry rain gear, additional clothes and weather-appropriate supplies.
Carry emergency contact information and advise someone about your camping intentions, including your planned return date. If you have cell service, check in on a regular basis.
Trip Planning & Preparation: Research the region, notify someone of your intentions, keep an eye on weather predictions and have emergency contact information on hand.
campground safety includes selecting a safe area away from risks, using designated fire pits for campfires, securing food to avoid animal access, ensuring a well-anchored tent and properly organizing your campground.
Pack a thorough first-aid pack, navigation equipment, illumination (headlamps/flashlights), a multi-tool/knife and communication devices for your trip.
Water Safety: Before consuming, purify water from natural sources and remain hydrated.
Hiking and Outdoor Activities: Stick to well-marked paths, observe park restrictions, share the trail with others and be alert of changing weather conditions.
animals Interaction: Keep a safe distance from animals and avoid approaching or feeding them.
Keep campfires modest and regulated in specified locations, never leave them alone and extinguish them completely before leaving the campground.
Take Advantages of Camping at Nandi Hills
Camping in Nandi Hills has various advantages that go beyond just spending the night beneath the stars. Here are some extra benefits of picking this location for your camping trip:
You may enjoy all Nandi Hills has to offer without breaking the budget with a well-planned camping vacation. When available, campground costs are often less expensive than standard lodgings.
Personal Development: Camping promotes personal development and self-reliance.
Nandi Hills Camping Safety Considerations
While camping is a rewarding and pleasurable pastime, it is important to emphasize safety in order to have a stress-free stay in Nandi Hills. Here some safety precautions for you:
Prepare a complete emergency plan prior to your camping vacation. Carry a fully charged phone as well as a backup power source.
Weather Preparation: The weather in Nandi Hills may be unpredictable, so dress accordingly. Check weather predictions often in the run up to your trip and prepare for shifting circumstances.
animals Awareness: While interactions with animals may be exciting, they can also be deadly. Familiarize oneself with the area animals and its habits. Maintain a safe distance from animals and refrain from feeding them. Food should be stored securely to avoid attracting animals to your campground.
Navigation abilities: Make certain that someone in your party has great navigation abilities.Avoid getting lost in unknown territory by staying on defined routes.
Health and Hygiene: Maintain proper hygiene standards when camping to avoid disease. Carry enough personal hygiene supplies, hand sanitizer and think about bringing a portable camping toilet. Before eating water from natural sources, it should be purified.
Leave a thorough travel itinerary with a trusted friend or family member before heading for your camping vacation. Include your itinerary, campground location, return date and emergency contact information.
Food Safety: To avoid foodborne infections, use safe food handling techniques. Refrigerate perishable goods in a cooler with ice packs. Avoid cross-contamination by carefully cleaning cooking equipment and surfaces.
Beyond Camping in Nandi Hills
While camping is a highlight of every trip to Nandi Hills, the location has much more to offer than just camping. Here are some more sights and activities to check out:
Nandi Hills Temple: Climb the hills to see the ancient Nandi Temple. This hallowed location is devoted to Lord Nandi, Lord Shiva's celestial bull.
Tipu Sultan's Summer residence: Immerse yourself in history by visiting Tipu Sultan's summer residence, also known as Tipu's Drop.
Amrita Sarovar: Take a leisurely walk around Amrita Sarovar, popularly known as Nandi Hills Lake.
Bhoga Nandeeshwara Temple: This ancient architectural masterpiece dedicated to Lord Shiva is worth a visit.
Local Markets: Shop for souvenirs, traditional handicrafts and fresh vegetables in the local markets around Nandi Hills.
daybreak and Sunset Views: At Nandi Hills, you may see the spectacular grandeur of daybreak and sunset.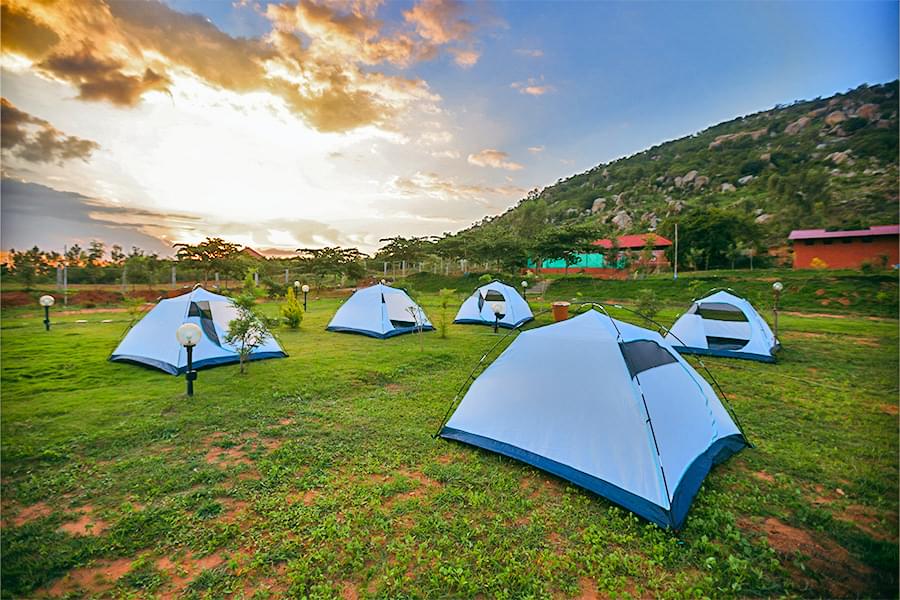 Nandi Hills Extended Stay
If your camping vacation leaves you wanting more, consider staying in Nandi Hills for a prolonged period of time. Here I am suggesting you some ideas for longer stay there:
Photography Retreat: If you like taking photographs, a prolonged stay allows you to catch the various moods of Nandi Hills throughout the day and year.
Yoga and Meditation Retreat: Incorporate a yoga and meditation retreat into your camping vacation. Find a quiet area in nature for your practice and connect with your inner self while you're there.
Food Exploration: Savor Karnataka's rich food by eating local cuisines and visiting various cafes in the area. Over a campfire, experiment with traditional dishes.
Conclusion
Your camping vacation to Nandi Hills may become a awesome discovery and self-renewal with careful preparation, safety concerns and an openness to the region's culture and history. You can add Nandi Hills as part of your best adventures there you may build a closer connection with awesome environment and the local culture.
You can also explore Camping in Bangalore after visiting Nandi Hills