Hey there! Some links on this page are affiliate links which means that, if you choose to make a purchase, I may earn a small commission at no extra cost to you. I greatly appreciate your support!
Table of Contents
To all the food enthusiasts out there, this blog is for you! Mumbai; the heart of the Hearts is one of the most exquisite cities to live in. Be it to explore the streets or be it to relish the flavorsome cuisines, the city is a standing testament to its historical roots.
Through these roots, emerges a hub, an iconic part of the city that is a haven for vibrant scenes, South Mumbai. South Mumbai; is a place where traversing through is like walking down a memory lane. A place that holds the true identity of bygone days through its roads, spots, architecture, antiques, and most remarkably its food.
Throughout this blog, we will be exploring the corners of the bustling street that are the testimony to the various delightful and delicious assortments. So, wear your table napkin with silverware, because we have got to show you some of the best cafes in South Mumbai which will make you crave more and more.
Discovering the Best Cafes in South Mumbai
1. Leopold Cafe
Nestled in the bustling lanes of South Mumbai's Colaba Causeway, Leopold Cafe is not just a place to eat, but a place to live. When we discuss about Best Cafes in South Mumbai then this name comes first the reason why Leopold tops the list is the legacy that stands by carrying on a history of resilience. A history that makes it a place where stories are created and memories cherished.
Leopold Cafe serves non-veg, veg, and beverages where parties and events are organized usually as a custom. Be it to enjoy Indian species or continental cuisines, Leopold has it all.
The interior of the cafe transports you to the good old bygone days. The walls of the cafe are adorned with photographs and frames telling a tale about the spirit of Mumbai. Moreover, this place is a home to people from all walks of life.
Be it tourists, passersby, foodies, artists, or other professionals, Leopold is a common hub where its atmosphere provides the best dining experiences. Here is where you can elevate your experience:
Where to: S.B. Singh Road, Colaba Causeway, Colaba, Mumbai
Must haves: Walnut Pie, Spaghetti, Cheesecake
2. Mockingbird Cafe
We choose Mockingbird Cafe in best Cafes in South Mumbai because after having a promenade near the necklace of the city, this can be your place to relax. Settled at Churchgate, this is a spot home to a view of Marine Lines which is fondly known as Queen's Necklace. The location of the cafe is ideal enough, as it is surrounded by the picturesque view of the beautiful Arabian Sea.
The setting of the cafe could be the reason responsible, but within the year of its establishment, this cafe brings a wave of sea of faces with it every time. The major reason for Mockingbird being the talk of the town is that it is cozily welcoming just with a step! The cafe has walls with a stack of books beautifully lying on the shelf.
Besides being a book-themed cafe, it also has its walls adorned with abstract paintings, dim-cornered lights, and optimistic quotes creating an atmosphere of ambiance.
Ideal for sparking conversations, if you are looking for an ideal dating place or spending quality time with loved ones, this place is for you to enjoy a decent meal with good aesthetics around. Here is where you can tap in to enjoy aesthetic and flavor at once:
Veer Nariman Rd, Churchgate, Mumbai
Must haves: Baked Nachos, Barbeque Chicken Pizza, Cheesecake
3. Poetry by Love and Cheesecake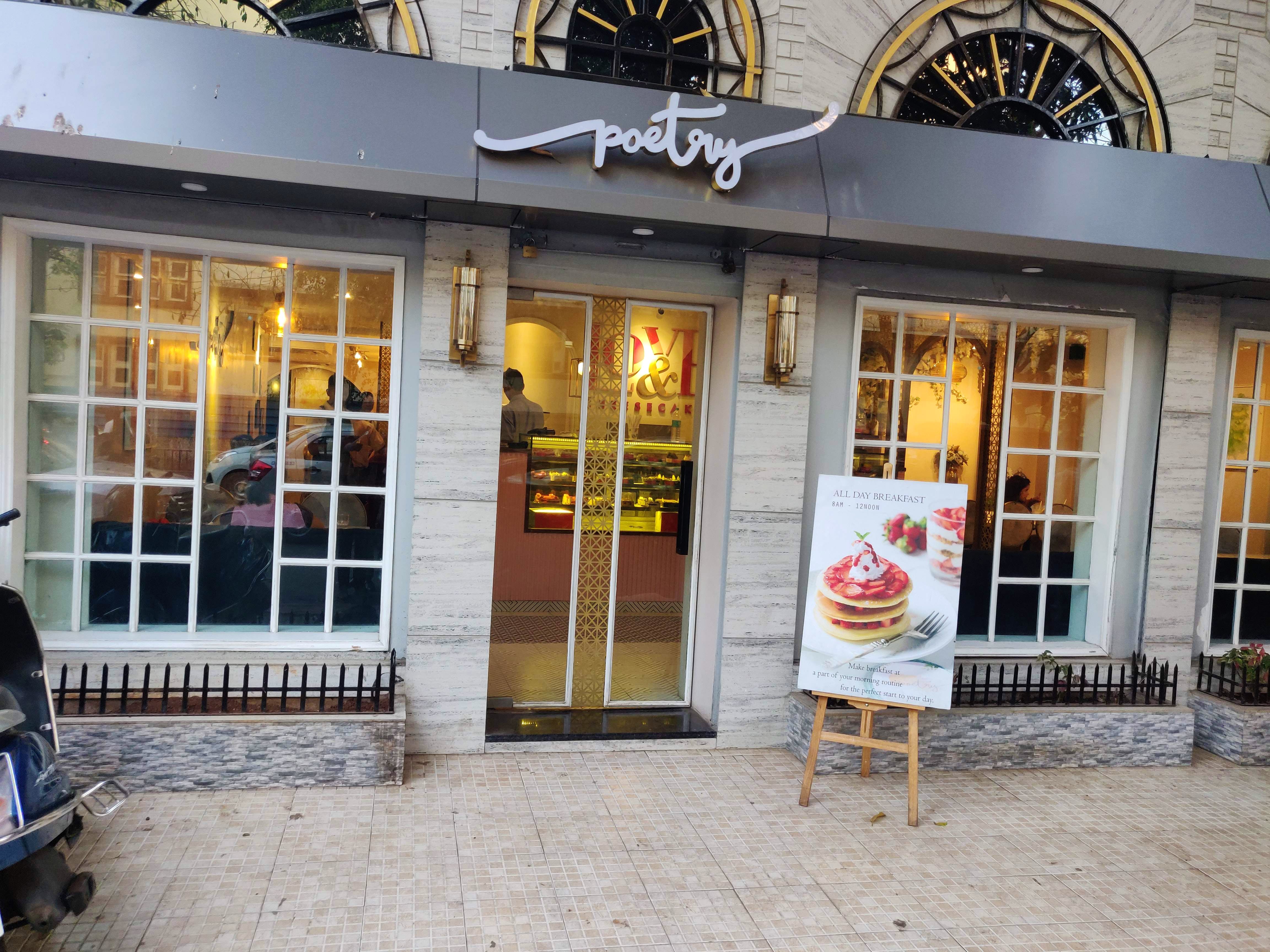 Calling out all the bookworms and food aficionados, this place is heaven on earth! Kala Ghoda, a spot well-known for its artistic values, murals, architecture, and painting, has now become more prominent with the establishment of this book-themed cafe that's why we have added it on 3rd place of Best Cafes in South Mumbai.
The interior of this cafe is second to none. It has a well-stocked bookshelf having books of vibrant covers and different genres.
You will be struck with amazement, from the very moment you step in. Inspired and created with a theme of pastel hue, the cafe is surrounded by dim lights, vintage antiques, and aesthetic showpieces.
What makes this cafe stand out from the rest is a cuisine you will not get anywhere but at Poetry is its "black menu". Through this menu, Chef Amit Sharma, who gave birth to the idea of #PaintItBlack serves everything black on a plate.
The menu includes black velvet cake, black macarons, black latte and even black croissant! So this time, Poetry is your place to eat something that not only looks pretty tempting but also delectable to eat.
Bharucha Marg, Kala Ghoda, Mumbai
4. Zen Cafe
If you are the one who is searching for a moment of tranquility amidst a hectic day, brunch at Zen Cafe can be a good escape. Situated beside Keneseth Eliyahoo Synagogue, Zen Cafe is around the area engulfed with serenity and peace.
This place is known for making you taste vibrant culinary scenes. Be it Mediterranean or Mexican cuisines, Zen colors your plate with all. That's why we prefer it on 4th place of Best Cafes in South Mumbai.
The reason Zen is part of this list is not just its food but its approach to promoting mindful eating. Without diving deeper into having a gaudy or funky interior, the cafe is just the opposite of it. The walls are covered with mute and subtle colors.
The decor is minimalistic with clean lines. Also, the cafe welcomes you with soft music pleasing to hear. The wellness approach is supported by organizing yoga and other such workshops to promote mindfulness. If someday you wish to savor the meal with mindfulness, this is where you must go and visit
Fort Foundation Building, Bake House Ln, Kala Ghoda, Fort, Mumbai
Must haves: Cold Cafe Froid, Smartini
5. Colaba Social
If you are the one looking for a place where contemporary meets the traditional, Colaba Social can be your one-stop solution. Colaba Social is strikingly different from the rest as it's not the only place to eat on the tang. It is a kind of meeting hub where people through workshops, live events, performances, and artistic creations forge connections and culture.
Colaba Social has been covered with graffiti art, abstract art, and attractive murals. Besides providing a relaxing ambiance and enticing food menu, the place also has communal tables where people from all walks of life regardless of the culture they belong, flow with ideas and thoughts.
What makes it even more lively is its unwavering dedication to organizing open mic events, DJ parties, and music shows where it creates all the buzz. If you wish to become part of liveliness by stealing all the lights, go and groove at
Apollo Bandar, Colaba, Mumbai, Maharashtra
Must haves: Goan Prawn Curry, Chicken Burger
More eclectic things are making its way…
This is where the journey doesn't stop. At this end of the beginning, we will be back with another comprehensive list of places to visit in Mumbai. By that time,
you navigate the streets of this captivating city. Take the time to visit these cafes, savor their unique offerings, and relish the connections and conversations they foster. South Mumbai's cafes are not just places to eat; they are the soul of the city, where history, culture, and flavors intertwine to create an unforgettable experience.
So, go ahead, embark on your culinary journey through South Mumbai's finest cafes, and let the flavors and stories of this dynamic city leave an indelible mark on your heart and palate.
If you are planning to visit cafes at north side then you can prefer Manali. Here you can see the Manali cafe guide.