Hey there! Some links on this page are affiliate links which means that, if you choose to make a purchase, I may earn a small commission at no extra cost to you. I greatly appreciate your support!
Mumbai- City of Dreams where the hopes, dreams, and aspirations make a place to live in. A city where culture, taste, innovations, and ideas meet. In such a place of hustling and bustling, a person only finds a time of serenity after getting lost in the world of aromas and flavors: cafes. Home to innumerable cafes, Mumbai is a hidden treasure to discover peace in quaint snuggly places. If you are the one who is searching for tranquility in this metropolitan hub, your search ends here.
Be it Mumbai City or suburban, throughout the pages ahead, we will be exploring some of the best cafes in Mumbai that are worthy of making the list. Below is the list of a few cafes in Mumbai that top the choice in all cases. Whether you are looking for dates, reunions, a casual rendezvous, or quality time with yourself, the interior of these cafes can win your heart. Or if you are the one who wishes to satiate the hunger or to treat your near and dear ones, the flavorsome dishes will be a blessing to your taste buds.
7 best cafes in Mumbai:
1. Leopold Cafe
When it comes to talking about the best cafe in Mumbai, the legacy of Leopold Cafe can't be skipped. Leopold Cafe being one of the best cafes in Mumbai has been charming even after surviving the ravages of World War- ll and terrorist attacks. Not only historical significance, this cafe is even more significant for the taste it provides. Having a diverse menu, this cafe reflects the flavors and the art of culinary.
The cafe has beautiful vintage and rustic decor which provides a very serene environment when stepped in. Home to people from all walks of life, whether you are a passerby or a food enthusiast, Leopold Cafe is welcoming to everyone.
Address: Police Station, Shahid Bhagat Singh Road, Colaba Causeway, near Colaba, Mumbai, Maharashtra 400001
2. Prithvi Cafe
Nestled within the cinematic environment of Prithvi Theatre, Prithvi Cafe is a good-to-go place in Juhu. This cafe in Mumbai was first established as an affordable option for theater artists. Gradually, it took a turn by being the gateway for everyone looking forward to a casual date, a business rendezvous, or just hanging out with friends.
This cafe is a place where one can spot celebrities, influencers, and Bollywood actors. The cafe has a cozy interior with dimmed lights and lamps. It has some mouthwatering delectables like Irish Coffee which is favorite of some celebrities like Rishi Kapoor.
Address:
Timmy Arcade, 778, Makwana Rd, Gamdevi, Marol, Andheri East, Mumbai, Maharashtra 400059
3. Bombay to Barcelona Library Cafe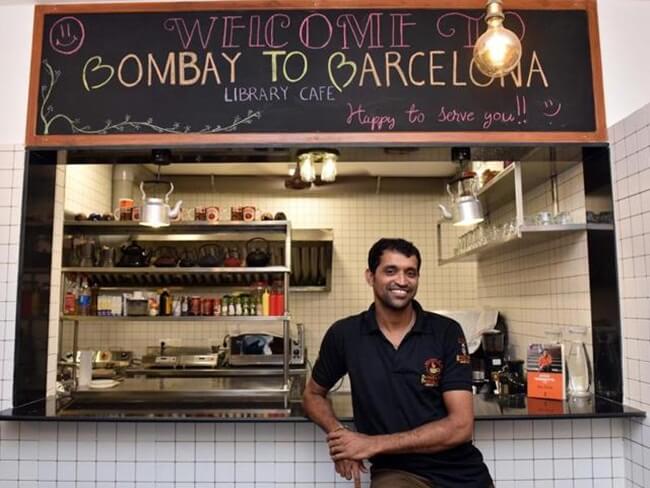 Born out of the dust of Mumbai, this cafe is remarkable for the journey it has embarked on. This cafe is owned by an underprivileged kid in its old bygone days. On the founder's trip to Barcelona noticing not a single child lying on the street moved him. On his journey back to Mumbai, he started working to establish the cafe with the motive of uplifting the lives of people on the streets.
With a sophisticated interior, the cafe has some special Spanish dishes which makes it stand out from the others. The cafe has also bookshelves that cradle some noteworthy titles, including Spanish and English. To make this cafe feel more like a library, hundreds came in front by donating books to build the library.
Address:
4. Coffee By Di Bella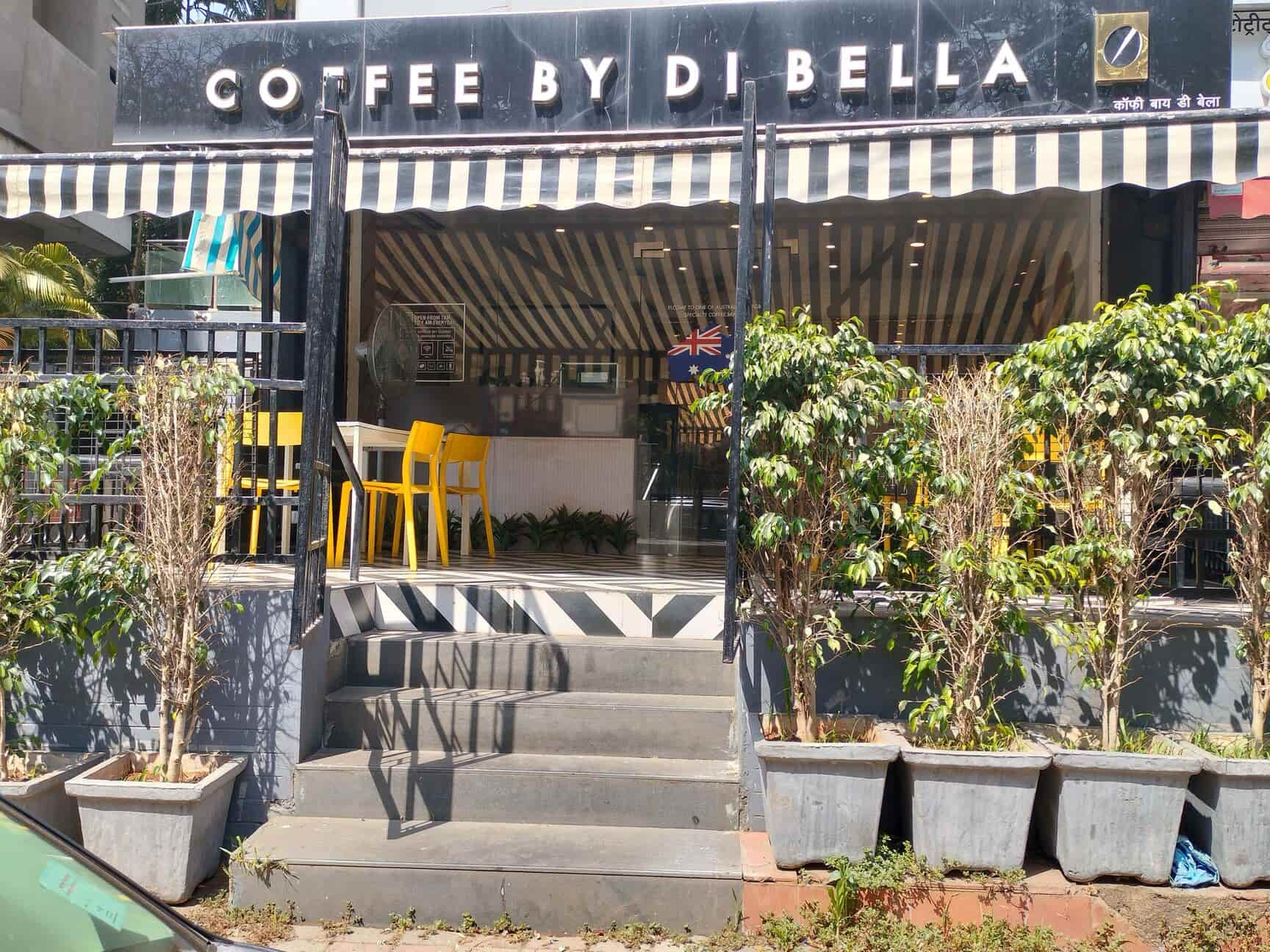 With a flourishing outlet at various places, Coffee by Di Bella has been the prominent string across Mumbai. It is best known for its caffeinated menu comprising outstanding coffee creations. Coffee by Di Bella is home to a wide array of coffee and other beverages.
As soon as you step into the cafe, the sweet aroma around makes you fly in the fragrance. The ambiance of the cafe is extraordinary where they have set up, both interior and exterior. The interior has a modern aesthetics which makes it comfortable to enjoy the brewed coffee. More than coffee, it even has some other yummy delights including desserts which are delicious to munch on with coffee.
Address: Multiple Outlets
5. Knead Cafe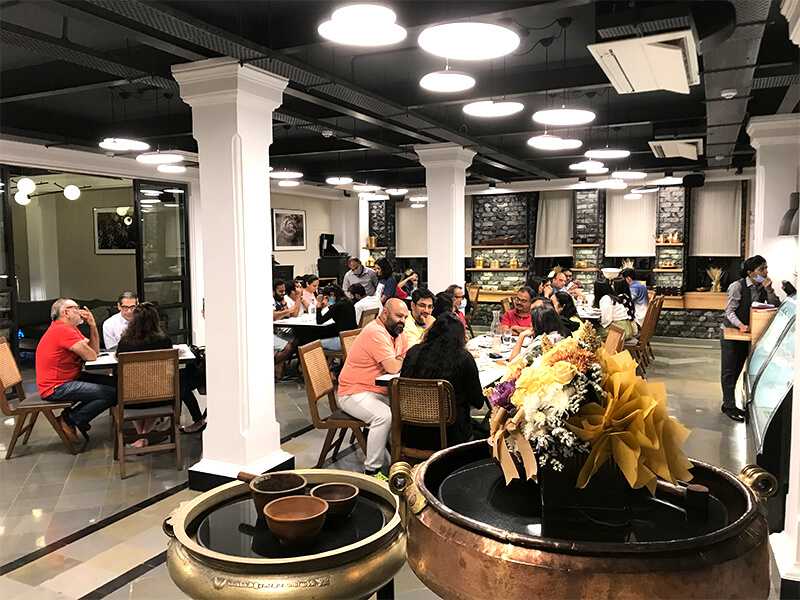 Knead Cafe in Mumbai is all about having delicious delectables. If you wish to relish dishes of different tastes in one of the best cafes in Mumbai, their menu must top your list. They have dishes like Syrian Street Bhel, Zucchini Moutabal, Egyptian Baladi Pockets, and beverages like Nitro Cold Brew and Mocha.
The menu is meticulously crafted which has dishes uncommon to find. If you love Mediterranean food, this place is heaven. Also, it has a cozy ambiance and friendly staff which make it a place worth going again and again.
Address: 43, Forbes St, Kala Ghoda, Fort, Mumbai, Maharashtra 400023
6. Bougain Villa
If you wish to get showered in the world of flowers, Bougain Villa is a place just made for you! This phenomenal place stands out for having a mind-blowing indoor aesthetic which is all about showers of Flowers. Be it the wall or the ceiling, everything is adorned with Bougainvillea flowers and lights.
This cafe in Mumbai has got the best interior which uplifts the atmosphere for the people there. From starters to main courses, brunch to desserts, the cafe has various delights that are appetizing. The menu is a testament to skillful selection which is subtle. Additionally, the cafe is top-notch in all aspects which is excellent for enhancing the dining experience.
Address:
71, Ground floor, Dainik Shivner Marg, opposite Lady Ratan Tower, Gandhi Nagar, Upper Worli, Lower Parel, Mumbai, Maharashtra 400013
7. Garde Manger Cafe and Bakery
Encircled with a wooden and rustic charm, Garde Manger Cafe is a must-go place when in Vile Parle. What's striking is that it is one of the cafes in Mumbai which serves only vegetarian dishes. An aspect which is unusual to see in a city like Mumbai. Moreover, the chefs of Garde Manger Cafe keep a good look at the serving plate.
This reflects on their plate which they decoratively adorn with culinary skills. Such details enhance the food they serve which is diverse. Additionally, this is a must-try place for those who wish to rely on healthier options. This cafe has options for a vegan diet as well as uses multigrain breads for the dishes. Some of its dishes like quinoa khichdi, multigrain paratha, and soya keema pav make it a good choice to go with during a lunch grub.
Address: Shop No 1, Parmar Housing Society Paranjape B Scheme, Rd Number 1, beside Natural Ice Cream, Vile Parle East, Mumbai, Maharashtra 400057
Summing up
It's not easy to put a full stop to this list of cafes in City of Dreams. However, the cafes in Mumbai mentioned in the list have their own story and art which is worth giving a shot. The diversity, history, and unwavering spirit of this city are reflected in the cafes it is a haven to.
Cafes in Mumbai are not a place to enjoy grub, but they are the space where people from various walks of life meet and share their culture. Every plate designed is not just a testament to culinary skills but also the essence of it. Be it to sip coffee or savor a mouth-watering lunch, the memories made in this cafe are cherished forever. By the next time we meet to explode you with the tempting taste, go on and explore these cafes while we bid farewell to take a coffee break.
Also see – Navi Mumbai's Finest Cafes