Hey there! Some links on this page are affiliate links which means that, if you choose to make a purchase, I may earn a small commission at no extra cost to you. I greatly appreciate your support!
Patna is a city known for its rich historical sites, architectural marvels and awakening temples. The city, once the capital of the Great Empires of Ancient India, offers a wide list of places to visit in Patna. This blog will take you through the list of places to visit in Patna so that you are well-equipped with the information and don't miss out on any of the fulfilling experiences this city has to offer.
Table of Contents
8 Places to visit in Patna:
Day 1: Exploring Historical Patna
1. Golghar:
If you are looking for the famous places to visit in Patna that were featured in the 2019 Hindi film "India's Most Wanted", then Golghar is the right place for you. Golghar, an enormous granary, is important in Patna's history. This unusual building was created in 1786 by Captain John Garstin as part of a famine prevention strategy in response to the severe famine of 1770.
Golghar stands on the banks of the Ganges, proudly overlooking the city. Golghar offers visitors an insight into Patna's legacy as well as breathtaking views of the skyline and the river. It serves as both a historical monument to the past and a contemporary attraction. For those interested in Patna's history and who are looking for unusual views, it is a must-visit location.
2. Patna Museum
You might have heard of the famous Didarganj Yakshi statue. The Patna Museum is the next location on our list of the best places to visit in Patna. A cultural gem that showcases the state's rich history and artistic talent is the Bihar Museum, which is situated in the city's centre in Patna. It consists of a main entrance, a children's museum, and an orientation theatre. Over 100 Patna Museum artefacts were housed in the museum when it debuted in all its splendour in 2017.
Inside, you'll find various galleries, from the Orientation Gallery, offering an overview of Bihar's heritage, to interactive Children's Galleries focused on wildlife, history, arts, and culture. The History Galleries highlight Bihar's ancient civilisations, including the Harappan period and the Gupta Dynasty. History geeks will feel like a happy child in Disneyland, gawking at the beautiful artefacts.
3. Gandhi Maidan
If you remember history classes from school and India's Freedom struggle, the "Quit India" Movement would hit the cord. Gandhi Maidan, previously called as "Patna Lawns" by the British, is the holy place to visit in Patna that has witnessed rallies and Launches of famous movements like the Quit India movement from this ground.
At present, that space is used for private gatherings, group prayers, and trade shows. Explore this historically significant landmark, take leisurely strolls, soak in the lively environment, marvel at the Mahatma Gandhi statue, and converse with the locals while doing so.
Day 2: Spirituality and Culture
4. Mahavir Mandir
Begin the second in Patna with the visit to Mahavir Mandir. Your first spiritual place to visit in Patna is the temple of Lord Hanuman, known for its energy that gives bliss to devotees. The presence of long, winding lines of worshippers is proof of the temple's significance.
Moreover, this holy location has an unprecedented influx of people during holidays like Rama Navami and New Year celebrations. Particularly on Rama Navami, long lines can run for almost a kilometre, providing a genuinely amazing and lively atmosphere for visitors to experience and take part in.
5. Patna Sahib
After visiting Mahavir Mandir, Takht Sir Patna Sahib, a place rich in Sikh history, is the best place to visit in Patna. The Patna Sahib Gurudwara, also known as Harmandir Takht Shri Patna Sahib, is a well-known Sikh centre of devotion. It is situated along the calm banks of the Ganges River and honours Shri Guru Gobind Singh, the tenth Guru of the Sikhs.
It is the location of the birth of Shri Guru Gobind Singh. Maharaja Ranjit Singh constructed it. The langar, a free communal lunch available to everyone where guests can also volunteer, is what makes it unique. The Patna Sahib Gurudwara is a must-see attraction in Bihar for individuals who are spiritual searchers who are interested in the rich history of Sikhism.
6. Patna Market
After blissful experiences at spiritual places, conclude your trip with some souvenir shopping at Patna Market. The Patna Markets will leave you stunned with brilliant handicrafts, beautiful silk sarees and delicious litti chokha. You will be impressed to see the variety in the handicrafts, which showcase the local culture immaculately.
If you are a handloom lover, then Patna silk sarees are a must in your wardrobe, and these markets are the best places to visit in Patna. The foodies won't be able to resist the charm of litti chokha, a Bihari dish. The hospitality of the people here is excellent, and the way they will serve you will leave you impressed.
Day 3: Riverside Charms and Parks
6. Eco Park
Eco Park, also known as Rajdhani Vatika, is tucked away on Strand Road in Patna, Bihar, and provides visitors with a pleasant haven. This beautiful refuge is separated into two unique parts and has approximately 3,000 different plant species.
A children's corner, food court, and eye-catching fountains can be found in the first part, which is designed with families in mind. Explore themed gardens like Rashi Van and Guru Vatika, go boating on a peaceful lake, and work out at the gym in the second area.
Inspiring sculptures can also be found throughout the park, such as Subodh Gupta's "Cactus." Additionally, a tunnel runs directly between the two parts, guaranteeing a seamless change between attractions.
Eco Park Patna is one of the best places to visit in Patna that guarantees a wonderful experience for travellers looking for nature, culture, recreation, and relaxation. Visit Eco Park to take in the splendour of Bihar's green haven.
Day 4: Architectural Wonders
7. Agam Kuan
Visit Agam Kuan, an ancient well dating back to the Mauryan period. Its historical significance and unique design make it a must-see.
On the fourth day of Patna, you must visit the architectural wonder of Patna. For an ancient history lover, a Mauryan period site is a compulsory place to visit in Patna. Agam Kuan is a place that dates back to the Mauryan era. It is believed to be built by Ashoka for the practice of torture. It is said that the convicts were thrown into the fire-lit well, given the name "well of fire" or "fiery well".
It is interesting to visit such a place that once haunted the people of the empire. You must keep this on your bucket list if you wish to feel the history first-hand. In close proximity to the well lies the famed Shitala Devi temple, which is devoted to Shitala Devi and contains the pindas of the Saptamatrikas, the seven mother goddesses.
This temple occupies a particular place in the hearts of believers since it is believed to have healing abilities against smallpox and chickenpox. It is also a well-liked location for wish fulfilment. The presence of a female priest, which is unusual in many other temples, is an intriguing tradition here. A statue of Yaksha from the Mauryan era used to stand vigil outside the temple, but it is no longer there.
8. Kumhrar Park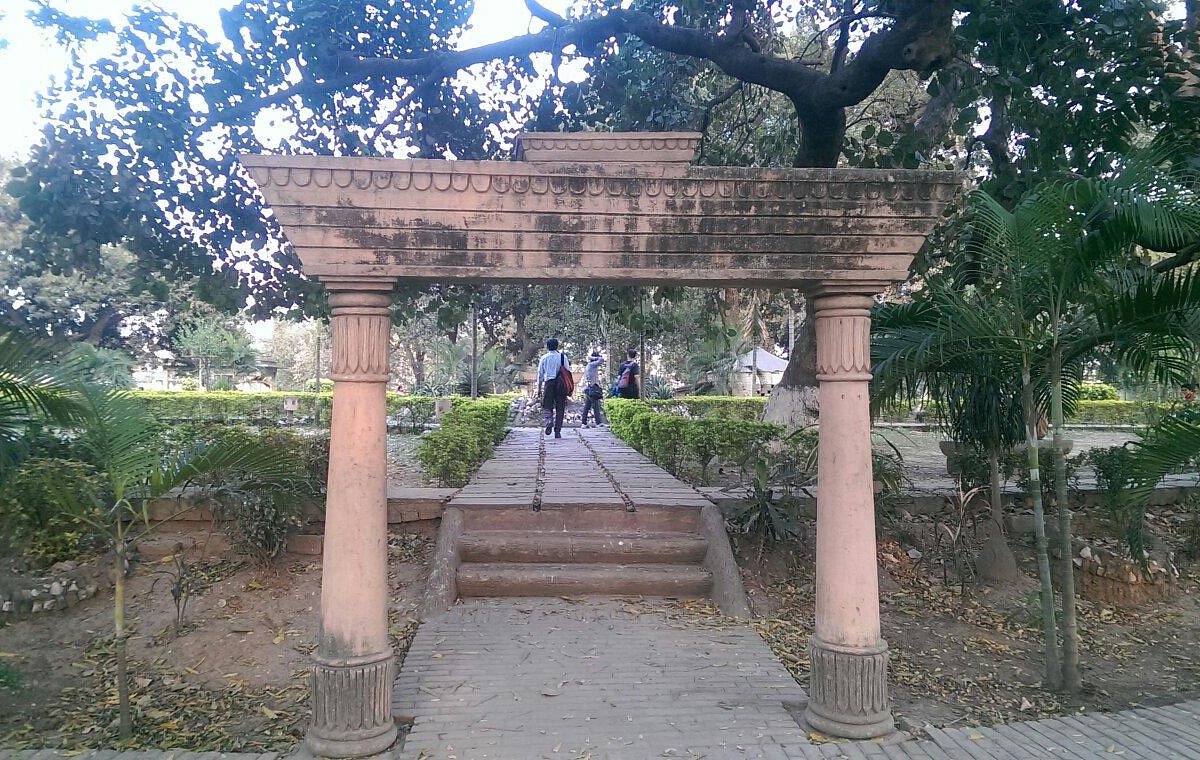 Next on the list of architectural places to visit in Patna is Kumhrar Park. It has the ruins of the city of Patliputra, the ancient capital of the Mauryan empire. You can find important Mauryan-era archaeological relics at this location. The ruins of an astounding 80-pillared hypostyle hall are one of these findings.
The excavations revealed a complex history that spans decades and dates back to 600 BCE. Due to its historical significance as the ancient capital of notable leaders like Ajtasattu, Chandragupta, and Ashoka, this location retains a special place in human history.
The artefacts found here collectively offer a view into four ongoing periods, extending from 600 BCE to 600 CE. It is a magnificent place to experience the majesty of the past. You'll feel as though you're in the time of the ancient empire thanks to the atmosphere here. With this amazing experience, you can conclude your Patna visit,
Conclusion
Travellers can choose from a wide variety of experiences because to Patna's extensive history, spiritual locations, and green spaces. From mind-blowing architectural marvels to spine-chilling historical stories, from blissful temples to significant Gurudwaras, Patna has it all. Have fun while you're in Patna!
Also see – Unique places to visit in Kolkata