Hey there! Some links on this page are affiliate links which means that, if you choose to make a purchase, I may earn a small commission at no extra cost to you. I greatly appreciate your support!
Gone were the days when Navi Mumbai was seen as an obsolescent city. Here we will discuss on Navi Mumbai cafes. But today with the fast-paced world, Navi Mumbai has emerged as a cosmopolitan hub. A hub that has turned into potential enough where opportunities, creativities, and culture meet. With the rapid development, Navi Mumbai has taken up the grip to shelter the finest cafes. Scattered all around, Navi Mumbai is home to some of the best cafes which provide beautiful scenic views, ambiance, appealing aesthetic, and cup to brew. Tucked in the corner of greenery, grab yourself a mug of coffee while we serve you with the cafes having exceptional taste.
Within this blog, we will be exploring the caffeinated journey. Whether you are looking after the aromatic corners or whether looking for a spot to host a rendezvous, this blog covers cafes that are more than food places. Cafes are not just about eateries but also places to cherish memories
5 Navi Mumbai Cafes :
1. Wrapped- Four Points by Sheraton
Just like the name suggests, Wrapped is a wrapping of all the facets of a good cafe. Wrapped- Four Points by Sheraton turns on your energy as soon as you step in. The cafe is located in a cozy place and is adorned with chic decor and eye-appealing aesthetics. The warm lighting is something that will uplift your mood and dazzle your dining experience. The reason behind we list this cafe in 1st place in Navi Mumbai cafes is its menu, which is a testament to aced culinary skills of the chefs. The menu has a variety of cuisines, beverages, and desserts. Another appetizing feature is that the plating of each and every dish is like the art on the plate where every streak and stroke is taken deliberately care of.
The gateway to enjoy the best dining experience is FOUR POINTS BY SHERATON, Sector 30A, Vashi, Navi Mumbai, Maharashtra 400703
Must haves: Panini Mozzarella, Cold Coffee, Murg Kathi Wrap, Hot Chocolate
2. 70 Beans
Nestled in the vibrant Palm Beach Galleria Mall, this place is heaven for coffee lovers. In the list of Navi Mumbai Cafes, we have added 70 Beans cafe in 2nd place because it is a place where you can jump into the world of chocolate and astounding lattes. Taking advantage of the prime location it is set in, 70 Beans wins over the people in a multitude of ways. Primarily, the cafe has a very chic menu showing various cuisines, desserts, and beverages beckoning people to indulge in a better experience. Moreover, the ambiance and staff are top-notch providing a very cozy environment. The twist lies in their mingling of entertainment with coffee! Yes, 70 Beans is a place set to screen your favorites through a nifty projector which works for nothing less but only to make your experience memorable. Additionally, take on your pet and they will get served too!
The way to this fascinating experience is at Palm Beach Galleria Mall, Shop 19, Vashi, Navi Mumbai, Maharashtra 400703
Must haves: Pink Sauce Pasta, Chicken ChowMein, Death By Caffeine
3. Mystic Mama
Amidst the greenery of the city, Mystic Mama is settled into the place where green lush meets the serenity. Making this a place for everyone who is looking for tranquility after the bustling day, a sip of coffee here can be Paradise! When it's about Navi Mumbai cafes, then Mystic mama comes in 3rd number. As the name hints itself, Mystic Mama is named to hit on the motive of aligning all three embodiments: body, mind, and soul. To elevate your experience, Mystic Mama goes beyond owning a menu of spellbinding lattes. What truly sets them apart is the unique blend through which they not only serve you finger-licking dishes and refreshing beverages. A blend through which they also offer healing sessions of reiki, crystal reiki, or tarot. This makes it an ideal choice for those who wish to enjoy spirituality with every bite they relish!
To witness this blend, take the route to Plot no 198/199, Space Corner, Sector 25, Ulwe, Maharashtra 410206
Must haves: Vep Chipotle Sandwich, Caramel Cappuccino Frost, Pineapple Punch
4. Cafe Monza
Prominent for the Italian cuisine it provides, Cafe Monza is your house to satiate cravings of all kinds. Nestled at the corner of the city, Cafe Monza has a setting resembling a vintage and rustic look. The interior is adorned with a wooden aesthetic giving it a retro look while the surroundings are covered with greenery. But what steals the show is not their interior but the refreshing coffee which they offer. From nutty aromatic coffee to sweetening cappuccino, Cafe Monza is heaven for those who love getting dipped in the world of coffee. Moreover, they are even home to some mouthwatering delights which are best to munch on while you take a sip of coffee. That's why we have added this cafe When it's about Navi Mumbai cafes.
So go and enjoy the art of brewing at Bhoomi Heights, Sector 8, Kharghar, Navi Mumbai, Maharashtra 410210
Must haves: Grilled Chicken with Rice, Mint Mojito, Tikka Pizza, Cold Coffee
5. Panache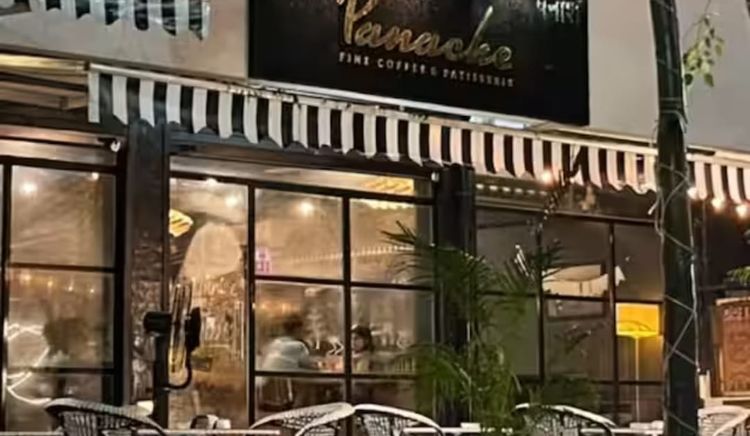 Perched at the heart of the city, Panache Cafe is well known to swirl you with excitement for its ambiance. If you are looking to have a peaceful time in a hectic city, this place is made for you. Panache Cafe has an interior that is a blend of vintage charm and modern aesthetics with subtle lighting and light music to create a cozy atmosphere. Moreover, the meticulously crafted menu has diverse options to satiate your taste buds. So whether you are looking for an ideal dating place or just hanging out for a casual brunch, Panache Cafe is welcoming to enhance your dining experience.
You can now taste sophistication at the Shah Royale building, Kharghar Station Rd, Sector 2, Kharghar, Navi Mumbai, Maharashtra 410210
Must haves: Cappuccino, Cold Coffee, Hot Coffee.
Celebrating Taste in Navi Mumbai
Through our caffeinated journey, we embarked on the journey to enhance the dining experience. Be it to sip coffee or relish delectable delights, this journey has showcased the art on the palate. Where every bite bursting into the tongue satisfies the taste buds. So if you are looking forward to enjoying your weekend or just spending some quality time with yourself, here are the places to thrive. Cheers to the many more flavors!
If you are looking for cafes at south Mumbai then you can prefer the Best Cafes in South Mumbai.