Hey there! Some links on this page are affiliate links which means that, if you choose to make a purchase, I may earn a small commission at no extra cost to you. I greatly appreciate your support!
Introduction
If you are planning to visit best cafes in Bangalore then let me tell you that a cute cup of coffee in your hand with a caffeinated brew strong enough to open your senses. On the side, you are masticating a good fulfilling grub. While munching and sipping, you are enjoying drizzles of rain with a calm breeze. A perfect picture where the tranquility meets your place.
But do such places really exist? You answer nahh, while you are walking down the lanes of the heart of Karnataka; Bangalore. An undeniable question emerges on how to find peace in such a packed city. But hold on, because here it gets different. Nestled as a bustling city in the heart of Karnataka, Bangalore is a place that has been ever-evolving in all sectors.
However, with everything evolving at a pace of double, the city still has its roots which provides the taste like no other. Within this blog, we will be unfolding the page to know the best cafes in Bangalore which are home to great ambiance, decor, and tasty delights. So ready yourself, and embark on the journey with us while we let you know the best cafes in Bangalore.
Table of Contents
5 best cafes in Bangalore:
1. Toit Brewpub
In this cosmopolitan city, many cafes came and went, but nothing could replace the charm of Toit Brewpub. It has been at par with excellence since its inception in 2010. Even after almost decades of facing stiff competition, Toit Brewpub has never faded its facade. This cafe in Bangalore is known for being one of the first breweries in the city.
This makes it an ideal place to visit for the beer aficionados. However, the curated menu provides a wide range of mouthwatering options which makes it a good visit for enjoying breakfast or a meal. They offer delights that are remarkably unparalleled by any other cafe.
They tick the list of perfection for having a subtle ambiance and good service. While the whole menu is a must-try, some of the best dishes you can try are the stuffing-filled succulent Bacon Wrapped Chicken, wheat beer, and Okra Podi Chips. Honestly, we just can't list a few out of innumerable heavenly delights!
Pro tip: Ambience, brews, and delectables are enough to attract the crowd. So, before arriving, reserving your table is a suggestion.
Location: Indiranagar
Opening hours: 8:30 AM to 11 PM
Average Cost For Two: INR 2500 ( with alcohol)
Zomato Rating:  4.7/5
Must Try Dishes: Bacon Wrapped Chicken, Toit Weiss, Beefy Loaded Potatoes, Wheat beer, and Okra Podi Chips
2. Truffles
When you see the bustling crowd at Koramangala's 5th block, dare to change your mind about not going there. You will regret it! No matter how crowded it is, Truffle is worth every wait. This cafe in Bangalore is famous for its menu. It has appetizing dishes like Pink Pasta, An American Cheeseburger, and Death by Bacon Burger.
It is a haven for all the aficionados who love munching mouth-watering burgers as the cafe has got some signature creations to try on. Moreover, the cafe has an urban chic decor with dim lighting and a cozy ambiance. The service is good and has responsive staff.
Another striking feature that makes it the best cafe in Bangalore is that you don't have to break your bank balance to enjoy the food here. It is pocket-friendly, and the dishes you order don't compromise with quantity or quality. Lastly, don't think of moving out without tasting the desserts as they are worth dying for.
Location: Multiple branches including New Bel Road and Koramangala
Opening Hours: 10:00 AM to 10:00 PM
Average Cost For Two: INR 800
Zomato Rating: 4.8/5
Must Try Dishes: Hot Chocolate, Banoffee Pie, Mojito Raspberry, California Chicken Stick
3. Dyu Art Cafe
It is hard to resist the artistic charm that comes with entering this cafe in Bangalore that comes in best cafes in Bangalore. As the name speaks for itself, Dyu Art Cafe comes with a dynamic blend of art and food. The undeniable spark of this cafe is the decor. The cafe is adorned with flamboyant paintings, sculptures, and unique art pieces.
This eclectic blend is further radiated with variegated walls and looks akin to a Kerala house. To elevate the ambiance, the menu of the cafe captures every essence of the taste. Be it to savor a brunch or sip the caffeinated drinks, Dyu serves all. Moreover, it even has a shelf that deals with catchy book titles. So if you are an artist or just love beholding art, don't miss going to Dyu Art Cafe which for sure can serve you with a creative atmosphere.
Location: KHB MIG Colony, Koramangala 8th Block, Koramangala, Bengaluru, Karnataka 560095
Opening Hours: 10:00 AM to 10:30 PM
Average Cost for Two: INR 800
Zomato Rating: 4.5/5
Must Try Dishes: Chocolate Cake, Banoffee Pie, Chicken Melt Sandwich, Cheddar Stuffed Mushrooms
4. Zoey's Cafe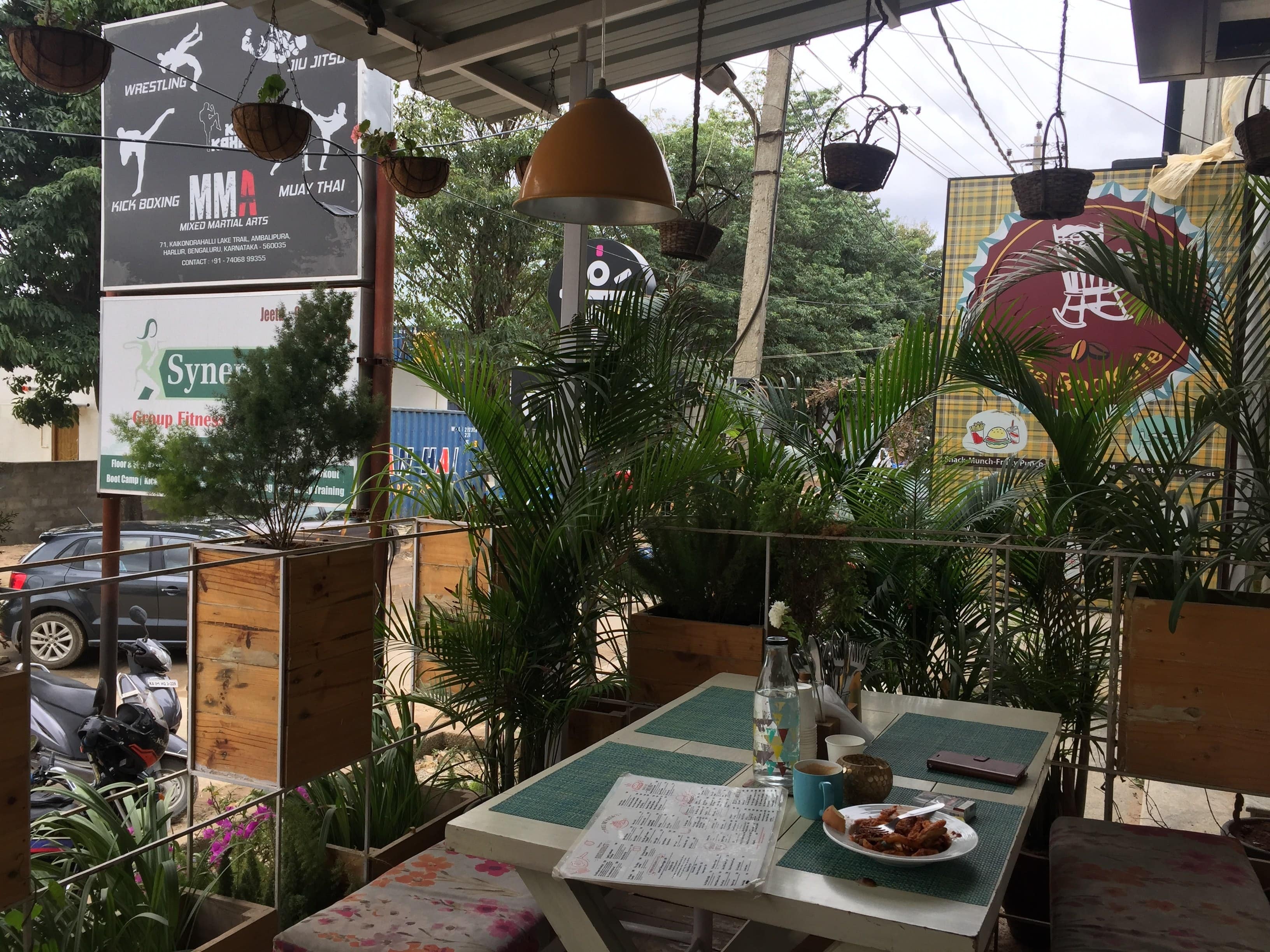 Zoey's Cafe is probably one of the best cafes in Bangalore when it comes to clicking some Instagrammable pictures. The cafe is prominent for having an interior that is vibrant and radiant. Nestled in the bustling lane of Sarjapur Road, the cafe deserves all the credit for creating a lively experience through the charm it illuminates. The cafe offers food that is mediocre to its extent but still what it serves, is the best. However, it can go heavy on your pockets which is a point that needs to be considered.
However, that shouldn't bind one to not taste their pastas and waffles. They are the show of the cafe. If you are eagerly looking to vibe with friends, have a casual meeting, a business rendezvous, or an evening date, you can't skip going to this place!
Location: Kodathi Gate, Sarjapur Road
Opening hours: 11 AM to 10:30 AM
Average Cost For Two: INR 700
Zomato Rating: 4.⅖
Must try: Chicken Burger, Fajita Pasta, Nutella Pancakes
5. Cafe Max
Hailed as another best cafe in the lane of Bangalore, Cafe Max is a good cafe located on the rooftop. Cafe Max is located in a small but cozy place with a rooftop semi-covered. Unlike other cafes in the area, Cafe Max is very spacious. If you are the one who is seriously looking forward to gobbling up the continental dish, you can't miss going here.
The cafe is best known for serving European and German dishes which is second to none. The menu curated incredibly exemplifies tempting dishes like chicken cordon bleu, Philadelphia cheesecake, pancakes, etc. Moreover, they have options of platters and combos that brighten the light by food presentation which is the spotlight of the cafe. So, don't think twice if you are looking forward to enjoying some continental dishes. With a pleasing interior and good ambiance, Cafe Max is even harder to resist.
Location: Max Muller Bhavan, Indiranagar
Opening Hours: 9:00 AM to 11:00 PM
Average Cost For Two: INR 1300 (without alcohol)
Zomato Rating: 4.4/5
Must Try Dishes: Pasta, Chicken Au Vin, Blackberry Cheesecake, Aglio Olio Pasta, Bavarian Meatloaf
Conclusion
So tell us, how does this list of cafes in Bangalore look appealing to you? Or did you just go on seeing this list and fall in love with one of those? Well, if yes, we have got more on your plate. Stay with us until we share more such places to visit in Bangalore. Until then go on, munch at these prominent places while we bring you the taste of other corners of the country.
Also see – 7 best cafes in Mumbai