Hey there! Some links on this page are affiliate links which means that, if you choose to make a purchase, I may earn a small commission at no extra cost to you. I greatly appreciate your support!
Introduction
Christmas Celebrations in Hyderabad are typically observed by going to midnight mass. This Christmas Day ceremony is one of the most significant, especially for Catholics.
Table of Contents
Where every member of the family, a relative, or a friend gathers to attend mass, followed by receiving an elder's blessing, giving gifts, and eating cake.
we have covered [Christmas Celebrations in Bangalore- The Ultimate Guide 2022] checkout for Bangalore.
As Christians from throughout the twin cities engage in their celebrations, along with many non-Christians, the city's Christmas spirit soars. Hyderabad has a sizable number of non-Christians participating in the festivities, from attending the midnight mass to taking part in the traditional Christmas day lunch. Every festival needs love, laughter, lights, shouts, music, and food to be successful.
1. Bakeries in Hyderabad for Christmas
Many people are anticipating the year-end celebrations of winter in Hyderabad.
Christmas celebrations in Hyderabad begin a week-long binge that lasts until the New Year for those who enjoy eating. The simple plum cake, full of fruits and nuts and soaked in alcohol, is a fantastic cake that serves as a symbol of the holiday season, along with the Christmas tree and carol singing.
Even before you taste this cake, the dark color and alluring perfume entice you to it. Hyderabad's various bakeries and home bakers produce and serve plum cakes, Cupcakes.Muffins., Cinnamon Rolls, Bread, Donuts, cookies, Mince Pies, Mulled Wine, Gingerbread.
Karachi Bakery:
Indian retail bakeries are part of the Karachi Bakery group. By opening its first bakery at Moazzam Jahi Market, Sri Khanchand Ramnani founded it in Hyderabad in 1953. Fruit cookies, Dil Kush, and Plum Cake are among its best-known products.
Bengaluru, Chennai, and Delhi have distinct Karachi Bakery sites without Hyderabad. They export a range of their items to over 25 countries, including 3 African, 2 Middle Eastern, 8 European, and 8 North American.
Karachi bakery's delicious baked delicacies and confections, which blend tradition with trend, appeal to all ages and ethnicities.
Their quality and baking ability come from rigorous attention to detail and superb workmanship in every piece.
Christmas tree-shaped frosted cakes, plum cakes, specialty biscuits, and sweet loaves of bread are all part of Karachi Bakery's extensive menu of holiday goodies. The additional merchants are Vacs and Truffles.
Trio-La Patisserie:
Trio-La Patisserie in Secunderabad carries everything from fruit cakes to rum cakes to bread. However, they are known for their plum cakes, which are only sold around Christmas (November to January). The bakery claims they bake their cakes with handmade butter and spice. People throng to this shop during the holidays to get the most delectable plum pastries.
2. Churches for Christmas celebrations in Hyderabad
Hyderabad is a city with many things to offer you. In addition to its stunning waterfalls, status as a center for information technology, mouthwatering cuisine, and breathtaking views, Hyderabad is well known for its extensive collection of exquisite churches.
In Hyderabad, numerous churches add to the area's attractiveness. Many people from all over the world come to visit these stunning churches during Christmas. Some people are drawn to these churches' beauty, while others seem to be drawn to the area's pristine surroundings and sense of serenity.
Top 11 Churches In Hyderabad
1. St. George's Church
2. St. Joseph's Cathedral
3. Centenary Methodist Church
4. All Saints Church
5. Millennium Methodist Church
6. St. John the Baptist Church
7. Wesley Church
8. St. Mary's Church
9. St. Alphonsus Catholic Church
10. St. Thomas Marthoma Church
11. Hebron Church
St. George's Church
One of Hyderabad's oldest churches is this one. Even after years of renovation, it still has an old-fashioned charm. St. George church is a heritage site for Hyderabad.
It draws a sizable following of devotees. St. George is the patron saint of many things, but his role as a protector of warriors is the most crucial. One of Hyderabad's most well-known churches is this one.
He was urged to renounce his Christian beliefs but refused and was executed. This important patronage is a result of his unwavering loyalty and faith. As a result of his bravery, he is today a well-known Christian martyr.
On Sundays, service starts at 8:30 and usually lasts two and a half hours. St. George's is a church with a school attached that can find on King Koti Road.
The cathedral comes alive with activity around Christmas. It's fun to watch and, sure, to hear the choir's reverberating voices and the overall decorating.
St. Joseph's Cathedral
St. George's Church was located not far from the cathedral. One of the most well-known and stunning Catholic churches in Hyderabad. The church has a stunning interior with space for a sizable assembly and an equally attractive exterior.
Over 500 people can fit in the chapel. Although the bells were brought from Italy and installed in 1892, the towers were constructed in 1891.
Since the bells are timed, "Ave Maria" is their best famous tune. Telugu and English masses are accessible.
Fr. Antonio Tagliabue wanted to build a church, convent, and school on his vast 1869 property acquisition.
3. Night markets for the Christmas festival
Enjoy the festive atmosphere of the Christmas Festival at Steppin Out Night Market, where people are out enjoying the last festival of the year with their families. One of the most significant entertainment events is the SteppinOut Night Market, which combines market vendors, boutique designer stalls, food, and specifically selected unique event activities.
Begum Bazar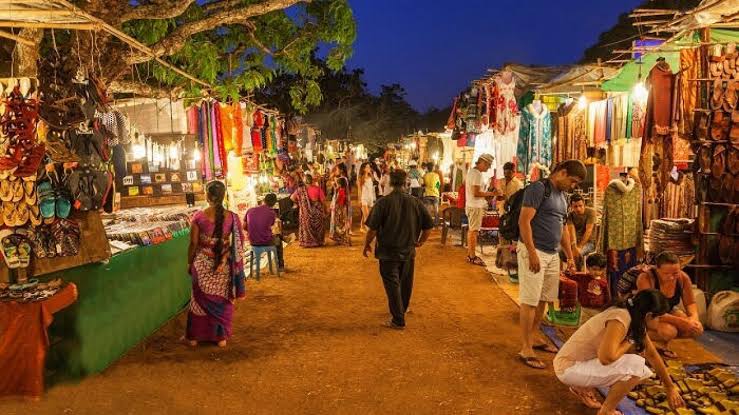 During the Christmas season, Begum bazaar is the wholesale market in Hyderabad that comes to life with a long line of stores offering trees, Christmas ornaments, fairy lights, buntings, and other festive products.
The collection, dispersed among multiple stores, has the most outstanding decorations in the city. Get your haggling on, and you may bring home a truckload of Christmas ornaments on a tight budget!
4. Christmas Carnival At Malls in Hyderabad
Large commercial malls conduct Christmas Celebrations in Hyderabad by holding a carnival on Christmas Eve. Shop at the flea market or have fun making finger puppets, going on an elf hunt, or decorating Christmas trees. Then Santa brings gifts, which will make the inner child in you jump with delight, and there is also a parade.
Inorbit mall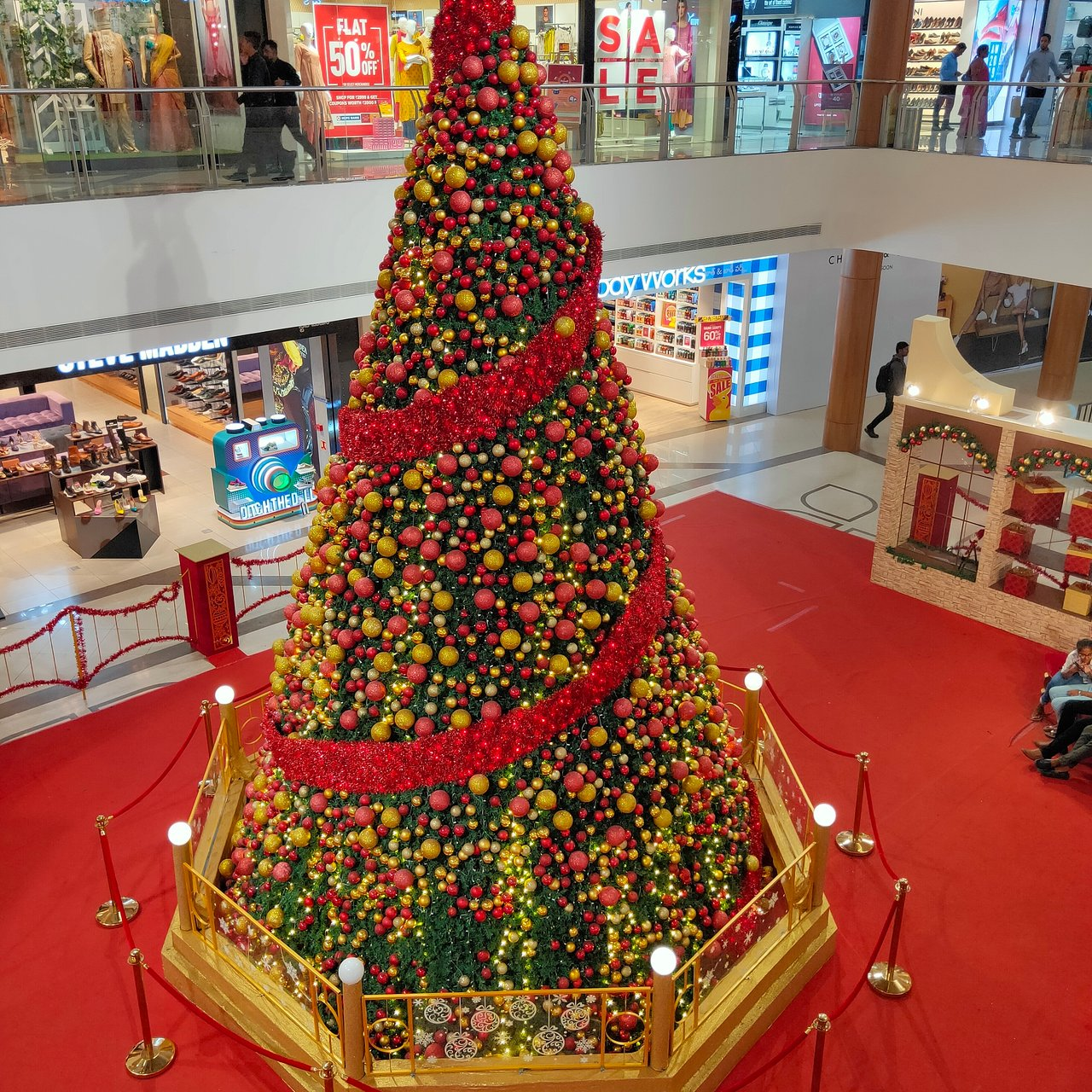 Inorbit mall in Hyderabad will attract visitors to be greeted by unique traditional Christmas décor, which includes a lovely Christmas tree and fascinating lighting in every nook and cranny of the mall.
Customers will have several opportunities to take memorable photos at a Joy photo booth, which serves as the ideal backdrop.
The Inorbit Hyderabad is prepared to spoil its guests with various fun events. The "Season of Joy" themed mall started the holiday season with a "Dear Santa" note activity where children wrote to Santa Claus and posted their letters in a traditional post box at the mall, along with a fun-filled weekend of Christmas activities for kids and families like magic shows, tattoos, and caricatures.
If they go to the mall on Christmas eve, those who have sent their letters may be surprised with gifts from Santa.
5. Pubs and bars for Christmas celebrations in Hyderabad
Christmas celebrations in Hyderabad is an excellent excuse to take a little break from your responsibilities and chores.
We may also leave our regular routines and enjoy some seasonal activities that are perfect for partying and having fun.
The many entertainment-themed pubs and clubs in Hyderabad boost the fun element. Thus, we provide some great Christmas breakfasts to make your celebration enjoyable!
Feast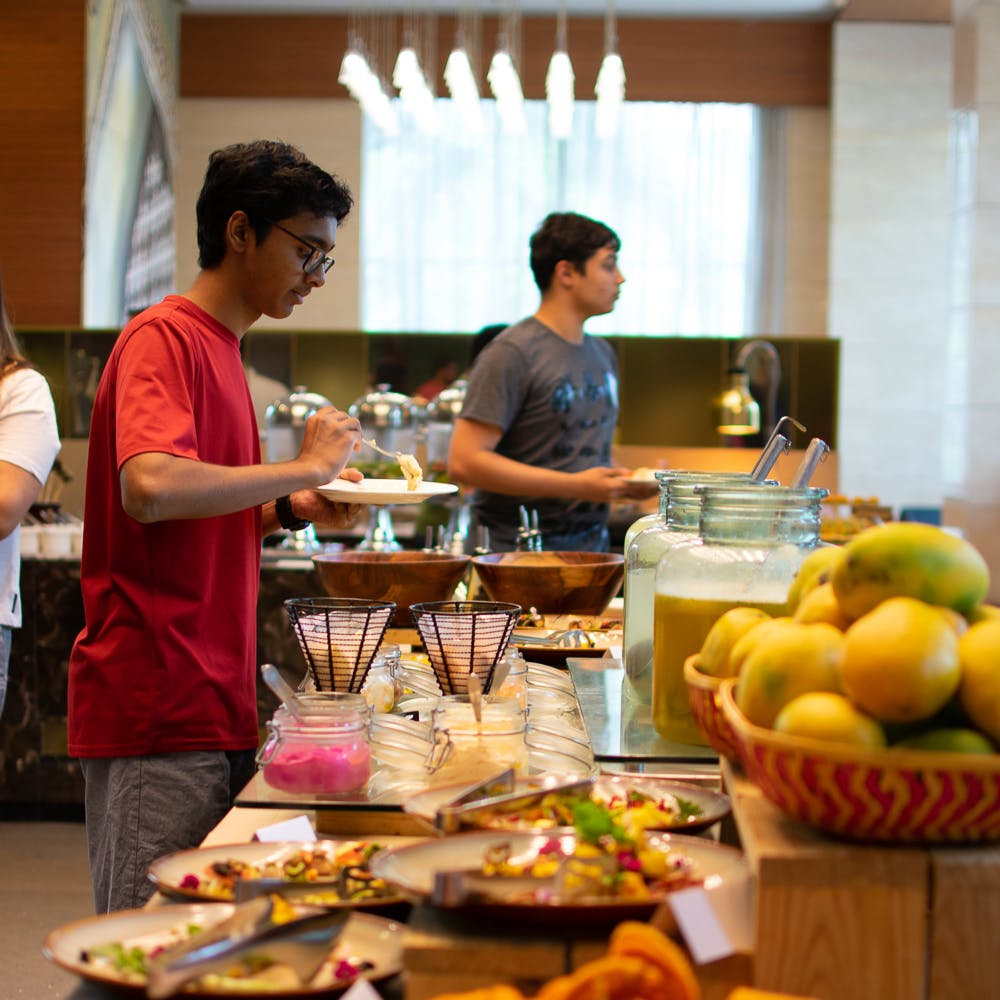 It's time to rejoice and have a good time! Enjoy the magnificent, traditional Christmas buffet at Feast at the Sheraton Hyderabad Hotel while listening to live music. The menu will delight your taste buds even more with the delectable Christmas breakfast and its enticing dishes. The hours are 12.30 pm. to 4pm
6. Restaurants for Christmas
Many of us are busy organizing the year-end festivities as Christmas draws near. A festive time will be had by everyone with magnificent meals, live music, and Christmas treats at the upscale Restaurants in Hyderabad. Here are a few locations where you may anticipate having a fantastic time over the holiday season.
Taj Krishna Banjara Hills
The Taj Krishna embodies Hyderabad's legendary hospitality. It's at Banjara Hills, central to Hyderabad's historic city. Enjoy a panoramic view of this beautiful city and Hussain Sagar Lake.
The hotel is ideal for business and leisure tourists due to its closeness to the airport. Try Hyderabadi or North-West Frontier cuisine at Firdaus.
Golden Dragon is the greatest Sichuan and Cantonese restaurant in town, so try something new there. Encounters, our 24-hour coffee shop, serves delicious European, Mediterranean, and Indian food and sumptuous Sunday brunches. The hotel's Alfresco Christmas Eve Lunch Buffet features live jazz.
The next day, they will host a Christmas Brunch at Encounters, their all-day eating establishment.
7. Christmas Parties
Thanks to Hyderabad's best and most unique Christmas party locations, your day will become even more memorable and exciting. If you wish to commemorate this auspicious day with a modest gathering and a lovely family supper, there are many affordable restaurants and secret locations to choose from in Hyderabad.
Ramoji film city
The Twirl Into Sparkling Christmas and New Year's Eve Party at Ramoji Film City is the most significant musical production you'll find anywhere in South India among the very planned Christmas Celebrations in Hyderabad.
Thanks to the range of vibrant events, your Christmas and New Year's Eve Party is guaranteed to be enjoyed in the most fantastic way possible. You would have a blast if there were food courts and sparkly shows while you waited.
8. Christmas décor shops
Christmas décor shops contrast with Hyderabad's abundance of corner shops selling daily items like tinsel and stars.
Finding Christmas trees, decorations, and Hyderabad lighting has always been fun. Hypercity in Inorbit Mall and many other places is to get your holiday Christmas decorations.
Santa store
Think of Punjagutta's Santa Stores as your one-stop shop for Christmas. They have a collection that will mesmerize you, including fir, spruce, pine trees, tree ornaments, lights, and accessories.
Additionally, we discovered Santa Claus costumes, wreaths, and nativity sculptures that would brighten your Christmas even more.
Party 365
To the outside, Party 365 might resemble a typical retailer of party supplies. However, once inside, you'll see Christmas trees that aren't simply green (and shades of green) but also vibrant mustard and blue. You may get some of them here if you like to decorate the tree with small versions of Santa Claus, reindeer, and snowmen. The ornaments on the trees give the impression that they are from a quaint tinsel village.
Conclusion:
Christmas activities:
Making up Christmas trees
Distributing goodies.
Attending midnight mass.
Playing holiday music.
Exchanging Christmas greeting cards
Decorating houses with lighting and stars
Visiting orphanages and needy people centers.
Prayers at church
Eating gingerbread and plum cakes.
Brunches with families
Consuming hot wine.
Hyderabad is a vibrant city in southern India. Hyderabad, sandwiched between the Deccan Plateau and the Western Ghats, is a hub for blending civilizations. Being the fourth most populated city in the country, it is home to a sizable number of people of various religions.
Hyderabad is The city of Nawabs, lit up and adorned with beautiful Christmas ornaments to mark this grand celebration; it celebrates Christmas eve, a worldwide holiday, with beauty.
You can go to the churches if you want to hear Christmas carols and attend midnight mass.
In Hyderabad, several restaurants offer fantastic deals over the holiday season, and many Christmas stores and shopping malls pubs are celebrating Christmas carnivals, go and visit these above places with your families; make this festival wonderful.