Hey there! Some links on this page are affiliate links which means that, if you choose to make a purchase, I may earn a small commission at no extra cost to you. I greatly appreciate your support!
The pressure to have your Bangalore house decked up for Christmas festivities is nearly unbearable. We're here to help simplify the process for you if you're trying to find the finest Christmas decorations Bangalore has to offer.
Table of Contents
We've compiled a list of the best Christmas decorations, eateries, pub grub, churches, and market locations in Bangalore to kick off your holiday celebrations.
If you want to transform your house or office cubicle for Christmas, all you have to do is go to one of these busy Bengaluru bazaars.
we have also covered- [Christmas Celebrations in Mumbai- The Ultimate Guide 2022] checkout for Mumbai
There are innumerable shops and stalls selling ornaments, beautiful lights, Christmas trees, and gorgeous Santa attire throughout these Christmas market places.
Bangalore is home to people of many different ethnic and religious origins.
1. Christmas Markets for Christmas celebrations in Bangalore:
You can join in on the excitement as the holiday mood spreads by brightly adorning your home and place of business with a variety of attention-grabbing ornaments and Christmas Decorations.
Anyone is welcome to go to any store that sells decorations for celebrations or holidays. They'll have everything you need, so you can celebrate the entire holiday season.
Shivaji Nagar
As the fiscal year winds down, Shivaji Nagar in Bangalore sprouts a multitude of vivid temporary booths every Christmas.
Handcrafted Christmas tree decorations, beaded strands and tinsels, huge scarlet Christmas bells, and sparkling stars will be sold at this Christmas market.
Shivaji Nagar has several Christmas markets where we may find the best Christmas ornaments, including:
VR Plaza, Shivaji Nagar, Bangalore
Safina Town square, Shivaji Nagar, Bengaluru
Infantry Road, Shivaji Marg, Bangalore
Rave's, Shivaji Marg, Bangalore
Advent Christmas Store, Shivaji Marg, Bangalore
Brigade Street
Brigade Road is always gorgeous, as most Bangaloreans and tourists know. The Christmas season really enhances the festive vibe here! Brigade Road is beautifully adorned for Christmas and sells seasonal goodies.
This market is decorated for Christmas, so take a trip to see the wonderful installations and Christmas trees on the booths.
Commercial Street
Commercial Street typically comes through in times of severe purchasing difficulties. It is Bangalore's top retail, selling, and purchasing hub. The Christmas holiday is the same as well. From beautifully decorated Christmas trees and dazzling ornaments to festive clothing and Christmas stockings, Commercial Street has a store for all your holiday shopping requirements.
Markets and Melas for Christmas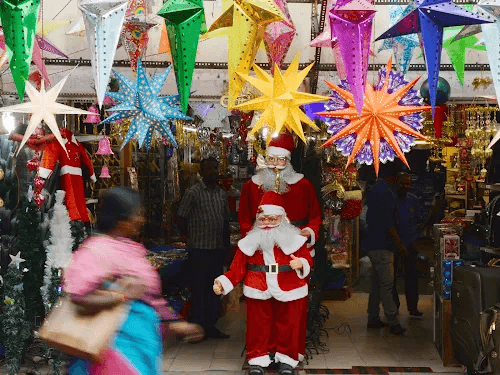 In addition to well-known Christmas markets and bazaars, Bangalore also has a range of Christmas dinners and fairs that are conducted on a large scale and annually.
Due to the numerous flea markets, happy festivities, and Christmas fests that are planned throughout the entire city, you will have the opportunity to buy Christmas decorations while visiting Bangalore.
During the holiday season in Bangalore, Jaya Bagh & Chikpet also covers the main Christmas shopping markets.
2. Restaurants with Christmas celebrations in Bangalore
Ashok Nagar is the only place where Bangalore seniors and guests assemble for Christmas feasts that begin the night before and feature a traditional, delicious, and pleasant supper.
A tray will include a roast turkey or bird with lean and dark meat, stuffing, gravy, baked potatoes, and boiled vegetables. Dessert with sauces or ice cream and Christmas cake. This famous restaurant delivers the greatest Christmas feast.
A few more from Ashok Nagar includes in Ashok Nagar include
JW kitchen-JW Marriott, Ashok Nagar
Shiro, Ashok Nagar
Sriracha
Sanchez
Indira Nagar, Toit
The well-known Bangalore microbrewery and bar has prepared a unique Christmas dinner that goes well with its drinks. Toit has created the Rasp Pie Stout on tap to accompany the feast, and it seems like a must-have too. mentioning seasonal brews.
The menu offers traditional dishes with a modern spin, such as Fried Breaded Eggs with spicy crunchies and silky creamy yolks. To make it truly festive, the dessert Christmas Flake, which consists of bittersweet chocolate pudding, strawberry gelee, and chocolate crumble with alcohol, should be served as the last meal.
Sivanchetti Gardens and the Oberoi Bengaluru
Oberoi must observe customs and operate normally. You may eat as much as you want, but Santa will appreciate dessert. Chocolate Thanksgiving turkeys, bread pudding, Christmas plum pudding, and more are available.
Add unique Christmas goodies from Goan, Asian, and Syrian Christians.
JW Marriott's Ashok Nagar kitchen
On the Western part of their Xmas Breakfast, the JW Marriott Kitchen offers worldwide classics such as Smoked Chicken, Lemongrass, Fresh Diced Ginger Marinated Roasted Chicken, Determine Lasagne, and Louisiana Fried Potatoes to help you reproduce the ancient Holiday charm.
The Christmas Day meal includes delicious dishes from Asia and India in addition to the customary live stations, ensuring that everyone, even the little ones, loves the celebrations.
Sriracha, Ashok Nagar, Bengaluru
Comfort food like ramen is appreciated year-round, but particularly during Christmas and in winter. Thus, Sriracha has created a Japanese ramen menu with fascinating twists. Order your ramen meal from December 15 until the end of the month.
Choose from Asian Roast Chicken, Pulled Pork, Velvet Tofu, and Exotic Asian Mushrooms. Each dish includes crispy wheat noodles and a curry powder-spiked broth.
The perfect dessert is warm plum porridge with toasted almond ice cream and wild fruit puree.
3. Christmas celebrations in Bangalore at churches
Churches are well-known locations in Bangalore. Other religious groups visit these websites in addition to Christians. Currently, one of the city's top tourist destinations is its cathedrals.
The city is preparing for Christmas, and going to a few of the area's well-known churches makes the event more spiritual.
Top 10 churches for Christmas celebrations in Bangalore
St. Mark's Cathedral – And among the finest
Francis Xavier's Cathedral – A Christmas time Must-See
Holy Trinity Church – Architecture That Is Distinctive
St. Mary's Basilica – With Gothic Architecture
St. Patrick's Church – An Inspirational Place
Infant Jesus Church – Get Some Peace
St. Andrew's Church – Feel Nostalgic
Assembly Of God Bethel Church – One Of The Largest
St. John's Church – Beautiful Foliage around
St. Luke's Church – Blending Architecture
St. Mark's Cathedral – And among the finest
St. Mark's Cathedral is among Bangalore's oldest cathedrals, having been around for more than 200 years for Christmas celebrations in Bangalore. It gets its name from Saint Mark, also called Mark the Evangelist, one of the four authors of the gospels.
The cathedral, which had been built in 1808, was dedicated by the Bishops of Calcutta in 1816.
Finding out that this cathedral once served as a garrison cemetery for Chennai Military officers who worked for the East India Company is fascinating.
Francis Xavier's Cathedral – A Must Visit During Christmas
The following is a Bangalore-based Roman Catholic church called Francis Xavier's Cathedral. It was initially founded in 1851, but in 1905, after crosses from the church tower fell, a new design was proposed.
The Bangalore diocese chose St. Francis Xavier's Church as its cathedral after divorcing the bishops of Mysore in 1940. The granite church's sanctuary is covered by a huge dome that is shaped like a cross.
Holy Trinity Church – Architecture That Is Distinctive
Holy Trinity Church, one of many renowned cathedrals in the city situated within and near the Cantonment Area, is known for its military ties. It is a well-known landmark in Bangalore and the best-armed cathedral in South India as well as one of the most prominent Protestant churches in the city.
As a result of criticism towards the East India Company's "One Station, One Church" policy, a church was founded. It was founded in 1852, and important people have attended it in the past, including Winston Churchill and Lord Cornwallis. A spectacular example of Renaissance design is the Holy Trinity Church.
St. Mary's Basilica-With Gothic Architecture
Bangalore's oldest church is the St. Mary's Basilica Church, which is situated in Shivaji Nagar. Although the little church's current structure was only built in 1973, its history dates back to the 17th century.
Pope Paul VI issued an edict promoting it to minor basilica status, making it the sole cathedral in Karnataka to do so. The most frequented church in Bangalore, St. Mary's Basilica, draws a sizable following all year long.
St. Patrick's Church – An Inspirational Place
Most tourists are aware of Brigade Road as one of Bangalore's most popular shopping areas. Few among them are aware that one of Bangalore's oldest Catholic churches, St. Patrick's Church, is situated in the financial district.
This ancient building dates back to 1844 and features an arched entrance and 12 pillars that stand in honor of Christ's Twelve Disciples.
4. Parties for Christmas
The most well-known eateries and nightclubs in Bangalore organize a number of popular Christmas events. Visitors will have a terrific time thanks to celebrity DJs playing the newest tunes, a tonne of celebratory-designed foods and beverages, and vivacious crowds.
A few of Bangalore's hottest Christmas parties are held at venues including Watsons Ulsoor, Vasanth Nagar, The Biere Club, and Sanchez in Lavelle Road.
On Christmas Eve, the Gokarna seashores were illuminated with lights for grand public celebrations.
People come from all across the nation to this special gathering by the sea on December 25. Because they are equally beautiful as the surroundings, the Celebration in the club & resorts is a must-see.
5. Christmas-themed bakeries
Going outdoors, seeing Christmas-decorated churches, and feeling peaceful. Spending December in the bar-and-startup city is fun.
Our cravings for coffee and warming baked goods grow as winter approaches.
Glen's Bakehouse
The perfect doughy hangout spot in Bangalore, Glen's Bakehouse is tucked away in the picturesque lanes of Koramangala, where you can grab a slice with your friends.
The seating is well-considered, and the décor has a hipster edge. Their baked goods are delicious, and there are enough savoury snacks to satisfy hunger.
O G Variar and sons bakery
OG Variar & Sons one Bangalore's finest and most reputed bakeries is renowned for its delicious baked goods that are sold at a fair price.
The bakery offers everything you could possibly need, including a huge assortment of goods, friendly service, and affordable prices. It is frequently crowded with Bangaloreans looking for a sugar rush.
Cakewalk, 11th main
Cake Wala offers a wide variety of sweet and savory foods, making it a convenient destination for individuals who have severe sweet tooth demands.
The majority of Jayanagar residents and visitors frequent our bakery in Bangalore for its spacious surroundings, well-thought-out dining rooms, and excellent hygiene.
Thoms Bakery
This establishment in Frazer Town is well-known for its enticing delicacies from the South and North Indian cuisines in addition to its tasty baked pastries.
Prices are reasonable for the quality of service offered, and since the staff is kind and helpful, services are done immediately.
Conclusion:
Christmas activities include:
Decorate a Christmas tree
Attending midnight mass with family and friends
Exchanging gifts
Cocktail party with family and friends
Decorate the house with banana or mango leaves
Preparing traditional foods
Christmas shopping
Joyful bell hangings
Family reunions
Christmas celebrations in Bangalore are off to a great start, and the mood is great.
Explore these beautiful places with your family for a few hours. Let your kids enjoy this occasion and have a great day. You should feel more passionate as you enjoy your spouse and connection.
Even though Christians only make up 6% of Bangalore's population, most of them insist that the season's festivities—church, cakes, cookies, wine, chocolates, cribs, carol singing, beautifully decorated homes, and homeless shelter visits—are lively and joyful.
Finally, despite all the confusion in life, never forget to give thanks to God.