Hey there! Some links on this page are affiliate links which means that, if you choose to make a purchase, I may earn a small commission at no extra cost to you. I greatly appreciate your support!
South Goa, known for its serene beaches and a laid-back atmosphere, is a haven not only for sun-seekers but also for culinary enthusiasts. From beachside shacks to charming cafes, this region promises a delectable gastronomic journey. Join us as we uncover the best cafes in South Goa.
Whether you're a coffee connoisseur, a dessert lover, or craving international flavors, South Goa's tropical paradise has something to please every palate. It's the perfect destination for those seeking tranquility by the beach.
For those who cherish solitary moments amid serene shores, South Goa is the ideal escape. If you yearn to spend your holidays in this tranquil haven, here's a list of 10 must-visit cafes in the area.
While Goan cuisine bears influences from Portuguese flavors, the cafes in South Goa offer an eclectic menu beyond regional dishes. Explore these cafes on your next Goa adventure and savor the diverse culinary offerings.
Table of Contents
Best Cafes in South Goa :
Indulge in Authentic Goan Flavors at Gunpowder Cafe.
Experience one of best cafes in South Goa the essence of Goan cuisine at Gunpowder Cafe in Assagao. This culinary gem invites you to savor authentic Goan flavors, including delightful dishes like vindaloo and bebinca, all within a charming setting surrounded by lush greenery. Make sure you savor their exceptional seafood delicacies and indulge in a cup of freshly brewed local coffee. Gunpowder Cafe, established in 2012, has consistently been recognized as South Goa's leading cafe, drawing patrons from across the region.
Renowned for its top-notch service, it caters to diverse preferences, encompassing Restaurants, Restaurants & Bar, and Fine Dining Restaurants (Rs. 1000 to Rs. 2000), Moderate Restaurants (Rs. 500 to Rs. 1000), South Indian Restaurants, and Indian Restaurants. With friendly staff ready to address customer queries and easy payment options, your dining experience is made convenient and enjoyable.
Suzie's: A Seaside Jewel
Located on the picturesque Palolem Beach, Suzie's offers a unique dining experience where you can savor your meal with your toes in the sand. This beachfront gem boasts a diverse menu featuring a fusion of Indian and international dishes. Be sure not to miss their wood-fired pizzas and delectable seafood platters. Suzie's is a hidden treasure of a garden restaurant nestled in the lush surroundings of Assagao. That's how its in best cafes in South Goa.
Chef Suzie's culinary creations are a playful fusion of local ingredients with various cooking styles and techniques. The menu evolves throughout the year to align with the changing moods, customer preferences, and the ingredients of the Goan seasons. Complementing Suzie's inventive cuisine, their specially crafted cocktails are a true labor of love, ensuring a delightful dining experience.
La Plage: An Escape to French Cuisine
Nestled on Ashwem Beach, La Plage which is best cafes in South Goa, is your gateway to the flavors of France along the Goan coastline. With its beachfront dining, delectable seafood, and irresistible desserts, this cafe is a true culinary gem. Don't forget to indulge in the heavenly chocolate fondant and explore their selection of fine wines.
One of the most aesthetically pleasing cafes in Goa, La Plage offers a Goan culinary experience like no other, accompanied by impeccable service and breathtaking beach views. The soft sand beneath your feet, the soothing sound of crashing waves, the susegad-inducing sea breeze, and the clean and elegant decor create an ambiance that's simply irresistible.
La Plage stands out as one of the most stylish beach shacks in the area, and its menu boasts popular dishes like grilled fish, squid in carbonara sauce, tuna steak, mussels in butter garlic sauce, chicken liver pate with onion jam, and gratinated mussels. It's a culinary journey you won't want to miss.
Artjuna: Fusion of Cafe and Lifestyle Haven
Discover the heart of Anjuna at Artjuna a best cafes in South Goa, a multifaceted destination that combines a cafe, art gallery, and lifestyle store. Located in a vibrant and picturesque setting, surrounded by a garden of mango trees and frangipani flowers, Artjuna offers a welcoming atmosphere. Experience the simple joys of savoring wholesome meals and organic coffee, finding solace with a good book, challenging friends to a game of table tennis, or just relishing the moment.
Embrace the chance to join their invigorating yoga and wellness classes, peruse unique crafts in the lifestyle shop, and dive into the vibrant world of art exhibitions, workshops, special events, and live music. Stay connected with Artjuna on Instagram to keep up with their dynamic offerings during your next visit to Goa.
Martin's Corner: Epitome of Goan Hospitality
Located in Betalbatim, Martin's Corner is a local legend renowned for its warm Goan hospitality and an extensive menu brimming with traditional delicacies. Make sure not to miss the iconic Goan fish curry rice and the lively live music on selected evenings.
What started as a humble eatery with just four tables has evolved into an award-winning, multi-cuisine restaurant, beloved by celebrities from India and beyond. Martin's Corner is celebrated for its seafood, particularly in authentic Goan cuisine, but also offers a diverse range of North Indian, tangy, and Oriental dishes. If you're visiting South Goa, and find yourself within reach of Martin's Corner, it's a must-visit destination that not only tantalizes your taste buds but also leaves you with one more compelling reason to return to Goa.
Blue Planet Cafe: Serenity by the Sea
Blue Planet Cafe, nestled amidst lush greenery, offers a delectable menu with sweeping views of hills and beaches. It's an ideal spot for travelers seeking clean eating even during their holidays, as the cafe prides itself on using organic and healthy ingredients in every dish. With a cost of Rs 1200 for two, this European cuisine gem stands out for its soups, salads, eggs made to order, and the delightful Peanut Chocolate Banana Smoothie. You can enjoy their offerings from 9 am to 3 pm and 6 pm to 9:30 pm at Agonda, Canacona.
Space Goa: Where Nightlife Takes Flight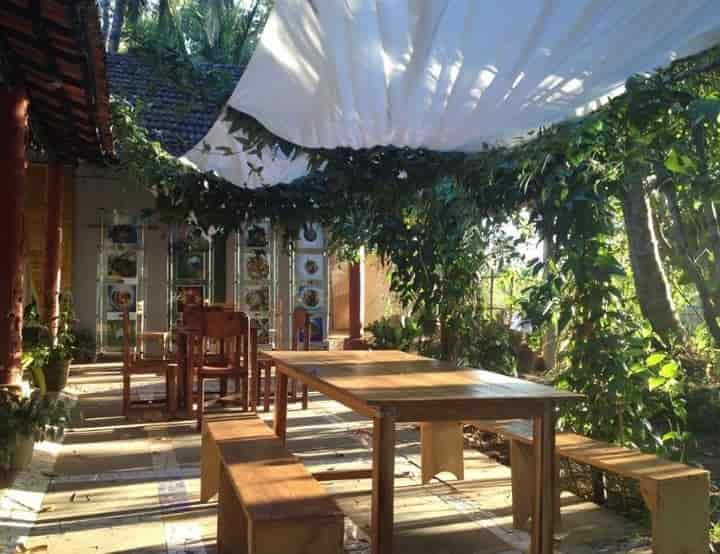 At Space Goa, the philosophy revolves around the belief that food should not only be a treat for your taste buds but also a source of nourishment for your body. Located along the stunning Agonda Beach, the open-roof setting adds to the overall appeal of the cafe. It's not just a place to enjoy a meal; it's a holistic experience where you can savor your food while immersing yourself in the serene coastal surroundings.
What sets Space Goa apart is its affiliation with a wellness center and ayurvedic treatment facility. This affiliation establishes Space Goa as the ultimate destination for health-conscious individuals in pursuit of a holistic approach to well-being. Whether you desire a nutritious breakfast to energize your day or a fulfilling dinner to unwind, Space Goa is dedicated to championing the concept of savoring both wholesome and delectable food, making it the top choice for those seeking to nurture both body and spirit.
Aroma, Benaulim: Where Flavors Blossom
If you're in search of the perfect breakfast spot for champions in South Goa, Aroma is the place to be. With a diverse range of breakfast options, this warm and cozy cafe is ideal for solo visits or catching up with friends. Situated near Maria Hall, you'll find two friendly hosts who can provide you with insights about the area.
Aroma offers a delightful menu with a cost of Rs 800 for two, spanning Mediterranean, American, and European cuisines. Be sure to try their standout dishes like the Lemon Cheesecake, Pancakes, Smoothies, and Mediterranean Pasta Salad. Alternatively, if you're looking for Mediterranean delights, Aroma offers a separate menu with a cost of Rs 500 for two, featuring standout dishes like Fresh Spring Rolls, Coconut Ice Coffee, Chocolate Beetroot Cake, and Bean and Corn Quesadilla. Aroma welcomes guests from 8:30 am to 5:30 pm at 261, Devabag, Palolem, Canacona, Palolem, Goa.
In short, Explore South Goa's culinary gems, from the authentic flavors of Gunpowder Cafe to the French elegance of La Plage, and the fusion of healthy dining at Space Goa. Artjuna offers a holistic experience, while Martin's Corner exudes Goan hospitality. Blue Planet Cafe embraces clean eating in a lush setting. Aroma in Benaulim is your breakfast haven. Each cafe has a unique character, promising an unforgettable journey for every traveler. Discover the flavors, ambiance, and hospitality that make South Goa a true gastronomic paradise.
Also see – The Irani Cafes in Mumbai