Hey there! Some links on this page are affiliate links which means that, if you choose to make a purchase, I may earn a small commission at no extra cost to you. I greatly appreciate your support!
Introduction:
Particularly if you intend to celebrate Valentine's Day in Goa, India's most famous beach town, which has a beauty that amplifies what is known as the most charming holiday of the year, February is fast approaching.
Table of Contents
Few weeks remain to plan the perfect Valentine's Day getaway. Not much time, but never too long to achieve anything wonderful. Goa is a guaranteed bet with one direct flight, unlike most other destinations.
Must read: The most popular places to celebrate valentines day in India
Furthermore, Valentine's Day in Goa is more than simply couples giving roses and presents. A lot is going on that it is impossible to get a flavor of the complete Valentine's Day festivity in Goa.
Goa's coastline is blessed with magnificent beaches, which are a bonus during the season of romance. Similarly, the beaches themselves add to the romanticism produced by the couples.
People like eating there at Bay's well-lit wooden huts or eateries.
This transforms them into Valentine's specialized locations with various discounts and goodies.
Valentine's Day!! The Goa Way!!
Celebrating Valentine's Day in Goa might be among the most passionate moments you can have with your lover. Why? Furthermore, besides being exceedingly paradisiacal, Goa offers fantastic experiences and activities for lovers.
Anyone with a loving connection, a link between a parent and a child, a dad and his child, or two younger siblings, celebrates this beautiful day out with their near and dear ones. So, if you and your partner want quality time together this Valentine's Day, choose the most incredible activities from this list!
If you prefer to enjoy the day away from the city or have an evening with a lovely person, below are some romantic gestures to do on Valentine's Day in Goa.
Must Read: Goa Travel Guide: Your Ultimate Handbook
1. Have a good time dancing the night away.
Is your loved one a big party person? If you and your partner like unending pounding music, cocktails, and bouncing on the floor, if you're looking for a night of nonstop music, alcohol, and partying, there's no happier place to visit than Goa.
So kick off your shoes and spend a great time here on the floor with a lover at some of Goa's most fantastic nightclubs because maybe the Jockey will make both love each other all over again.
2. Take a Fun Cruise:
Imagine a romantic trip on the coast with your spouse snuggling next to you. Does this happen in your head? So, let your desires come true.
The most astonishing thing about going to the beach is that it provides calm and peace. Fun Cruise is one of several cruises that offer a wide range of activities.
You may spend lots of time on the motorboat or the luxurious Sailing boat, and they have it all covered. Not only that, but You can also get a few photoshoots done in addition to the drone photographs.
3. Beach moonlight dinner:
This is a favourite choice for couples on Valentine's Day in Goa. Nothing beats a well-lit tabletop with great food and beverages to set the tone for the evening.
There are several restaurants strewn over Goa that serve delicious, authentic, native food as well as continental selections.
And, while doing it, why not take in the scenery? It is also accompanied by a romantic walk on the beach beneath the stars.
4. Fly in a hot-air balloon:
Enjoying gorgeous sunsets or sunrises with your lover is a calming experience. Nothing could be more romantic than viewing Goa from an altitude 400-800 meters above the ground with your partner.
You get a sense of heaven when the balloons soar gently and softly toward the skies. This high-altitude balloon flight will provide both of you with an excellent Valentine's Day pleasure.
5. Motorbike trip:
At Goa, taking a bike ride is more interesting than driving. It is thrilling to take a bike ride with your lover across Goa. You may enjoy some quality time together here—the best times to ride your bike are either the beginning of the day or late in the evening.
You may enjoy the dawn and twilight together through these hours, which is both calming and romantic.
6. Kayaking in the twilight:
If you and your loved spouse are looking for an adventure, this may be the perfect way to celebrate Valentine's Day. Choose among moonlight kayaking and paddling through the backwoods.
Because of the Chorao Bird Sanctuary, you may see birds when admiring the vistas of mangrove forests.
7. A excursion to Butterfly Beach by boat:
Suppose you want more than a staked Valentine's Day in Goa, a resort in Agonda, and take a boat to the secluded Butterfly Island. It's a quick boat ride with some breathtaking sights; you could also bring lunch and spend the day camping on the beach.
It provides one of the most intriguing sites in Goa, with stunning vistas and sea species. Besides its unique form, the beach is famous for the dolphin dances that swim about it and the thousands of butterflies that flit over the hills.
The five best Romantic Restaurants for Valentine's Day in Goa:
1. A Reverie:
Reverie [ Instagram ] is one of the most elegant restaurants in Northern Goa, serving delectable cuisine worldwide. It is one of Goa's most popular restaurants, not just for its food but also due to its attractive environment.
The cuisine is primarily Continental, with a few Goan-influenced dishes, and also centred on raw ingredients; therefore, it changes frequently.
The peaceful ambiance and the excellent meal preparation will undoubtedly amaze your lover.
2. Thalassa
Imagine Greece in Goa with a stunning sunset view and musical concerts. Thalassa Restaurant serves delicious food and drinks. Thalassa has a beautiful view of Vagator Shoreline, which naturally makes the dining charming.
Thalassa is one of Goa's most fabulous bars and a great spot to party if you want to experience the proper Goa party you've seen in movies.
3. Martin's Corner
A multi-cuisine hotel with music and entertainment that is well-known for its seafood, mainly in authentic Goan flavour, as well as North Indian, European, and Asian cuisines. website: martinscornergoa
Every trip to Goa is perfect with a dinner at Martin's Corner, so visit and enjoy the cuisine that amuses your sense of taste.
The Goan delights are always to die for, and we're confident that you and your sweetheart will have much to speak over, especially concerning the cuisine provided here!
4. Viva Panjim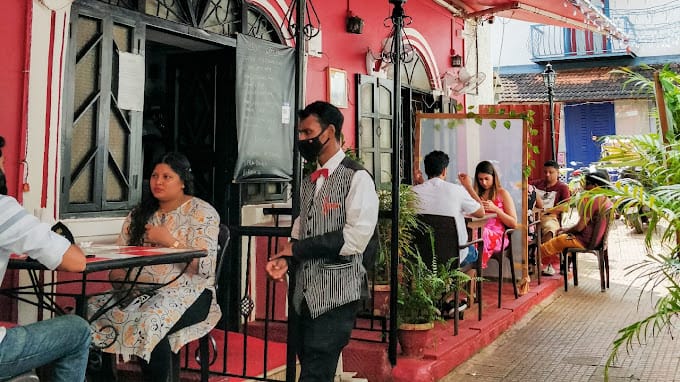 Viva Panjim is an authentic local Goan restaurant that welcomes you to indulge in the finest Goan and seafood specialities.
You will get the typical Goan cuisine at its finest, and Mackerel reacheado, bebinca, and chicken curry preparations are among the best at Viva.
Viva Panjim is a modest eating establishment in Panaji, Northern Goa. It offers a pleasant and entertaining atmosphere.
5. The Black Sheep Bistro
The Black Sheep Cafe [Instagram] is a relaxed eating establishment specializing in seafood, continental, and European dishes.
A farm-to-fork theme restaurant in Panjim comes on top for its delectable fusion of Goan and local delicacies with modern cuisine and presentation techniques.
You and your partner can chill, unwind, and enjoy one other's companionship like you would a dinner here. A few of their drinks are special and must-try.
Conclusion:
Valentine's day represents a celebration of love. It's not simply a time to celebrate, as well as to spend time with loved ones. Only the two of you would make this day memorable.
These preparations can help you establish a romantic mood, but your relationship will make these plans successful. Whether it's your first Valentine's Day in Goa, it should be extra fabulous with these elaborate arrangements.
However, imagine you're coupled and still want to express to your spouse how much you appreciate them. In such a case, this is a fantastic opportunity to express yourself and create some unforgettable memories.
FAQs:
1. What should I accomplish to impress my sweetheart on Valentine's Day in Goa?
In Goa, there are various methods to impress your partner on Valentine's Day,  including
1. Arrange a romantic date night at the seashore.
2. Go for a long drive first thing in the morning.
3. Plan a vacation at a premium resort.
4. Visit the backwaters of Goa.
2. Which Goa coastline provides the most charming destination to spend Valentine's Day?
You can enjoy quality time with your lifemate at Anjuna Beach, Candolim Shoreline, and Calangute Shoreline. Enjoy a few hours here, enjoying the fresh wind, stunning vistas, and delectable cuisine.
3. What makes Goa so popular with couples?
Goa is a seaside heaven with many gorgeous spots to visit for lovers. Goa has a lot to offer, whether the large and picturesque beaches, ancient landmarks, or bustling nightclubs
4. Which section of Goa is ideal for couples?
However, all sections of Goa possess distinct attractions; the less touristic coastlines of South Goa are regarded as the most significant portion of Goa for lovers.