Hey there! Some links on this page are affiliate links which means that, if you choose to make a purchase, I may earn a small commission at no extra cost to you. I greatly appreciate your support!
Guide to Marchoi Winter Trek:
A picturesque perspective of an alluring Himalayan Mountain range, including Mt. Harmukh, Kotwal Peak, Salnai Valley, Gangabal Valley, Wangath Valley, and Marchoi Valley, can be seen from Marchoi top, where the Marchoi winter Trek is located close to the well-known and antiquity Naranag temple wreckage.
The path rambles alongside the Wangath River and crosses over a frozen canyon that is clear and bright with full of chunks of ice.
This path ascends to Marchoi top, also known as Shadimarg top, after passing through a small rainforest area and opening up into a large meadow.
Both photographers and tourists enjoy viewing the various native wildlife there. One of the most stunning winter treks is the Marchoi Winter Trek.
It's a four-day, easy-to-moderate trek because of the variety of terrain.
This suggests that there are long trekking days with simple snow walking in 1 to 3 feet of snow and a little severe rise and fall. People appreciate seeing snow during the winter.
The vista of Shadimarg Top and witnessing snow-capped mountains suddenly emerging from the snowy plain is unusual.
So why would snow hikes in the spring or winter in Marchoi:
In Kashmir, which receives the most significant snowfall of any place in the Indian Himalayas, it is difficult to arrange a winter trip.
Nevertheless, it may be possible to access Marchoi Valley during the winter and look around the area based on the snow conditions.
It is certain that during the summer, Kashmir's trails bloom and its streams overflow, turning the valley a bright shade of green. But except for a tiny number of well-known locations/ski resorts, we have yet to experience Kashmir winters.
Other famous treks in Kashmir are at a high elevation and are impassable from October to June. Marchoi Winter Trek provide an great chance to feel snowy paradise that regularly copies the beautiful Alpine ranges.
Furthermore, particularly during the busiest festive season, winter snow pathways with a plenty of snow are frequently busy or noisy.
This could give away a lot of things, Because the Marchoi Winter Trek is so fresh and new, you seldom encounter other groups.
Time to Go on the Marchoi Trek:
The Marchoi Valley Trek is a low-elevation walk ideal for both novice and seasoned hikers. It is advised for everyone who enjoys hiking and the outdoors.
However, it's crucial to remember that even if the hike is rated as easy, the cold weather and snow can make it slightly more complicated.
For enjoyment in this adventures, travelers must be in great health, fully prepared and physically active.
Complexity in Marchoi Winter Trek :
The Marchio walk Winter Trek is a simple hike. On the day of the climb, the walk does grow a little more challenging due to the snow, though.
As a result, this journey is now classified as a straightforward hike. This trek's route is well-defined and highly secure. The day of the peak is when you will need to exert more effort because there is a 700-meter ascent.
You will be capable of returning by the end of the day after beginning the hike early in the day.
Attractions to see nearby to the Marchoi Winter Trek :
Dumail Campsite
The camping place is best in winter vacation. Dumail, a mysterious forest clearing, is ideally situated at the intersection of two rivers at the bottom of a river valley.
In the summer, nomadic groups and native shepherds who utilize this route to higher pasture areas for their animals frequently stop here on their journey to Naranag.
The Dumail campsite is accessible via a peaceful riverbank route bordered by large pine, fir, and birch trees and a few nomadic villages.
The enticing camp is placed against the lake's most stunning spot, surrounded by dense forests, towering mountains, and the riverbank of a crystal-clear stream that wanes and gushes nearby.
The Snowy Paradise: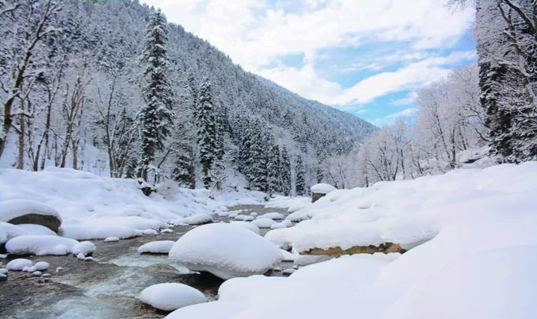 The Marchoi Winter trek trail is accessible all year, but the winter is when the terrain truly comes alive. The Wangat Valley area turns into a winter festival as snow falls in the area, from Naranag to Dumail and from Marchoi Valley to Shadimarg.
The gorgeous forest paths and the riverbank camp places appear enchanted with a snowy blanket everywhere. The Marchoi Winter trek is a fascinating and strange winter trekking trip because of everything from snow-covered pathways, lovely snowy meadows, and great amazing views to unique crystal forms, snow bridges, and tiny snow-covered nomad houses in the heart of pine trees.
Check out the best plans offered by reccy travel. They offer the best plans let them handle all the Jobs and enjoy your trek
Things you shouldn't carry on your hike:
• Discard unnecessary objects
• Limit the number of toiletries and medications you pack.
• Steer clear of using too many items that are the same.
• Only bring something you will require for the hike.
• Carry just enough food.
• Don't bring gadgets (except some useful ones) with you.
• Avoid drinking more water than you need to.
Conclusion:
One of the most stunning winter treks in Kashmir is the Marchoi Winter Trek. The Marchoi Winter trek is among the most fantastic if you're searching for lush pastures covered in vibrant blossoms, clear water that changes color, flowing streams, and breathtaking Himalayan views from above.
Check out the Brahmatal trek to collect all the information you need to plan your upcoming trip.
This trek is well-liked all year long, but the scenery changes when it snows in Kashmir. Winter brings the charming snow-covered woodlands and their clearings.
FAQS:
Is it secure for girls and women?
At all times, the top priorities are security and safety. Women and girls can thus accompany treks and excursions without fear. Campsites are guarded, comfortable places to stay, and trek le aders always travel with the party. On the majority of hikes, and also accompanied by female trek leaders
What fitness level is necessary to complete the Marchoi Winter Trek without difficulty?
The trek is manageable. There are straight sections of gentle ascents, severe climbs, rugged terrain, slippery areas, and steep routes. Begin with daily running or cycling, always take the stairs, and get comfortable with breathing exercises if you want to complete this walk without difficulty
What about restroom on the trek?
You are in the mountains, and none of our treks offer restrooms along the way. Tent bathrooms are available.
What is the best time to do Marchoi Valley
December to February could be an Ideal time to explore this moderate trek
How long is the Marchoi Valley
The max elevation of this trek is around 3200 metres