Hey there! Some links on this page are affiliate links which means that, if you choose to make a purchase, I may earn a small commission at no extra cost to you. I greatly appreciate your support!
Intro
Jaipur, famously known as the Pink City, is a city that never sleeps, and its nightlife is as vibrant as its daytime attractions. From beautifully illuminated historical monuments to bustling markets and delicious street food, Jaipur offers a plethora of experiences to enjoy after the sun sets. In this comprehensive guide, Let's go on a journey through the best places to visit in Jaipur at night, ensuring that your evenings in this enchanting city are just as memorable as your days
Table of Contents
Places to visit in Jaipur at night :
Amber Fort, a Nighttime Wonder of Majesty
The Amber Fort, a masterwork of 16th-century architecture, is more alluring after dark. When night falls, the fort's elaborate lighting scheme comes to life, bringing out the structure's finest qualities. Enjoy the fascinating light and sound performance that describes the fort's past. It's one of places to visit in Jaipur at night destinations because of the enthralling experience it provides and the feeling of being transported back in time.
In addition to its impressive architecture, the Amber Fort has an entrancing light and sound performance that tells the tale of the fort's long and illustrious past. This captivating performance brings the fort's legends of courage and nobility to life, giving you an unforgettable experience. If you're looking for a peaceful evening out in Jaipur, you'll find it here.
A Glimmer in the Dark: The Jal Mahal
The Water Palace, or Jal Mahal, is located in the middle of Man Sagar Lake and makes for a mystical and otherworldly scene after the sun goes down. It's one of places to visit in Jaipur at night. You won't be allowed to enter the palace at this time, but a walk around the lake is a serene and unforgettable experience nevertheless. Those seeking for things to do in Jaipur at night should definitely check out the palace, which is reflected beautifully in the still river.
Taking a boat out on Man Sagar Lake is an even more magical thing to do. In the evening, this is one of the most romantic activities in Jaipur. As you cruise over the still lake, the lit castle seems to float somewhere between the water and the sky. It's one of the best places to visit in Jaipur at night and will leave you feeling all warm and fuzzy inside.
A Traditional Rajasthani Feast in Chokhi Dhani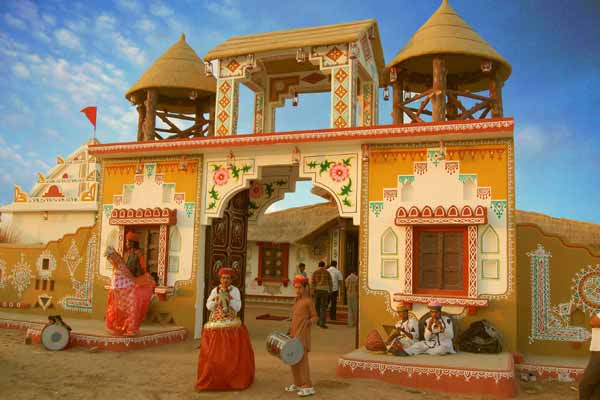 Chokhi Dhani, an ethnic hamlet-style resort in Jaipur, serves authentic Rajasthani food at night. This is one of the top Jaipur nightlife spots to explore Rajasthani culture and food. Live cultural performances, traditional Rajasthani food, and hospitality. This is the place to unwind and experience local culture.
Beyond eating, it's a Rajasthani cultural experience.
You'll enjoy Rajasthani food, traditional dances, puppet shows, and magic. Chokhi Dhani is a tribute to the state's culture and heritage. It's a must-see in Jaipur after dark for dancing and partying.
Shopping Until You Drop: Night Markets
Night markets in Jaipur are popular destinations since they are a shopper's paradise. Particularly vibrant at night, the markets of Johari Bazaar and Bapu Bazaar sell everything from jewelry to textiles. Bargaining is an integral element of traveling, so be prepared to practice your abilities. By wandering the bright and busy alleys of these markets, you may locate one-of-a-kind trinkets and presents while taking in the exciting nightlife of Jaipur.
Visiting these markets is more than simply a shopping trip; it's also an educational and enriching cultural adventure. Craftspeople from the area set up shop, giving visitors a front-row seat to Jaipur's thriving cultural heritage. Jaipur at night is a sensory delight, what with the bustling crowds and the delicious smells of street cuisine wafting through the air. If you're seeking for things to do in Jaipur at night, you shouldn't miss out on these charming night markets.
Royal Extravagance beneath the Night Sky at the City Palace
When the sun goes down in Jaipur, the City Palace is one of the most beautiful sights to see. At night, its enticing fusion of Mughal and Rajput architecture takes on a stately air. Discover the palace's museum and the breathtaking panorama of the Pink City from its rooftop. The palace's brightly illuminated courtyards and ornate architecture are a visual feast.
The City Palace is far less crowded at night than it is during the day. A fascinating museum showcasing royal attire, weapons, and artworks can be seen in the palace. The palace's roof transforms into a tranquil area for stargazing and appreciating the city's beauty beneath the stars. Don't miss the beautiful City Palace while planning your evening in Jaipur.
Palace of the Winds; Hawa Mahal
The Hawa Mahal, or "Palace of Winds," is a famous building in Jaipur that is especially beautiful when illuminated at night. The sight is intriguing during the day, but it takes on a mystical quality when lighted at night. Light and shadow dance hypnotically off the elaborate latticework and unusual construction.
If you want to see the Hawa Mahal without the throng, the best time to go is at night. The gentle lighting is a photographer's delight since it brings out the intricate filigree. You can't help but feel like a king or queen as you gaze upon this magnificent masterpiece. You should definitely add Hawa Mahal in your list of nighttime Jaipur sightseeing destinations.
An Evening Hike to Nahargarh Fort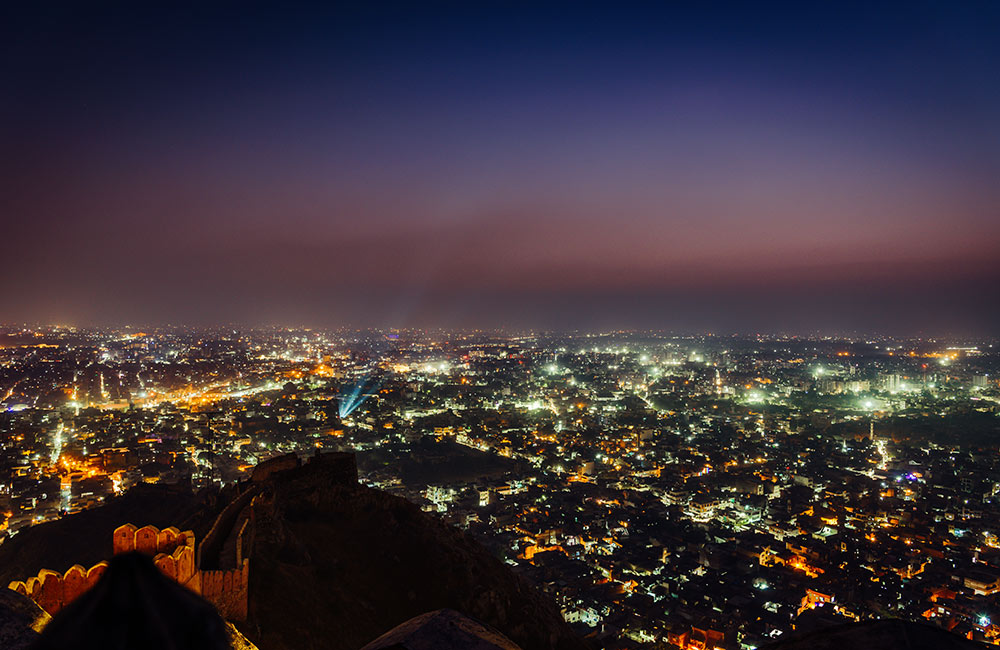 Nahargarh Fort is one of the most exciting places to visit in Jaipur at night. If you make the ascent to this medieval fort before sundown, you may take in a breathtaking view of Jaipur all lit up below you. The city's glowing lights below provide for a beautiful setting for your nighttime journey.
The Nahargarh Observatory is an excellent destination for stargazers. It's a fantastic place to gaze at the stars. They often hold stargazing parties where attendees may use telescopes to take in the night sky. It's a one-of-a-kind opportunity to make cosmic contact while immersed in ancient culture. Both the Nahargarh Fort and the Nahargarh Observatory are great options for places to visit in Jaipur at night, whether you're looking for adventure or a chance to view the stars.
An Evening of Romance in the Clouds, Aboard the Sky Waltz Balloon Safari
Book a Sky Waltz hot air balloon ride in Jaipur for an unforgettable experience. After sunset, this is one of Jaipur's most beautiful vistas. The balloon takes off at sunset and flies above Jaipur's Amber Fort and Nahargarh Fort, offering a stunning panorama.
Sky Waltz provides a fantastic vantage point from which to see Jaipur. From from above, the Pink City takes on a mystical quality as the sun sets. Awe and astonishment are evoked by the breathtaking vistas of the city's forts, palaces, and sweeping landscape below. Couples looking for an unforgettable evening will get what they're looking for in this thrilling and romantic event.
Whether you're in Jaipur for a special event or just want to see the Pink City from above, a hot air balloon flight with Sky Waltz is a fantastic way to conclude the day. It's a must-do if you want to see Jaipur at night since the voyage blends the excitement of an adventure with the calm of a romantic evening.
Late-Night Snacks: Delicious Street Eats
If you're searching for best places to visit in Jaipur at night, you shouldn't sleep on the city's thriving food scene. Enjoy some delicious street cuisine as you explore the city after dark. Try some spicy "mirchi vada" from Samrat Restaurant or the world-famous "pyaaz kachori" from Rawat Mishthan Bhandar. The night sky of Jaipur is the perfect backdrop for sampling these regional specialties.
Exploring the flavors, spices, and local culture of Jaipur via its street cuisine goes beyond just filling your stomach. Nighttime street life is great for gourmet excursions, and you'll often discover like-minded folks.
Street food vendors take pride in passing along their recipes. Eat whatever you want as you explore places to visit in Jaipur at night. Each bite is a taste of Rajasthan's rich culinary tradition. Include this dining trip in your Jaipur agenda for a real evening.
Memories in the Dark: Night Photography
After the sun goes down, Jaipur becomes a photographer's paradise. Incredible photographic possibilities abound in the city's illuminated landmarks and vibrant marketplaces. Don't forget to bring your camera, lenses, or smartphone to really capture the magic of Jaipur at night.
The atmosphere of evening Jaipur is ideal for photographers. It's a photographer's dream with all the well-lit landmarks, lively marketplaces, and subtle light and shadow effects.
As the sun sets and the city is bathed in golden light, photographers are presented with an endless canvas.
History Comes Alive in These Light and Sound Presentations
Exciting light and sound performances recounting Jaipur's colorful history may be seen at several of the city's landmarks. Beyond Amber Fort, the City Palace and Jantar Mantar also host similar shows. Immersing oneself in Jaipur's history is exciting and intriguing.
Going Out in Jaipur's Nightlife
Jaipur has a lively nightlife when you plans places to visit in Jaipur at night. Visit Blackout, F Bar & Lounge, or House of People to dance. Get out and enjoy places to visit in Jaipur at night with the locals and other tourists. This Jaipur nighttime hotspot is not to be missed.
Guidelines for Risk-Free Night Exploration
While Jaipur is generally safe, take cautious. Keep your belongings nearby and avoid dark or empty places at night when you prefer places to visit in Jaipur at night. Nighttime outings should be done in groups.
Conclusion
Due to its rich history and vibrant culture, Jaipur comes alive at night, captivating you. After dark, the Pink City has many cultural activities and delicious restaurants. Take advantage of places to visit in Jaipur at night to maximize your stay. Jaipur's nightlife has something for everyone—history enthusiasts, foodies, and party animals.
Also read – Best visiting places in winter in india