Hey there! Some links on this page are affiliate links which means that, if you choose to make a purchase, I may earn a small commission at no extra cost to you. I greatly appreciate your support!
Introduction:
Camping in Mumbai is a great way to escape the city and relax in nature.
Mumbai is bustling due to its fast-paced lifestyle and packed streets. Sometimes individuals need to escape the city's hubbub to relax and see animals.
Fortunately, various camping places in Mumbai allow you to enjoy some time in nature. we have already covered Camping Sites in Maharashtra Experience the magic of camping in Maharashtra where adventure meets tranquillity.
Table of Contents
Camping in Mumbai allows you to breathe fresh air, enjoy the sunset and dawn, skywatching, and explore nature. Mountaineering, rock climbing, bird viewing, and other adventure activities are available.
Mumbai camping, whether in open or posh tents, provides the most adventurous experiences.
animal sanctuaries and nature reserves surrounding Mumbai provide great camping spots for animal viewing.
What kinds of activities may individuals undertake when camping in Mumbai?
Hiking, birding, stargazing, fishing, and kayaking are all possible when camping in Mumbai.
Mountain climbing, rappelling, and ziplining are all available at Mumbai camping sites.
Relax and enjoy the tranquil surroundings, read a book, or spend time with family.
Do the authorities impose any restrictions on camping in Mumbai?
The guidelines prohibit camping in Mumbai. Camping in nature and animal reserves requires permission.
To reduce their environmental effect, campers must leave no trace and not trash or burn.
Best camping places in Mumbai:
There are several excellent camping opportunities just a few hours away from the town where you can get away from the city, look at the sky, and connect with nature at its best. Some of the top camping places in Mumbai will satisfy your adventurous side.
1. Karnala
Being a busy metropolis, Mumbai may be an intimidating place to live. But did you know that Karnala Bird Sanctuary is a calm respite within a quick journey from the city? This is an excellent place for nature enthusiasts and campers.
Karnala Bird Sanctuary is about 50 kilometers from Mumbai and is ideal for camping due to its lush flora, gorgeous landscape, and rich birds.
The sanctuary provides a unique chance to unplug from civilization and interact with wildlife, making it a perfect weekend camping places in Mumbai.
Karnala Bird Sanctuary is a haven for nature enthusiasts who enjoy various activities. Visitors can indulge in hiking, birdwatching, and stargazing while camping in the sanctuary. thrillophilia has amazing camping plans for Karnala, check it out now.
Hiking trails lead to the Karnala Fort, and bird lovers can observe many bird species. Additionally, campers can unwind in the serene surroundings and bask in the starry sky while sitting around a cozy campfire in the evenings.
2. Vasind
Do you want to stay away from the rush and bustle of Mumbai for the weekend? Vasind is an excellent camping location only a short distance from the town.
This tranquil hamlet is perfect for nature enthusiasts looking to unwind and recuperate amid nature. Vasind is a peaceful setting that provides a pleasant and soothing experience and various activities for campers.
The Bhatsa River is a popular site for kayaking and fishing, and the surrounding hills offer excellent climbing and trekking options.
There are also other nearby waterfalls, including the famed Tungareshwar Waterfall. Vasind's quiet and serene ambiance is ideal for resting and revitalizing the mind and spirit.
Campers may unwind in the tranquil surroundings, read a book, or participate in nighttime activities such as stargazing. Enjoy the peaceful camping in Vasind offered by thrillophilia, check it out now.
3. Prabalmachi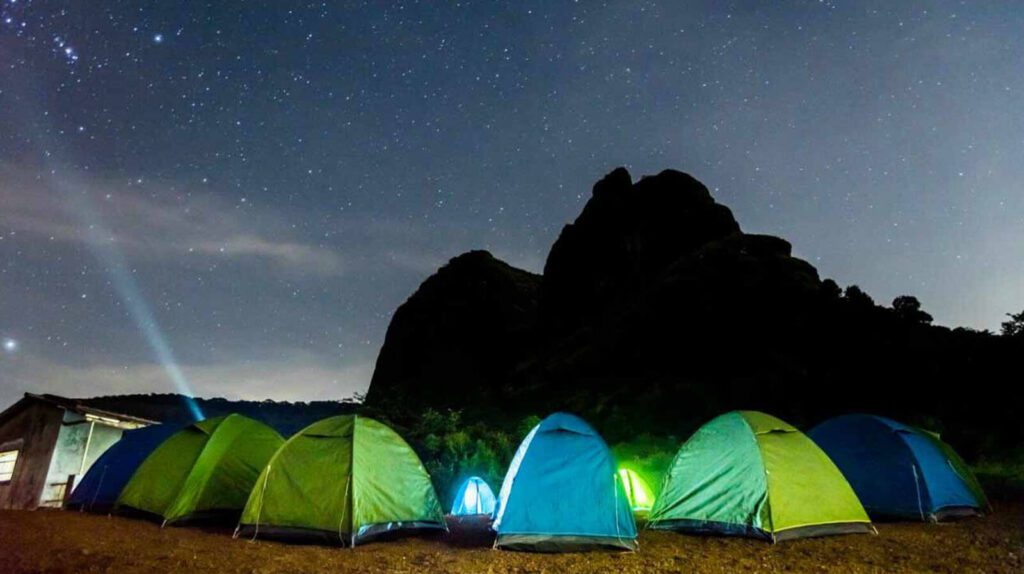 Prabalmachi is a famous camping destination in Maharashtra's Raigad district. This beautiful camping site is an ideal location, the trek to Prabalmachi is an adventure in itself, with beautiful landscapes and stunning views of the mountains. check out the Prabalgad Valley Tourism website for more info.
The view of the sunrise and sunset from the summit is breathtaking and is a must-see for all nature lovers. The Prabalgad and Kalavantin Durg forts are popular attractions for those interested in exploring the area's rich history.
The Prabalgad Fort, initially called Muranjan, is situated at an elevation of 2,300 feet and was seized and renamed by Maratha soldiers during the reign of Chhatrapati Shivaji Maharaj.
During Prabalmachi camping, visitors can enjoy a great perspective of the two forts, which stand tall and face each other. The evening wind and traditional meals from locals enhance the experience, making it even more memorable.
Another popular attraction is Zenith Waterfall, located close to Prabalmachi. The waterfall is a stunning natural wonder, with a 100-foot drop that creates a mesmerizing sight.
Visitors can swim in the calm waters of the waterfall or relax in the peaceful surroundings. has amazing offers for you, check out Prabalmachi camping and trekking plans
4. Rajmachi
Rajmachi is a tiny hamlet in the Konkan area's Sahyadri range of mountains. Adventure seekers would find Rajmachi a paradise as the village offers exciting trekking trails, camping sites, and thrilling activities like rappelling and ziplining.
Rajmachi is also home to two historical forts, Shrivardhan and Manaranjan, which offer a glimpse into the region's rich history.
The rainy season in Rajmachi is exceptionally magnificent, with the rolling hills and valleys blanketed with lush foliage and glittering waterfalls.
The Rajmachi Fort climb during this period is unlike any other, with foggy clouds and rainfall adding to the enchantment of the location.
Moreover, the Kondhane Caves is one of the main attractions in Rajmachi, and it is a collection of ancient rock-cut Buddhist caves dating back to the 1st century BC. History buffs and photography enthusiasts must visit these caves.
A plateau that rests between the two fortified peaks of Shrivardhan and Manaranjan in Rajmachi can be reached by trekking a half-hour from Udhevadi's base hamlet.
The fort's historical significance and the thrill of scaling both peaks draw trekkers and adventure seekers to this spot. Checkout the Rajmachi camping and trekking packages
The fort's remaining ruins and structures are a testament to its history and add to the adventure of exploring this region.
5. Durshet
Heard about Durshet Forest Lodge's camping site? It's a fantastic place to experience an adventure like never before. They provide a variety of lodging alternatives, featuring tents and cottages.
Big, comfortable tents with practically everything you need for a good stay. For luxury, the residences are unique.
Air conditioning, a microwave, and a private verandah make them the most deluxe camping accommodations.
The event is fantastic and you must attend! Durshet Forest Lodge, 80 kilometers long, is a favorite Mumbai camping spot.
Get your heart racing with exhilarating sports like rope climbing, shooting, Tarzan Swing, bungee jumping, and Burma Bridge, all while surrounded by beautiful nature.
When you wish to unwind, take a dip in the sparkling swimming pool, kick back in the cozy common areas, or even challenge your friends to a friendly game of cricket or football.
6. Uttan
To avoid the summer heat in Mumbai, Boscowadi, Uttan is considered one of the great places to camp! Kolis, or fishermen, mainly populate Uttan, and their communities give this region a lovely Goa-like atmosphere, and indeed, it is near Gorai Beach.
A theater with nighttime musicians and weekend movies is available, and you may camp here for a relaxing ambience.
This location has several hammocks, a bonfire you can build and BBQ, fashionable lamps that give the venue hippie feel, and great hosts who complete the experience.
Listening to music, starting a fire with wood, and eating marshmallows are unbeatable. Uttan, located off Gorai Beach in the Thane district of Maharashtra, provides a meditative experience.
The location features lush forested hills and consistent weather, making it a must-see for travelers. The area sits on a sparkling coastline that offers the perfect blend of blue sea and green hills.
Boating with family and seeking local advice on fishing are highly recommended. Additionally, taking a sunset walk through the mountains allows you to feel the sun's warmth from your face to your feet.
As night falls, light a fire, gather your friends, and enjoy dancing, eating, and living!
Conclusion:
At Mumbai camping sites, visitors may enjoy the outdoors, have fun, and spend time with family and friends.
From stunning lakes to old forts to peaceful bird sanctuaries, each campground offers a unique, lifelong experience.
Camping in Mumbai is more than simply pitching a tent; it may let you disconnect from the internet and reconnect with nature, enjoy scenery, and breathe fresh air.
Camping in Mumbai will take you beyond your comfort zone and show you nature's beauty.
Prepare for camping in Mumbai, a great way to relax and have fun.
Comment down if you have any queries or suggestions. thanks, and have a good day/night.
FAQs:
1. What camping equipment do you need for camping places in Mumbai? 
For rough camping in the wilderness, you'll need a camping tent, sleeping bags, a camping stove, and essential survival gear like a first-aid kit, water filter, and insect repellent. 
2. What safety precautions should you take while camping in Mumbai?
Taking basic safety precautions is essential while camping in Mumbai. You should carry a map and compass or GPS device, stay on designated trails, and be aware of wildlife in the area. Check that you have adequate food and drink. It is also a good idea to inform someone about your camping plans and planned return date.
3. Can you go camping near Mumbai during the monsoon season? 
Heavy rains and strong winds can be challenging to camp during the monsoon. However, some campgrounds remain open this season for experienced campers. Before embarking on a camping trip, it is crucial to check weather forecasts and road conditions.
4. Is Mumbai camping suitable for families with young children?
Yes, camping in Mumbai is an excellent activity for families with young children. Many campgrounds offer family-friendly activities such as nature walks, bird watching, and campfire storytelling. Keep extra food and snacks for the little ones.