Hey there! Some links on this page are affiliate links which means that, if you choose to make a purchase, I may earn a small commission at no extra cost to you. I greatly appreciate your support!
Do you intend to visit Kedarnath's lofty heights? Planning places to visit in Kedarnath? Read this guide and you'll know exactly where to stay and what kinds of transportation to use throughout your trip.
With this comprehensive guide, you won't have to worry about missing a thing along the way.
Table of Contents
checkout our blog Kedarnath- A complete Temple Edition Tour Guide 2023
Dig in to discover routes to reach this majestic destination laying amidst the lofty Garhwal Himalayan ranges at an astonishing altitude of 3584 meters above sea level, at the source of the Mandakini River.
About Kedarnath
If you are thinking places to visit in Kedarnath then you have to know few things about this location. Kedarnath, located in Rudraprayag, Uttarakhand, is a Hindu holy site. Kedarnath, a Hindu temple dedicated to Lord Shiva, is a holy spot for Hindus and a popular tourist attraction.
Kedarnath attracts thousands of tourists with its stunning beauty. Snow-capped mountains, rhododendron bushes, rivers, and streams showcase nature's grandeur.
The most significant attraction, Kedarnath temple, attracts believers and visitors in the correct season with its tranquil and friendly ambiance.
Kedarnath is not merely a destination for religious devotion surrounding a sacred shrine, but also for boundless adventure against the gorgeous Great Himalayan mountains.
Its history
Before places to visit in Kedarnath you have to know some history of Kedarnath. From the "crop of liberty" it grows, Kedarnath means "the Lord of the field." No documentation of its construction date or author exists. It is said to have been there for generations without a clear origin, yet numerous tales surround it.
In the seventh or eighth century, Kedarnath is first mentioned. Many believe Adi Shankara died near the sanctuary. The Pandavas went to Banaras after Kurukshetra to implore the Lord and apologize for murdering their own. Shivji sought comfort in Guptakashi rather than the brothers to avoid them.
Since the Pandavas were giving up their search for the Lord, Shivji disguised himself as a buffalo so they wouldn't recognize him. When the Pandavas approached, Shivji wanted to hide even more.
To disappear, he went underground. Brother Bhima tried to stop him by hanging to the bull's legs and tail. Tragically, the Lord disappeared, leaving his hump in Kedarnath Temple to be venerated.
However, it is thought that by using heavenly force, the Pandavas were absolved of their crimes, and Shivji then promised to always be present at Kedarnath in the guise of a Jyotirlinga. you can check Wikipedia for more detailed history
Location
Kedarnath is the furthest away from the other Chota Char Dham locations, it is nestled in the Rudraprayag area. Kedarnath, which lies close to the Chorabari Glacier, which is the origin of the Mandakini River, is encircled by snow-capped peaks, most notably the Kedarnath summit (6,940 mts) and also the Kedar Dome (6,831 mts). The settlement is 223 kilometers from Rishikesh and is positioned at the river's edge on a dry, arid stretch of land.
Weather
Kedarnath experiences chilly summers, which are consistent with the Himalayan climate, and brutally cold winters. When you plan places to visit in Kedarnath you will see all kinds of sightseeing, temple visits, and visiting local attractions are best done during the summer. In the summer, the typical average is around 17 degrees.
The region has frequently suffered exceptionally torrential downpours during the monsoon season, especially in 2013 which caused floods in the region. 12 degrees are average during the monsoon. Winters are harsh, unpleasant, and unbearable. From November to April, the Lord Kedarnath palki is moved to its winter residence close to Guptakashi-Ukhimath. The weather is always bad during this time of year!
Best time for places to visit in Kedarnath
April marks the start of the season, and it lasts through the monsoon season and into the end of the season. The best time to visit Kedarnath is during the months of May, June, September, and October because of its frigid environment for most of the year.
How to reach Kedarnath
There are many ways to reach Kedarnath and other places to visit in Kedarnath. Also, with the advancement of time, the routes are been developed to facilitate the tourists to reach their destination. Most of the significant towns in Uttarakhand have good transportation links to Kedarnath. The closest road heading to Kedarnath is around 18 KMs further, Gaurikund.
By Air
The closest airport is Jolly Grant Airport in Dehradun, which is located 238 km away. With frequent flights, the airport has been well-connected to Delhi. From the airport, taxis are easily accessible to Gaurikund.
By railways
Rishikesh, which is situated 216 kilometers ahead of Kedarnath on NH58, is the railway station that is nearest to the holy site. Moreover, Rishikesh and Gaurikund can be linked by motorable highways with ease. To get to Gaurikund, taxis and vans and buses are readily available.
By road
No doubt when you plans places to visit in Kedarnath then road option is also good. Gaurikund is the last accessible stop before reaching Kedarnath via vehicle. After that, you'll walk for about 16 km. The city of Gaurikund is linked to the major cities in northern India. The final place where buses and shared cabs are allowed is Sonprayag, however they run from Haridwar, Rishikesh, and Rudraprayag.
Kashmiri Gate (ISBT) is where buses depart for Rishikesh and Shringar. From Sonprayag, you may take a government-run shared cab to Gaurikund for a fee.
Kashmiri Gate (ISBT) is where you may board buses bound for Rishikesh and Shringar. The government provides a free shared taxi service that will pick you up at Sonprayag and drop you off in Gaurikund.
By helicopter
With helicoper you can save your time when you plans places to visit in Kedarnath. If you do not like hiking, you could even take a helicopter ride (but hiking is always recommendable). The services are offered from a variety of helipads, including Guptkashi, Sersi, Phata, and others.
What to do when planning places to visit in Kedarnath
Considering that Kedarnath is really a holy site, locations with mythical and legendary connotations are unquestionably the primary draw. However, there are many more things to do there, we shall consider them all eventually. checkout our blog Kedarnath- A complete Temple Edition Tour Guide 2023
Kedarnath temple: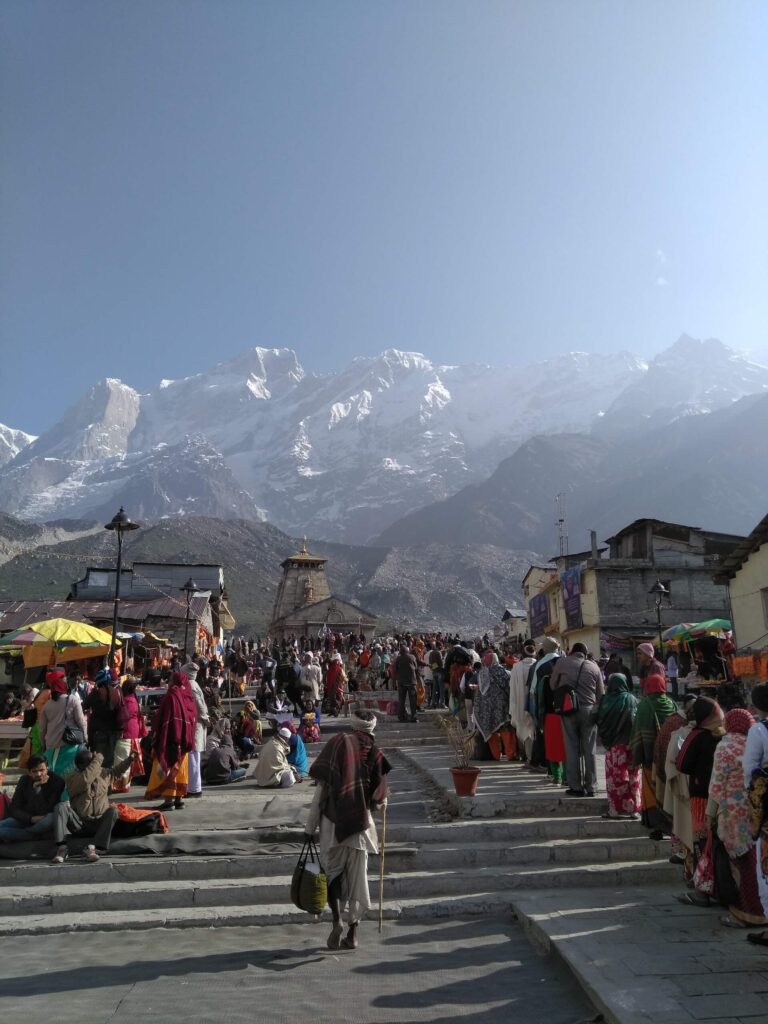 Lord Shiva's twelve Jyotirlingas include Kedarnath Temple, surrounded by the Garhwal Himalayas. Kedarnath Temple, devoted to Lord Shiva, is one of the 275 Paadal Petra Sthalams, the most powerful Shiva temples in the world.
The hills' fresh air and stunning vista after the lengthy hike may make you lose track of time. This longtime worship facility exudes positivity, hope, and trust in the future.
A little hall with Parvati and Pandavas images welcomes you to the temple. The hall has sculptures of Krishna, the Pandavas, Draupadi, and Virbhadra. The temple honors the Sadashiva, a conical rock.
Grey stones connected with iron clamps make the temple stand out against the Himalayas.
Gandhi Sarovar
Chorabari Tal, also known as Gandhi Sarovar, is a little lake that is remarkably clear. Its position atop the Chorabari Bamak glacier's mouth indicates why. Astonishingly, Gandhi Sarovar is located at a height of 3,900 meters above sea level at the base of Kirthi Stambh mountains and Kedarnath. A further 4 KM of hiking from Kedarnath Temple takes you to the lake.
Kalimath
On the Saraswati River's banks stands the holy city of Kalimath. One of India's 108 Shakti Peeths is Kalimath, which is situated at an altitude of 1800 meters. Kalimath is surrounded by lush, offering a serene and heavenly environment. In Kalimath, there is a temple dedicated to Goddess Kali. Legend claims that Kali Goddess left this location here after slaying Raktbeej and disappeared underground!
Bhairav Temple

On the eastern peak of the Himalayan range of Uttarakhand, Bhairavnath Temple, also known as Bhairon Baba Mandir, is located south of Kedarnath Temple. The temple is devoted to Lord Shiva's ferocious avatar known as Bhairav, who is known for causing mayhem and causing destruction. The temple is a nice stop on your way to Kedarnath and offers some amazing Himalayan views! checkout this website to know more
Gaurikund Temple
A temple devoted to Goddess Parvati is Gaurikund. This is the site where Goddess Parvati practiced penance combining ascetic and yoga disciplines to win over Shiva's love, as per myths and legends. The Goddess and Lord Shiva are believed to have proclaimed their love here before tying the knot at the Triyuginarayan temple.
Shankaracharya Samadhi
The Hinduism's central ideas are claimed to have been established and drawn together by the philosopher Adi Shankaracharya. At the age of 32, he made the decision to find nirvana at the Kedarnath and merged with the surrounding landscape. Directly behind the temple is where you will discover the samadhi.
Places to visit in Kedarnath
There are many things that you can indulge in Kedarnath. Make sure to take your time witnessing magnificent sites and picturesque beauty.
Vasuki Tal Lake
Near Kedarnath Dham, at an incredible 14,200 feet above the sea level, is the high glacial lake known as Vasuki Tal. Around the tranquil lake, Brahma Kamal as well as other Himalayan flowers are in bloom, creating some breathtaking sights.
In a fair scenario, I would advise you to finish the journey during the day and stay the night in Kedarnath! The trip is 8 kilometers from the Kedarnath temple; the first 3 to 4 kilometers are pleasant before the ascent starts. Just 900 meters descend from Vasuki peak to the cold Vasuki Tal.
Guptakashi
47 kilometers separate Guptkashi from Shiva's holiest location, Kedarnath. The site is located at a height of 1,319 meters above sea level on a hill in the western Mandakini valley, along the Kedarnath trail.
Guptkashi is a holy town in Uttarakhand due to ancient temples like Ardhnareshwar and Vishwanath. Famous Manikarnika Kund is where the Ganga and Yamuna rivers meet.
Kedarnath Trek
Kedarnath is a prominent Hindu pilgrimage site. The temple dedicated to Shiva, Lord Kedarnath, at the foot of the peak has stood the test of time and is highly appreciated by committed individuals.
Millions of pilgrims go far to worship and get blessings from the Hindu Deity. The temple sits opposite Kedar Parvat at the foot of Kedarnath Peak. Kedarnath is a beginner-friendly hike yet beautiful in winter.
This is one of the Himalayas' most impressive crests for hikers and outdoor enthusiasts.
Char Dham Yatra
The four abodes of sacred shrines—Badrinath, Kedarnath, Yamunotri, and Gangotri—that make up Uttarakhand's Chota Char Dham Yatra. In the Uttarakhand province of Garhwal, all 4 of these shrines are located. Hindus place a significant amount of emphasis on the Charm Dham Yatra.
The Char Dham Yatra is also regarded as so holy that it is said that everyone from the Hindu religion should experience it at least once throughout their lifetime. Around the eighth century, the Great Reformer and Scholar Adi Shankaracharya organised these holy pilgrimage sites into a spiritual circuit.
Continuing the tradition of prior generations, thousands of devotees continue to visit these pilgrimage sites each year. Thus, making the entire pilgrimage in one go is rather common! know more about packages
What are the best stays at Kedarnath?
A sizable government-run tent colony, as well as cottages and apartments, are all managed by GMVN. And over a 1,000 pilgrims and visitors might stay in them. In addition, Dharamshala, hotels, and guest houses are available.
Since many people now go by helicopter, it is also possible to find places to stay in Phata, Rampur, Gaurikund, Sitapur, and others.
Food at Kedarnath
Unfortunately, there are solely roadside dhabas and food stalls to choose from for quality meals in this area. Most of the food offered here is north Indian food. Of course, it should not be surprising that liquor and non-vegetarian meals are not served or are forbidden considering the extremely venerated status that Kedarnath maintains in Hinduism.
Remember to follow these tips during your journey to Kedarnath
The Uttarakhand government requires tourists to validate their biometrics. The facility is online too. Sonprayag allows the same action.
Tour mules and porters are easy to find. Check the price to prevent overpaying. Check the validity of hired porters and mules' owners.
No photography is allowed on religious premises. Remember this and observe temple officials' rules.
Hiking 16 KM takes around 6 hours, depending on your health.Walk early in the morning to avoid the afternoon sun.
Eat a light, healthful breakfast. Drink plenty of water and bring water bottles.
Also, you can check out the vlog by Curly Tales
Conclusion:
Kedarnath is the perfect destination for those in search of rest and relaxation, spiritual renewal via communion with nature and the Gods, and exciting travel experiences. This website will transport you to a time when people were more honest and straightforward.
Hope this serves you with the appropriate information. Thanks for sticking up to the end.