Hey there! Some links on this page are affiliate links which means that, if you choose to make a purchase, I may earn a small commission at no extra cost to you. I greatly appreciate your support!
Introducing the best camping places in Wales
Wales is a naturally lovely nation, and with the weather progressively lifting and the temperature rising, now is the perfect time to visit the best camping places in Wales.
The most excellent way to experience the area's breathtaking scenery, rich history, and abundant animals is to go camping right in the heart of it.
Table of Contents
Camping is a flexible choice that enables you to experience all of Wales. There are many of the best camping places in Wales, making them ideal for trips with loved ones.
You'll be able to enjoy exploring the various towns and villages and their attractions. This trip will be one you'll remember because you'll also be able to relax under the stars.
We have already covered [ camping in the Lake District ]
It is also considerably less expensive than a hotel and allows you the freedom to walk around while you are there. In addition to being environmentally friendly, camping is a convenient way to visit some fantastic locales.
Which time is best for visiting the best camping places in wales?
Camping in Wales is possible with modern resources. Rain is risky year-round, although May–September is the greatest time for dry weather. Snowdonia, Pembrokeshire, and the Brecon Beacons are popular during school holidays.
Consider working during school vacations for a more relaxing break. Winter camping in Wales may need temporary campsites. Your camping excursion will be more enjoyable with warmer clothing.
So, if you're thinking of the best camping places in Wales, here are some recommendations on what to do and where to go.
1. Brecon Beacons National Park (Parc Cenedlaethol Bannau Brycheiniog)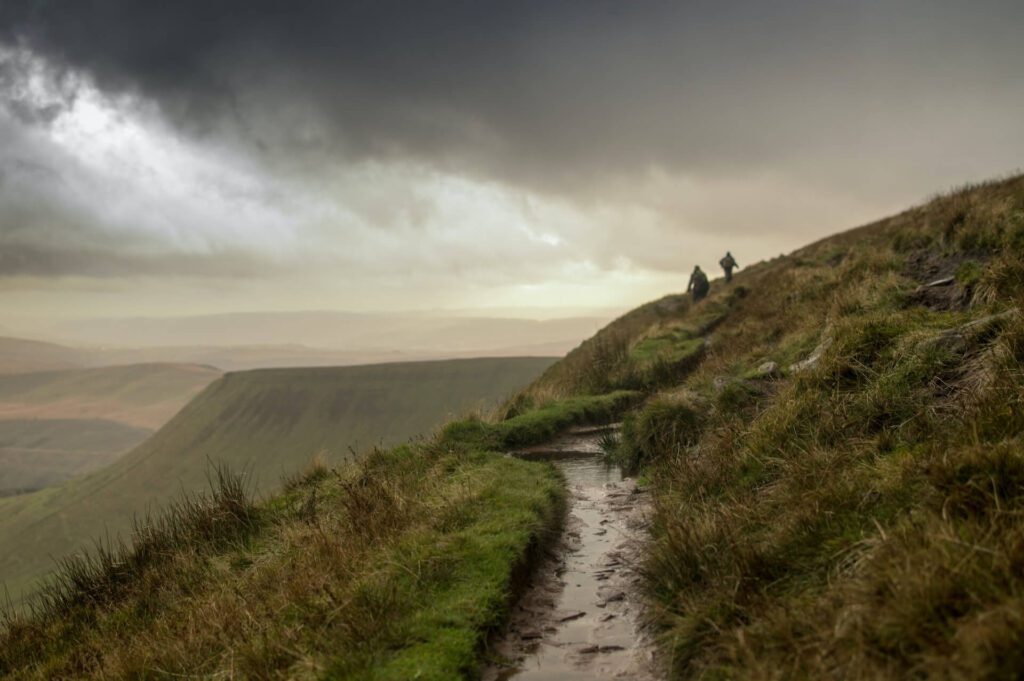 The red sandstone that resembles invading beacons gave the Beacons its name. Fan Brycheiniog in the west and the Black Mountains of Waun Fach in the east, both over 2,000 feet high, surround this stunning area.
Welsh Mountain Ponies reside east of the Beacons. Though sometimes used to pull carts, they are known for being wild.
They are ancient and beautiful in nature. A brook called Usk flows west of the Beacons.
Explore the Henrhyd Falls as well as other caverns and waterfalls. However, it's the best camping place in Wales for sailing, horseback riding, mountain biking, and fishing.
2. Cardiff Castle:
Cardiff Castle is one of the best camping places in Wales because, astonishingly, a portion of its initial formation is still present today, some 1,000 years after it was completed.
Explore the majestic State Apartments of the Castle to learn more about life in the Castle throughout history. Take a look at, among many other things, the fantastic fireplace and medieval murals.
You will remember to view Cardiff Castle, a great visual delight.
3. Mumbles
A little coastline village called Mumbles is only a few kilometers from Swansea. You may get a comprehensive picture of the far-off city, Mumble's Lighthouse, and cliff tops from Swansea Bay's shoreline.
If you wish to take a moment from strolling along the shore and admiring the stunning views, there is a lovely promenade that has just been refurbished and is complete with stores and restaurants.
You can treat yourself to a premium restaurant or even put together a picnic for a special evening in a remote location.
4. Snowdonia National Park (Parc Cenedlaethol Eryri)
The scenic Snowdonia highlands and hills, which comprise more than a few peaks, the majority of which are over 3,000 feet in height, are situated in the county of Gwynedd.
With Snowdon, the most famous hill in Wales, standing slightly over 3,500 feet tall, this location is more commonly referred to as Eryri.
The top is reachable by walking or by railway.
With almost 4 million tourists a year, Snowdon is among the best camping places in Wales in the UK. On a clear day, if you reach its top, you can see Bala Lake to the coast, which is stunning.
Furthermore, the roughly 1,500 hiking paths in Snowdonia National Park contribute to the park's popularity as a tourist attraction.
Mountain climbing and cycling are two more well-liked pastimes besides hiking.
5. Tenby
Tenby, a village in Pembrokeshire, is encircled by sandy beaches that have won awards and are rich in history. Surprisingly, the medieval castle walls constructed to defend the town against the Welsh uprising remain in place today.
The Tenby Museum and Art Gallery, Wale's oldest independent museum, and the Tudor Merchant's House, a National Trust Building, are other sites of historical significance.
You absolutely must go to the Tenby Harbour Brewery if you enjoy drinking. You may schedule a tour of the establishment, housed in a former 18th-century warehouse, and sampling sessions.
You can sample their brews while soaking in the area's ambiance at one of the neighborhood bars.
6. Dinas – Hideaway in the Hills, Gwynedd
In the west of Snowdonia National Park, in Dinas – Hideaway in the Hills, you can find both peace and leisure and adrenaline-pumping excitement. With a lake, woods, and stream nearby, you may enjoy yourself without leaving the campsite, and activities like building dens, tree swinging, and campfires are all permitted.
You won't have to travel very far to experience some of Wales' other beauties when you choose to go elsewhere.
The distance to Snowdon is less than an hour, Zip World is even closer, and the sandy beach at Harlech is only three miles away.
7. Trevayne Farm Campsite
Two nice camping spots are offered at Trevayne Farm. The camping grounds lie above Monkstone Beach, which Trevayne Farm says is one of the nation's most picturesque.
Due to its central location, Tenby and Saundersfoot may utilize this campsite.
Its location in Pembrokeshire makes this camping great. Though basic, it offers everything you need. Family-run, it's next to the 100-acre farm.
The farm's cattle, lambs, pigs, and other animals demonstrate its simple and sustainable agricultural methods.
They have washing facilities, hot baths, and a farm shop where customers can purchase fresh farm goods.
8. Quay West Holiday Park, Ceredigion
Wales' dolphin-spotting capital is New Quay, a charming harbor city. This all-action Haven vacation resort is perched on the cliffs above it. It features heated indoor and outdoor swimming pools, forest nature trails, an on-site restaurant, a bar, and nightly performances.
The Quay West Holiday Park is ideal for a relaxing family vacation, with sea air and ocean views. With so many options available, like crazy golf, swimming, Aerial Adventures zip-lining, mini ten-pin bowling, bungee trampolining, a magnificent woodlands stroll to the beach, and many more, kids will never get bored.
Take in the fantastic views of Cardigan Bay, the harbor, and the Irish Sea while you recharge, and don't overlook keeping an eye out for dolphins!
9. Three Cliffs Bay Holiday Park, Gower Peninsula
There are a few fantastic camping on the Gower Peninsula, but Three Cliffs Bay Park is incomparably better for vistas. If you're fortunate, you can secure a pitch right on the cliff's edge, where the campground is situated on a bluff overlooking the water.
The location features top-notch amenities, such as a fantastic shop and cafe, and you can even hire a firepit to get that campfire feeling.
Conclusion
To appreciate Wales' stunning natural splendor without being confined to the indoors or the outside, camping is a fantastic idea.
Even if you're exceptionally daring, camping may seem like an unconventional vacation, but Wales is a great spot to travel to (and camp) all year long.
Wales boasts various fantastic locations for primitive camping, from the Snowdonia mountains to the Pembrokeshire coastline.
You'll never regret it and want to revisit it; who can judge you? It's a valuable adventure.
FAQS:
1. Is it legal to camp on the seashore in Wales?
In a word, no. Camping is not allowed on the majority of Wales' beaches. Ensure to follow the camping rule and leave no evidence if you camp on a beach in Wales.
2. Do Wales campgrounds allow dogs?
This differs from campground to campground. It's always a good thought to call the campground ahead and ask if you may bring your dog camping with you.
3. Is it permitted to camp in Wales' laybys?
Without the landowner's permission, prolonged parking is prohibited, whether at a parking bay or out in the country.