Hey there! Some links on this page are affiliate links which means that, if you choose to make a purchase, I may earn a small commission at no extra cost to you. I greatly appreciate your support!
Introduction:
Visit the Alleppey travel guide. We'll take you to Kerala's most scenic spots.
Alleppey (Alapuzha) is famed for its calm backwaters, a network of canals, lakes, and lagoons parallel to the Arabian Sea.
Table of Contents
The tranquil backwaters are a nice getaway from regular life.
This Alleppey travel guide covers the sites and activities that make it attractive.
By the way we have already covered "best places for couples in Kerala" check it out now.
Whether you want to enjoy a houseboat stay, explore the local villages, or take a leisurely boat ride through the Alleppey backwaters. This guide aims to assist you in planning a flawless journey to this magnificent location.
Getting There:
You must first decide how to go to Alleppey if you wish to visit this wonderful place.
Alleppey has good air, train, and road connections to several Indian cities.
This part of the Alleppey tourist guide covers transportation alternatives.
For those who like to travel by air, Cochin International Airport is approximately 78 kilometers away from Alleppey. To travel to Alleppey from Cochin Airport, you can take a bus or a taxi.
Alternatively, if you prefer train travel, the Alleppey railway station is well-connected to several cities across India. You can train from major cities like Chennai, Bangalore, and Mumbai to reach Alleppey.
Lastly, you prefer a road to travel. In that case, Alleppey is well-connected to various cities in Kerala and neighboring states. You can take a bus or hire a taxi to reach Alleppey.
Best Time To Visit Alleppey:
It is crucial to carefully consider the timing of your visit when planning a trip to Alleppey, as it can significantly affect your overall travel experience.
This section of the Alleppey travel guide will provide insights into the optimal time to visit Alleppey, considering various factors such as weather conditions and tourism levels.
By examining these aspects, you can determine the most suitable time for your trip, ensuring you can make the most of your visit to this beautiful destination.
The best time to visit Alleppey is from November to February—the winter season in Kerala when the weather is pleasant and ideal for exploring the Alleppey backwaters.
The temperature is usually around 20-25 degrees Celsius during this time. The clear skies make it perfect for outdoor activities and sightseeing.
Another good time to visit Alleppey is during the monsoon season from June to September when the rains transform the Alleppey backwaters into a scenic paradise with lush greenery and glistening waters.
However, it is essential to note that the monsoon season can also bring heavy rains and occasional flooding. Hence, it is advisable to check weather updates before planning your trip.
Places To Visit In Alleppey:
Alleppey, also known as Alappuzha, is a beautiful destination in Kerala that offers many attractions and activities for visitors.
From exploring the serene Alleppey backwaters to visiting historical landmarks, there is something for everyone in this picturesque city.
Alleppey Tour Packages : Grab Exciting Deals offered by thrillophilia
In this section of the Alleppey travel guide, we will explore ten places to visit in Alleppey.
1. Alleppey Backwaters:
A visit to Alleppey is complete with exploring its famous backwaters. The network of canals, lagoons, and lakes is a must-visit destination.
You can take a leisurely boat ride, observe the daily life of the locals and enjoy the lush greenery.
2. Marari Beach:
Marari Beach is a serene and unspoiled beach perfect for a relaxing day. With its crystal clear waters and soft sandy shores, this beach offers an idyllic setting for swimming, sunbathing, and enjoying the natural beauty of Alleppey.
Check out the Marari Beach Resorts.
3. Krishnapuram Palace:
The Krishnapuram Palace is a historical landmark known for its architectural beauty and cultural significance.
Built in the 18th century, the palace is now a museum that houses artifacts and exhibits that showcase Kerala's rich history and heritage.
4. St. Mary's Forane Church: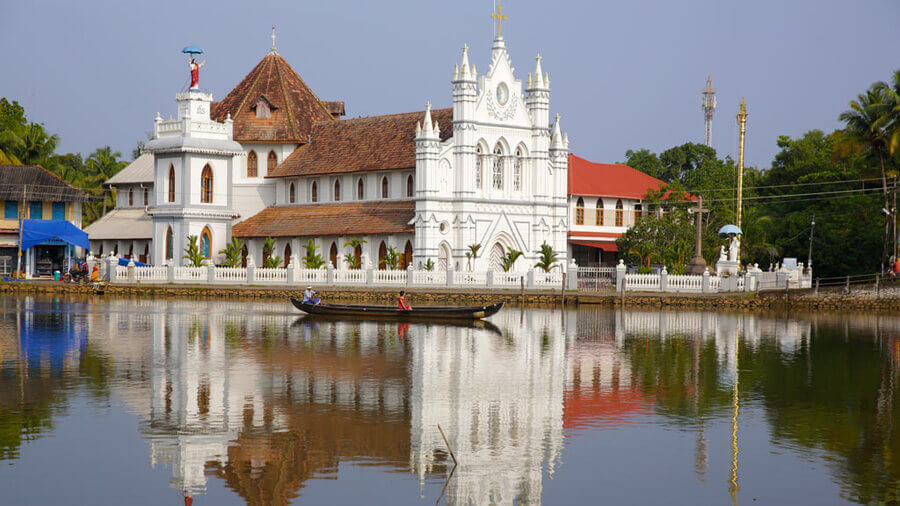 The St. Mary's Forane Church is an ancient and beautiful church known for its stunning architecture and religious significance.
Visitors can attend mass and admire the church's intricate design and ornate decorations.
5. Pathiramanal Island:
Pathiramanal Island is a scenic and serene island in the middle of the Alleppey backwaters. Visitors can book a boat ride to the island and enjoy the picturesque surroundings, which include exotic birds and lush greenery.
6. Ambalapuzha Sree Krishna Temple:
The Ambalapuzha Sree Krishna Temple is a renowned Hindu temple known for its religious significance and architectural beauty.
Visitors can attend the daily rituals and marvel at the intricate carvings and designs of the temple.
7. Nehru Trophy Boat Race:
The Nehru Trophy Boat Race is an annual event in Alleppey. Various teams compete in traditional snake boats on the Alleppey backwaters.
Visitors can witness this thrilling and colorful event and experience the vibrant culture of Kerala.
8. Mullakkal Temple:
The Mullakkal Temple is a famous Hindu temple dedicated to the goddess Rajarajeswari. Visitors can attend the daily rituals and admire the intricate carvings and decorations of the temple.
9. Kuttanad: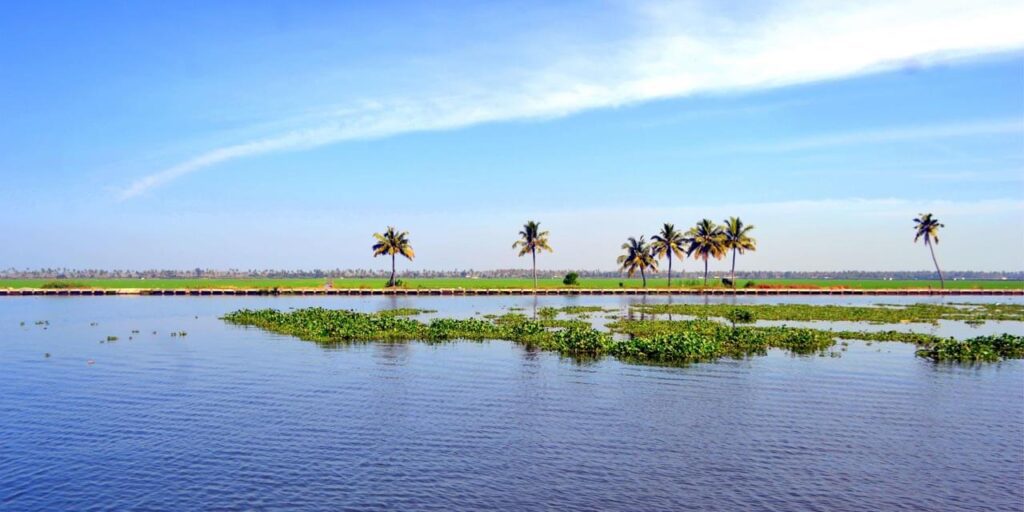 Kuttanad is a unique and picturesque village in the Alleppey backwaters. Visitors can explore the village and its surroundings, which include paddy fields, coconut groves, and traditional houses, and experience the rural life of Kerala.
10. Alappuzha Lighthouse:
The Alappuzha Lighthouse is a historic landmark that offers stunning views of the Alleppey backwaters and the surrounding area.
Visitors can go to the top of the lighthouse and enjoy the panoramic views and the cool sea breeze.
Things To Do In Alleppey:
Alleppey, also known as Alappuzha, is a small town located in the southern Indian state of Kerala. It is often referred to as the "Venice of the East" due to its beautiful network of interconnected canals, lagoons, and backwaters.
Alleppey is an ideal destination for travelers seeking a peaceful getaway with its natural beauty, serene atmosphere, and rich cultural heritage.
1. Paradise For Foodies:
The Alleppey food scene offers a wide variety of dishes that are full of flavor and unique in taste.
One of the must-try dishes in Alleppey is the famous Kerala-style fish curry.
The curry uses fresh fish cooked in coconut milk, spices, and leaves. It is usually served with steamed rice or appam, a fluffy pancake made with fermented rice batter.
Another popular dish in Alleppey is the traditional Kerala-style thali. It includes rice, sambar, rasam, vegetable curry, and other side dishes like papad, pickle, and yogurt.
This meal is a perfect way to taste the different flavors of Kerala on one plate.
For those with a sweet tooth, Alleppey offers a range of desserts like the famous Kerala-style banana fritters, or pazham pori, made by dipping ripe bananas in a batter of flour and sugar and then deep-frying them until golden brown.
Other must-try dishes in Alleppey include puttu, a steamed rice cake served with coconut and banana, and appam with egg roast.
Plenty of streets food options like vada, samosas, and parathas are available at various stalls and shops throughout the city.
Overall, Alleppey is a food lover's paradise with unique and flavorful dishes that will leave you craving more.
2. Ayurvedic Retreat For Body & Mind:
For those seeking relaxation, Alleppey is famous for its Ayurvedic retreats, which offer massages and spas that use natural oils and herbs to rejuvenate the body and mind.
The purpose of these treatments is to cleanse the body, alleviate feelings of stress and anxiety, and enhance one's overall state of health and happiness.
The Ayurvedic centers in Alleppey also offer remedies for specific ailments, such as arthritis, asthma, and migraine.
3. Houseboat Stay:
One of the main attractions in Alleppey is the backwaters, a vast network of lagoons and lakes that form a unique ecosystem.
The best way to experience the backwaters is through a houseboat ride, where you can relax and enjoy the stunning scenery around you.
With their contemporary amenities, the houseboats are an ideal choice for families or couples seeking a romantic retreat. You can also enjoy local cuisine onboard as most houseboats come with a personal chef.
4. Nehru Trophy Snake Boat Race:
Another must-do activity in Alleppey is attending the Nehru Trophy Snake Boat Race, a world-famous event that takes place every August.
Visitors from across the globe watch long snake boats rowers sprint to the finish line.
The festival offers a unique peek into local culture and customs.
5. Floating Triveni:
Shopping at the floating Triveni is another unique experience that you must not miss. The floating supermarket can be recognized as a red and white chequered boat, and you can buy everything from groceries to electronics while swinging your oars.
This market is not only an attraction for tourists but also a boon for the villagers, as the prices are low compared to city markets.
6. Learn Kalaripayattu:
If you're seeking an adventure, Alleppey is a great place to learn Kalaripayattu, one of the oldest forms of martial arts in the world.
The training starts with a relaxing massage to ease the person and then involves the coordination of mind and body.
Once you master the basics, weapons such as swords, daggers, spears, maces, and bows and arrows are handed to you under expert supervision.
Conclusion:
Every visitor should visit Alleppey for its calm backwaters, lovely beaches, and cultural history.
Alleppey has something for everyone, whether you wish to relax or discover Kerala's history.
This Alleppey travel guide should help you organize the ideal vacation to this wonderful location. Check out thrillophilia's Alleppey Tour Packages: Get Exciting Deals.
If you have any queries or suggestions, comment down. have a safe journey " Bye Bye".
FAQs:
1. What are some of the must-see attractions in Alleppey?
Alleppey is known for its stunning beaches, picturesque backwaters, and lush greenery. Some must-see attractions include Alleppey Beach, Marari Beach, Krishnapuram Palace, and St. Mary's Forane Church.
The Alleppey travel guide can offer insights into these and other popular tourist spots and tips on the best and most convenient times to get there.
2. Which is the best time to visit Alleppey backwaters?
The best time to visit Alleppey backwaters is from November to February. During these months, the weather is pleasant and ideal for sightseeing and outdoor activities.
However, if you want to experience the monsoon season, June to September is also an excellent time to visit.
3. What is the best way to explore the Alleppey backwaters?
The best way to explore the Alleppey backwaters is by renting a houseboat. These boats are equipped with modern amenities and offer a unique experience of living on the water.
Alternatively, you can also take a canoe or kayak tour to explore the backwaters at a slower pace.
4. Is it safe to travel to Alleppey with children?
Yes, it is safe to travel to Alleppey with children. The town is known for its hospitality, and most tourist attractions are family-friendly.
However, parents should watch their children closely while exploring the Alleppey backwaters, as the water can be deep in some areas.
5. How can I plan a budget-friendly trip to Alleppey?
To plan a budget-friendly trip to Alleppey, consider staying in a budget hotel or homestay instead of a luxury resort. You can also save money by taking public transportation instead of hiring a private car.
Additionally, you can try local street food instead of dining in expensive restaurants to save money on food expenses.