Hey there! Some links on this page are affiliate links which means that, if you choose to make a purchase, I may earn a small commission at no extra cost to you. I greatly appreciate your support!
Introduction
Dayara Bugyal Trek is a wonderland of forests, meadows, a lake, and amazing views of the Garhwal Mountains, located at a significant elevation of 3,750M.
This 18 km walk from the campsite of Raithal delivers a mixed bag of just about everything lovely that any trekker could dream of witnessing in such a short space.
It may be found right in the centre of Uttarkashi. Dayara Bugyal transforms into a winter paradise as it is dusted with pristine white snow and offers a breathtaking vista of the Garhwal Himalayan peaks.
Table of Contents
This challenging trek can be easily navigated while admiring the magnificence of the hills around you, from Gangotri I and II up to the Jaunli massif.
Have you visited the Marchoi trek yet? I have already covered the full detailed guide check it out
Here are some of the best justifications for why Dayara Bugyal is a awesome winter hike that will encourage you to feel the explore this route on your own.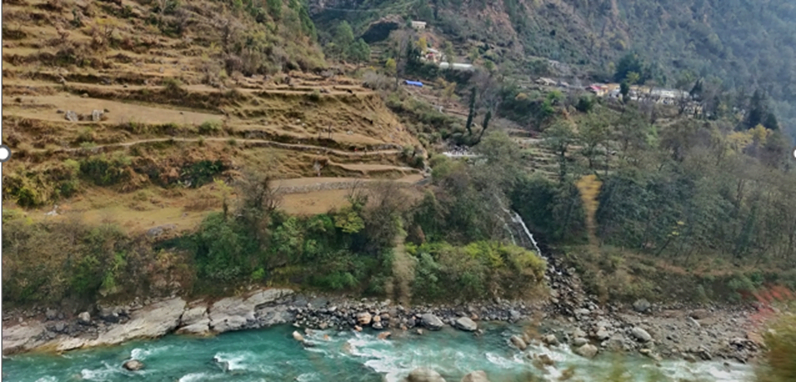 There is a lot to see and experience on the trip from Dehradun to the town of Raithal, which serves as our campsite. As we ascend to Raithal, we pass through woods, well-known hill towns, and the enormous Garhwal Range.
The Mussoorie-Dhanaulti road is covered in the dense forest up until Rautu ki Beli as we go along. As we travel along these roads with a pleasant odour, we experience the excellent mountain weather.
The Bhagirathi river, which has various teal hues, and the Garhwal Ranges, which are in the background and are enlarging with each curve, are with us as we navigate the twists and turns.
All along the route leading to Tehri Dam, where the road turns off to Raithal, small rivers, and seasonal waterfalls can be seen.
The relaxing travel which gives awesome views of the Mountains and amazing waterfalls sets the tone for the treks and gets you excited about what awaits ahead for the remainder of the days.
Thrillophilia offers nice packages around trek, you can check it out.
Highlight 2: Raithal, A Nature Lover's Paradise
The duration on the road from Raithal's base camp and Uttarkashi is only 20 kilometres. In this village you will able to find a peaceful rural atmosphere that is great for overcoming city depression.
In the summer, Raithal attracts a lot of ornithologists because of its abundance of flora and fauna. In the springtime, native Uttarkashi species, including Eurasian Jays, Red-flanked Bulbuls, Scarlet Minivets, Himalayan Bulbuls, and Yellow-Breasted Greenfinches, adorn the village skies.
Terraced fields, pink and blue residences, and stone cottages paint the environment with spectacular scenery in vibrant country scenes that are as real as one's vision.
Highlight 3: Gui Sunsets, Lake, and So lot More
The major attraction in the area of our secondary camping is Gui Lake. Early in December, a thick layer of ice fully encases this beautiful lake at an elevation of 2,947M.
This serene area, surrounded on all three sides by modest hills, is also rich in aquatic life. Here, you can find many types of cold water fishes, awesome mountain trouts and Mirror Carp.
The path to Gui Lake is rather pleasant; it passes through some forest of rhododendron, oak, and maple trees, the leaves of which are covered in snow in the winter.
Unlike most other routes, this one is notable for the absence of pine trees. As we travel toward Gui, peaks like Mt. Shrikanth and Gangotri I, II, and III become apparent.
The sun setting over the Garhwal Himalayas is breathtaking from our campground for the day, which is also stunning.
In addition to the sunsets, from this location and the nearby tiny shieldings, one may see a spectacular moonrise on a full moon night.
Highlight 4: The Insta-Worthy Spots of Gui Thatch and Chilapada Woodlands
As we climb from Gui Lake onto Chilapada, we pass through woodlands until coming upon a bit of grassland called Gui Thatch.
Gui Thatch has breathtaking views of the peak of Bandarpoonch, Jaonli peak, and the entire Gangotri Range.
With such Awesome views, Gui Thatch is one of the trail's most amazing places. The route to Chilapada passes through forested areas with high-altitude vegetation, medicinal herbs, and trees, most often covered in snow during the winter.
Fluttering leaves, fluffy Himalayan sheepdogs' company, and the sunlight's warmth through the shrubs over are all delights not to miss before travelling for Dayara Top the subsequent day.
Even at an elevation of 3,094 meters, this is the "warmest winter camp" on the Dayara Bugyal Trek.
Highlight 5: Dayara Top- The Narnia-Esque World of Snowscapes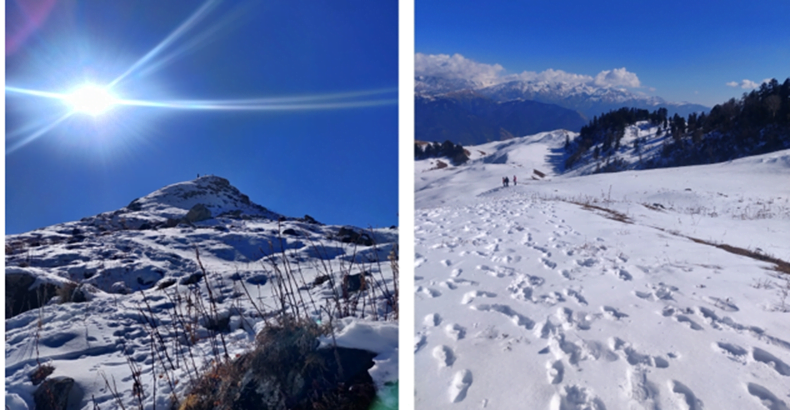 The most excellent part of the Dayara Bugyal walk is Dayara Top, which has snow-covered terrain and a 180-degree panorama of the tallest mountains in the Garhwal Range.
The vistas are magnified by the Garhwal Range, which contains Mt. Bandarpoonch, Kalanag, Bakariya Top, and Gangotri I, II, and III.
A zone with a wide diversity of flowers and herbs, Dayara Top, is also environmentally rich. In the springtime, these grasslands' pink and yellow flowers transform them into vibrant fields that stand out against the verdant below.
Dayara Bugyal is becoming popular for local adventurers to go skiing in the late winter.
Attractions Near and Around Dayara Bugyal trek
To make your vacation to the Dayara Bugyal trek more thrilling and memorable, check out the gorgeously highlighted locations created within and surrounding this winter trekking site.
1. Dodi Tal lake
Dodi Tal Darwa Pass, blessed with beautiful green pastures, is buried in heavy snow blankets. A deep, thick alpine trees, running waterfalls and a vast range of extraordinary animals and plants fill this incredible area.
Beautifully situated in the heart of a calming pine tree, trees surround this shimmering water lake in Uttarakhand. At an astounding 3,310 meters above sea level, it is silently perched.
Numerous water, plants, and fauna varieties can be found in Dodital. 1.5 kilometres encircle the lake. The Asi Ganga River, which empties into the Bhagirathi River close to the Ganges River, originates in Dodital.
The serene vistas of the Himalayas are pleasing to this lake or pond in the Garhwal Himalayas.
2. Barsu Village
Barsu Village, the Dayara Bugyal trek's beginning point, is a settlement in the surreal scenic environs of the Uttarkashi region. Here, endless scenery and attractive mountain views are just awesome. A small, shimmering lake enhances the region's natural beauty and aroma; camping by its side is a once-in-a-lifetime experience.
Additionally, if you enjoy wildlife, you will adore this site because you can find various animal species and birds.
3. Agoda Village
Agoda Community, situated 2250 meters above sea level, is a picturesque village encircled by the stunning Himalayas. This lovely village is on the way to the Dodi Tal lake's crystal-clear waters.
It is the first town you will encounter on the Dodi Tal lake trip and serves as an excellent rest stop for travellers to engage with the inhabitants and learn about their customs, culture, and way of life.
Conclusion
A winter trek in the Himalayas, the Dayara Bugyal Trek provides breathtaking sights of the snow-capped peaks. You will pass through some spectacular scenery on this moderate to difficult journey.
If you're looking for adventures, this is an awesome adventure for you that i can recommend. It is a wonderful memorable trek that any nature lovers always enjoy.
You can check out the prices of Dayara Bugyal trek on thrillophilia, they offer good to go services, check it out.
That's it, I hope you enjoyed reading it, Do comment if you have any queries or suggestions and shower some love by sharing the blog with your loved ones🫶.
FAQS:
How tough is this trek?
It is a simple to moderately tricky journey. Therefore one should plan for at least a fortnight
Is Dayara Bugyal Trek safe to visit during the rainy season?
We strongly advise against exploring mountainous areas during the monsoon season because they receive a lot of rain and are more likely to have landslides.
May we perform Dayara Bugyal Trek every day?
Time could vary by an hour for various people because I travel pretty frequently and I'm in friendly company, but this hike is achievable Tents can be rented for Rs. 600 per person if you want to camp out one day.